Homeless families won the right to shelter, enforceable in the courts, this past week. It was a huge victory - 25 years in the making. The settlement of the litigation, originally brought against the Koch administration, came on the brink of a trial at which homeless mothers were poised to testify in open court about their recent treatment while attempting to get into emergency shelter.
In short, they and their children had to sleep on the streets, in subway stations, parks, laundromats and all-night fast food restaurants. Coming on the heels of a damming Independent Budget report last month, the last thing city officials wanted was graphic sworn testimony on the toll Mayor Michael Bloomberg's homeless policy had taken on mothers with vulnerable children.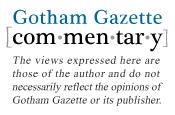 The other looming backdrop is near record family homelessness in New York City. How did we get into this mess and how do we work our way back out of it?
The Bloomberg Record
Four years ago, Bloomberg committed to reduce New York City homelessness by two thirds over five years. His ambitious goals were praised by a wide array of advocates, service providers and community groups. But many remained concerned that the mayor did not commit sufficient housing resources to the problem and had failed to craft the policies needed to achieve his goal.
In recent years, those fears were sadly realized as the Bloomberg administration stumbled through a series of flawed approaches to homelessness - from the administration's decision to cut off homeless New Yorkers from federal housing assistance, beginning in autumn 2004; to the disastrous "Housing Stability Plus" program, which the city finally abandoned in early 2007; to the deeply flawed "Work Advantage" program which replaced Housing Stability Plus; to the city's ongoing and accelerating use of illegal boarding houses to shelter homeless adults living with mental illness and other disabilities.
Most troubling, New York City's homeless population has risen dramatically in recent years. Every night since Bloomberg took office, more than 30,000 homeless New Yorkers have resided in shelters, a higher number than at any point in the 1980s or 1990s. In June, over 8,600 homeless families with more than 14,000 children bedded down each night in municipal shelters, only slightly fewer than when the mayor unveiled his plan four years ago.
The Independent Budget Office's recent report documented the clear failures of the mayor's plan. In short, four years after Bloomberg announced his proposal for reducing homelessness, New York City's homeless population is dramatically larger than the targets in the plan. In fact, more New Yorkers are homeless than when Bloomberg took office.
All in all, the current decade has proven to be the worst for New York City homelessness since the Great Depression of the 1930s.
Last week's historic legal settlement codifies an enforceable right to shelter for homeless families along with specific enhancements in intake procedures by the Department of Homeless Services. But intake - the front end of the shelter system - is only half of the equation. If New York is to see real reductions in the number of families residing in shelters each night, the city must make substantial changes in its approach to housing homeless families.
Reducing Family Homelessness
The Independent Budget Office's findings and rising family homelessness should serve as a call to arms. They should spur Bloomberg administration officials to abandon their failed homeless housing policy and to embrace proven, cost-effective solutions to radically reduce homelessness in New York City.
Perhaps most importantly, the mayor and administration officials remain mired in the false notion that family homelessness is a behavioral problem, not what it primarily is: a housing affordability problem. Thus, addressing it must involve proven, housing-based solutions.
Following is a summary of immediate steps the city can take to change course and genuinely reduce family homelessness:
-- Target Federal Housing Aid to the Homeless: In late 2004, the Bloomberg administration cut off homeless New Yorkers from longstanding priority for federal housing programs, including Section 8 vouchers and public housing. In January 2007, Bloomberg announced that the city would give out 22,000 new Section 8 vouchers - none to the homeless.
Reversing the city's misguided policy will move thousands of homeless families to permanent housing - and save city taxpayer dollars spent on emergency shelter.
-- Repair the Flaws in Rental Assistance Programs for the Homeless: Over the past four years, the city has created two flawed rental assistance programs for homeless New Yorkers. The "Work Advantage" program has unrealistic, one-size-fits-all time limits that cut off rental assistance to struggling families after two years - regardless of a family's circumstances. In contrast, acclaimed studies by the Vera Institute, the National Alliance to End Homelessness and academic researchers have found that long-term, flexible housing assistance - like the federal Section 8 voucher program - enables families to move from shelter to their own homes and helps them stay there.
The city should repair the flaws in the "Work Advantage" program and ensure that families in need are guaranteed housing assistance after the time limits.
-- Expand Homelessness Prevention Services: The annual cost of sheltering a homeless family is $33,000. In contrast, prevention services, which help keep struggling families in their homes, cost a fraction of that amount. The Independent Budget Office found that, while the city spends more than $650 million annually on shelter, it spends less than $200 million on homelessness prevention. The recently adopted budget actually cut legal services aimed at preventing homelessness and other prevention programs by more than $3 million.
The city should expand homelessness prevention legal services, the Homeless Prevention Fund, and other prevention programs.
Patrick Markee is a senior policy analyst for the Coalition for the Homeless. Mary Brosnahan is the coalition's executive director.
Â