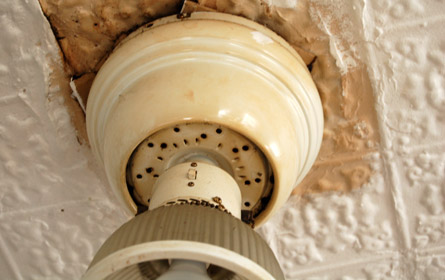 Photos by Chris Opfer
The housing bubble may have burst a few years ago, but many New Yorkers -- and the buildings they live in -- can still feel the pain. An estimated 30,000 foreclosures are pending in courts in the five boroughs, with many cases lingering for years as owners and lenders abandon the properties and leave renters to cope with woeful and often dangerous conditions.
While much of the attention during the crisis has focused on owners of single-family dwellings who cannot meet their mortgage payments and end up losing their homes, thousands of renters whose landlords default also have their homes at risk. Recent litigation and a push for new legislation have combined to shine a light on this situation, but changes are not coming soon enough for residents whose homes are literally falling apart.
"It's a widespread problem in the city," said City Councilmember Brad Lander, who introduced legislation to tackle the issue last spring. "With foreclosures, you wind up with this long limbo period where the owner basically just stops taking care of the building. There are quite a few buildings where tenants have had to live without things like heat and hot water as a result."
Looking for Relief
Many of those tenants have turned to the courts to try to force banks to take responsibility for the properties on which they foreclose. Last month, residents of a 20-apartment building on Longfellow Avenue in the Bronx that is currently in the midst of foreclosure proceedings filed a motion seeking to compel New York Community Bank to put up the money necessary to carry out much needed repairs. The building fell into disrepair shortly after it was purchased in 2007 by a company identified as 1255 Longfellow LLC with a $1.1 million loan. Since then the city has issued the building 117 housing code violations including sporadic heat and hot water during winter months, widespread mold and caving ceilings.
In May, six elderly and or disabled tenants of a small rent-regulated apartment building in Brooklyn that is currently in foreclosure proceedings filed a similar motion. They claim that they have been forced to lived with deteriorating conditions, including intermittent heat and hot water, a leaking roof in danger of collapse and an unsecured front door, since the building's owner defaulted on a $1.85 million mortgage more than two years ago.
As in the Bronx, these tenants want the court to force the bank to put up the money necessary to make the building habitable. Both cases are bolstered by the precedent set last year when the Bronx Supreme Court ordered a bank in a foreclosure action to advance $2.5 million for the purposes of making repairs at 10 overleveraged and dilapidated apartment buildings.
The Brooklyn building sits smack dab in the heart of Fifth Avenue -– Park Slope's bustling main thoroughfare -– across the street from a hip Thai restaurant and around the corner from a new, white table-clothed steakhouse. Inside, it is worlds away from the brownstones, boutique shops and organic coffee houses that helped earn Park Slope the New York Magazine's "Most Livable Neighborhood in New York" titlelast year.
According to the Department of Housing Preservation and Development, the property currently has 109 outstanding housing code violations (up from 91 at the time the tenants filed their motion), ranging from inadequate lighting near the front entryway and crumbling plaster to mold, exposed electrical wire and mice infestation. That's not to mention the broken lights and windows as well as cracked floor tiles in individual apartments. In July, the former owner -- 294 5th Ave. Associates LLC -- was ranked second on Public Advocate Bill deBlasio's list of the city's worst landlords.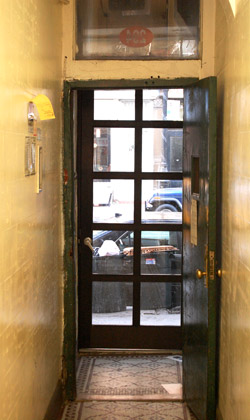 More than four months have passed since the motion was filed and the building's front door remains unsecured, the locks on both the front and interior door broken. "That's always been a problem. They fix it and then all of a sudden it's damaged again," said Raymond Jimenez, a retired butcher who has lived in his fourth floor apartment for 48 years. Although a court-appointed receiver recently hired workers to resurface the building's roof, leaks continue.
Recipe for Disaster
The scenario leading up to such cases generally went as follows: A landlord obtained a mortgage and purchased an apartment building during the booming 1990s or early 2000s, often for more than the property was worth. In the Park Slope case, "the owner got a mortgage for $1.85 million. The most that the property could have supported was probably about $500,000," says Brent Meltzer, an attorney for South Brooklyn Legal Services who represents the tenants.
By 2008 or so, the housing market began to dive, and the property was no longer worth as much as the owner paid for it. Operating costs such as water and insurance also increased dramatically, making it difficult for landlords to cover their costs. In rent regulated buildings, the owners were limited in how much they could raise rent, and even in buildings that were not regulated, the market kept landlords from increasing rents. This left the landlords to choose between using rent proceeds to meet mortgage payments or for the building's maintenance and repair. The former inevitably won out, but many owners still could not pay the mortgage, and so the lending bank eventually foreclosed on the property.
A bank that forecloses on a property does not officially become the property owner -- with both the right and responsibility to enter the building and perform necessary maintenance and repairs -- until the legal process is completed. During the intervening months or years, the property and its tenant remains in a no man's land of sorts, according to Lander, whose district stretches from the Columbia Waterfront to Borough Park and includes Park Slope. "The bank brings the foreclosure, the owner essentially walks away and there's no one left to take care of the building," he said.
The court typically appoints a receiver to collect rent and use the money to perform limited maintenance, but not necessarily to make significant physical improvements. "The receiver is not there to fix up the building and make it better. Its role is basically to do general upkeep," Meltzer said.
In the Brooklyn case, the court didn't appoint a receiver until almost a year after the foreclosure suit began. A court order limits him from spending more than $2,000 on a single repair without the bank's consent.
Physical problems often occur in these rent regulated apartment buildings facing foreclosure both because the buildings are typically older and require substantial maintenance and because the relatively low rent income made it difficult for landlords to make major repairs.
Money for Maintenance
The foreclosure process, said Meltzer, is messy. "Everyone is trying to point the finger at someone else. Meanwhile, the tenants are just sort of stuck sitting there without repairs being done," he said.
In an effort to change that City Council is considering three bills. Intro 494, proposed by Lander, would require a bank seeking foreclosure to post a bond to cover the cost of any emergency repairs along with fees and fines for housing code violations. Housing committee chair Erik Dilan has two measures: Intro 500, which would make a bank seeking to foreclose on an apartment building responsible for maintaining the property, and Intro 501, which would require a bank bringing a foreclosure action to register with the city housing department within 10 days after it initiate the action.
The measures' supporters and tenants' attorneys reason that banks should be responsible for the conditions at foreclosure properties because they helped create those conditions by providing "overleveraged" loans, mortgages with a monthly payment that cannot possibly be covered by rental income.
"The problem over the past five years has been the banks bankrolling this," Ian Davie, a Legal Services attorney representing the Bronx tenants, said. "It's very straight forward: The income from the building can't support the debt service on the mortgage."
New York Community Bank, the city's largest multifamily lender, is also one of the largest overleveraged loan bankrollers, according to Davie. In June, city Housing Commissioner Matthew M. Wambua wrote a letter to the bank, imploring it to take action to improve the conditions at a number of distressed properties in the bank's portfolio. Noting that the bank's "holdings are some of the most distressed properties in New York," said the buildings cost the city money by lowering nearby property values (and tax revenue) and requiring increased police, fire and sanitation services. Wambusa went on to warn the bank, "It cannot be the responsibility of the City of New York to subsidize irresponsible property owners."
But not everyone agrees that a foreclosing bank should be responsible for building upkeep and maintenance. "If enacted, the legislation will discourage financial institutions from extending mortgages in the city, as they will then face monetary obligations that have become completely unpredictable and wholly disproportionate to their mortgage investment," says Christopher H. Palmer of Cullen and Dykman, LLP, the law firm representing New York Community Bank in the Bronx litigation.
In an April hearing on the bills deputy housing Commissioner Ruthanne Visnauskas questioned the legality of requiring a bank that doesn't technically own a building to enter it and make repairs. Visnauskas also expressed concern that "the obligations imposed by 494 and 500 may discourage lenders from providing mortgages" and "imposing financial requirements may deter lenders from foreclosing altogether."
Palmer says that lawmakers should instead focus on speeding up foreclosure proceedings and requiring that a receiver be appointed immediately after the proceedings are initiated. "We need to expedite and streamline the New York foreclosure process if we are going to return these distressed properties back to responsible ownership and better management," he said.
Perhaps the one thing that everyone agrees on is that the foreclosure process leaves tenants in a precarious situation.
Jimenez pays $152 a month for his apartment. While renters paying 10 times as much or more for their apartments may have a hard time empathizing with him, Meltzer said there are a host of reasons why they should be concerned about him and his neighbors. "No matter how much they're paying, no one should be living without heat or hot water, especially elderly and disabled tenants and especially in New York City," Meltzer said.
The Park Slope tenants, he said, have earned their homes. "Don't forget, this was a different neighborhood 10 years ago. This wasn't Park Slope, this was Gowanus. These are the people who stabilized the neighborhood when New York was falling apart. They lived there in the '70s and '80s when people who are living there now wouldn't dare to," he said.
So Meltzer, Lander, Davie and others plan to continue working on behalf of these and similar tenants. "This is a problem that's not going to go away anytime soon," Davie said. "We will certainly keep trying to fight to hold banks accountable."