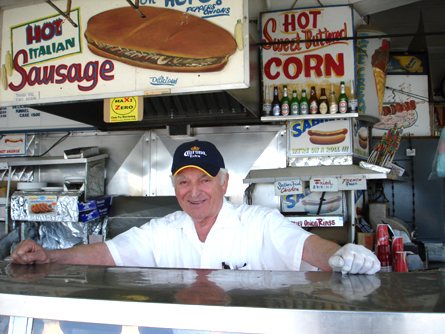 Paul Georgoulakos: "Coney Island raised my family."
As he bastes shish kebabs with a sweet-smelling barbeque sauce, 78-year-old Paul Georgoulakos, admits, Coney Island is "all I know." But the Coney Island Georgoulakos knows may soon change forever, leaving an uncertain future for his food stand and many of Coney Island's other mom and pop businesses.
Coney Island has long been the city's neglected — if beloved — playground. After its glory days of hotels, Dreamland and Luna Park, it remained the city's daytime getaway – cheap and a little sleazy -- for generations. But now Thor Equities, a large development corporation, has bought more than 12 acres in the heart of Coney Island and hopes to build a hotel, luxury condos and a glitzy entertainment area. Thor's vision for Coney Island does not include some of the area's amusements, including Astroland, whose lease was not renewed by Thor and will close at the summer's end. Some of the rides could be moved elsewhere. (The Cyclone and Wonder Wheel, however, will remain.)
Thor still confronts obstacles in making its high priced vision a reality. The city planning department has said it does not think Astroland site is appropriate for residential development, and under the current zoning, such development is prohibited. Thor Equities has been lobbying for rezoning that would change that. Meanwhile the city is developing a plan for the community, and other developers and property owners are trying to figure out how they fit in (see related story)-->.
A LIFE ON THE BOARDWALK
Small vendors like Georgoulakos remain in a state of limbo as they wonder whether or not their leases will be renewed. But Georgoulakos says he has survived difficult times at Coney Island before. When his milk stand burned down in 1950, he moved to the other side of Coney Island and built another one. Then, in 1970, Georgoulakos and his friend Gregory opened Paul and Gregory's, a restaurant that has served the Boardwalk with funnel cakes, pizza and more ever since.
The reality though, is that for many of the area's small businesses along the boardwalk, this season will be the last. Even if Thor Equities chooses to renew a business' lease for the coming year, the development is likely to bring gentrification and higher rents and that will squeeze out Coney Island's smaller entrepreneurs.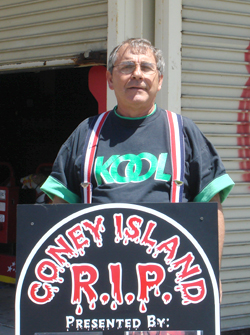 Manny Cohen: "They're going to make it look like Las Vegas."
For now, though, the area's small-business owners have work to do. Clams must be baked, ice cream scooped, games painted and readied for throngs of visitors. And for the colorful cast of characters who continue to make Coney Island a destination unlike any other, one thing is certain: The show must go on.
It is still early in the season but Gregory and Paul's has a line of customers waiting to taste one of Georgoulakos' chicken kebabs, hot off the grill. A younger employee shouts out into the boardwalk. "Funnel cakes! Hot pizza! Hot dogs! Hot chocolate! Come and get it!" On the Boardwalk, it all is available and almost anything goes.
"Every year has been a good one," Georgoulakos says from behind the grill. "This year [though] is not so good," he said. Still, Georgoulakos is not angry. He talks of the sense of community he has found in Coney Island, and of a retirement that will allow him to spend time with his wife, who is not well. "There will always be someone else to take my place," he says. "I hope they do as good as I did because I did good. I'm happy. Coney Island raised my family."
He fears, though, that the Coney Island that supported his family way be doomed. "Coney Island without the amusement area? I don't know what you're going to call it," he said.
POOR PEOPLE'S PARADISE?
Not all the owners are at peace with their business' uncertain future. After 27 years on Coney Island, Manny Cohen, the owner of the Coney Island Arcade, featuring pinball machines and video games, is furious. His black tee-shirt is emblazoned with the hot green letters "KOOL," for the cigarette's logo. Tugging at his red, white, and blue suspenders with his thumbs, Cohen's defiance grows as the conversation goes on. "I hope they don't give me a lease," says Cohen. "I'll be out by September."
Coney Island, says Cohen, has been the "poor people's paradise." But he thinks that will change if Thor Equities builds its luxury condos and mixed retail space. Walking past a maze of arcade games and neon signs stored in his garage, Cohen enters his office and settles rather reluctantly into a well-worn chair. "After one summer or two, they're going to shut the beach on the poor people," he says. "There is no way Thor [Equities] can afford to open an amusement park after the price they paid for the land. "It's all a hooplop. They're going to make it look like Las Vegas."
But Cohen remains sanguine about his own future. "I'll move on," he says. "I'm going to do the very same thing," he said. Where will he go? Ironically enough – to Las Vegas, where Cohen says many of his friends may relocate their businesses. "There's a life beyond Coney Island," says Cohen. "If that's what the city wants."
Cohen wants Mayor Michel Bloomberg to send a couple of representatives to Blackpool, the oldest amusement park in England, so they can see how "civilized nations" preserve their historic amusement parks. "I'll donate the money for the trip if the city doesn't have it," he says. (The president of the Coney Island Development Corporation, Lynn Kelly, says she has indeed visited Blackpool, the closest thing in the world she could find to Coney Island, but still very different.)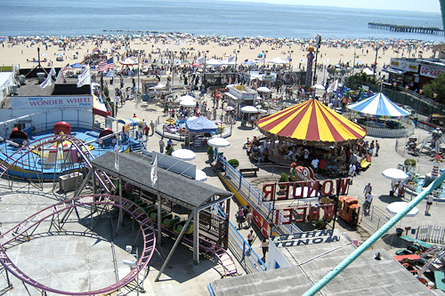 Coney Island: "Every year has been a good one."

REFUGE FOR A FREE SPIRIT
Further down the boardwalk next to Nathan's is Cha Cha's Bar and Café. Formerly known as Club Atlantis, over the years, it has featured a surprisingly array of talent. Tito Puente, Steve Allen, and Jimmy Durante have all graced Cha Cha's small neighborhood stage. Black and white photographs, many of them relics from Coney Island's early days, mingle with newer color shots on the wall.
A man named J.T., who calls himself a "long-time friend" of Cha-Cha, the owner, sits with a cigarette at the bar and offers a brief history lesson. Cha Cha's he says, is only in its fifth season, but is already a mainstay on the boardwalk and was seen on "The Sopranos."
"I grew up [in Coney Island] and worked on the Boardwalk," J.T. says. "That's my baby picture on the wall," J.T. says, pointing to the frame. "I was booking entertainment by the time I was 12."
J.T. doesn't know what's going to happen to Cha Cha's or the Coney Island's other small businesses. "Only God knows," he says. But he hopes he can remain. "I'm a free spirit but this is the place to be." J.T. says.
A Nathan's Hot Dogs employee rushes in. "J.T.! Do you have $200 in change?" she asks. J.T. laughs, "What are you asking us for? You're Nathan's! You're a huge conglomerate!" The employee tries again: "So you don't have $200. "No," J.T. says. "But if we did, I'd give it to you."
Â