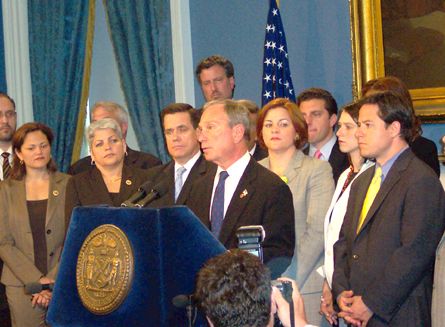 The sweeping campaign finance law introduced by Mayor Michael Bloomberg and leaders of the City Council last week is being championed as the most progressive campaign finance reform proposal in the country. Good government organizations applauded Bloomberg and Council Speaker Christine Quinn and congratulated them on taking on "pay to play" campaign contributions.
But, whatever its eventual impact might be, some experts said candidates, including members of the City Council, may be able to skirt its requirement for the 2009 city elections. If deadlines outlined within the legislation go unmet, candidates for the next citywide election would not have to comply with the tougher standards.
With dozens of council members facing term limits, many plan to seek another office and are already banking campaign contributions. Some of those donations would be banned or limited by the proposed legislation, giving some council members an advantage in the election and others an incentive to fundraise as fast as possible.
Tackling Pay to Play Per Se
Introduced at its stated meeting on June 5, the proposal (Intro 586) attempts to sharply limit the influence of corporate and special interests in city government. Having already been recognized for its public financing of campaigns and other aspects of its campaign finance law, the New York City government now proposes to reduce contributions from those with government contracts and from lobbyists by 90 percent.
The bill would:
- Reduce the cap on campaign contributions from government contractors or others who "do business" with the city, such as lobbyists or land use applicants from $2,750 to $250 for council races, $3,850 to $320 for borough-wide races and $4,950 to $400 for citywide races.
- Provide $6 of public financing for every dollar acquired in the first $175 in a contribution, instead of the $4 for every dollar up to $250.
- Prohibit matching public funds for contributions from those who "do business" with the city.
- Include limited liability companies and limited liability partnerships in a ban against corporate campaign contributions.
- Expand the definition of fundraising intermediaries, who are subject to disclosure, from those who deliver campaign contributions to those who solicit funding as well.
- Require that a race be competitive before a candidate can receive public financing.
Stated Meeting: Whistleblowers and Immigration
While campaign finance reform captured much of the attention at the City Council stated meeting on June 5, the council also overturned Mayor Michael Bloomberg's veto of a bill to protect whistleblowers who report an act that endangers a child and approved a resolution on national immigration reform.
The council approved the whistleblowers bill, (Intro 83), by a vote of 49 to 1 with Councilmember Peter Vallone, Jr. casting the no vote.
The legislation expands whistleblower protections to teachers, social workers and others and prohibits retribution if an individual reports conduct that harms a child.
Critics have called the measure redundant and say it is another attempt by the teacher's union to strike back at the mayor for overhauling the public school system. The union had pushed unsuccessfully for a similar measure in 2006.
But Council Speaker Christine Quinn called the bill "common sense." And Councilmember Eric Gioia, who sponsored the bill, said, "No one should ever have to decide between the best interest of the child and keeping their job."
The override is one of few since Quinn has taken over the council.
The council also approved Resolution 842 urging Congress to adopt comprehensive immigration reform, sparking a heated debate at City Hall.
Democratic Councilmember Miguel Martinez of Manhattan said the bill proposed in Congress is "totally contrary to what this great country stands for." He added that an opportunity to get permanent resident status "should not be limited to few."
But Vincent Ignizio, a Staten Island Republican, disagreed. "We're not talking about immigrants," he said. "We're talking about illegal immigrants - those who come to this country and try to jump the line."
The resolution calls for Congress – which currently is deadlocked on the issue -- to provide a path to citizenship for illegal immigrants now in the country, to support family unification, and to restore due process to immigration procedures.
The bill, according to those who worked on drafting it over a six-month period, is meant to empower New York City citizens by emphasizing smaller donations and limiting the contributions accumulated by those with government contracts.
"We set out to do three things: one to make sure we had a fair system, a system that was fair and clear and user friendly for all participants, a system that would encourage New Yorkers to run for office if they wanted to and be a part of our public campaign system," Quinn said at a press conference prior to introducing the bill. "And two, to protect the public's money… and third we wanted this bill to send a message to New Yorkers that all of us in public office work for them."
The Effects of Unmet Deadlines
The law takes direct aim at pay to play, a practice in which a company, person or non-profit contributes to a candidate's campaign fund hoping to influence decisions on government contracts later on. To combat such undue influence, the proposed legislation bans any donations from corporations and, for the first time, limited liability companies and partnerships.
According to a report commissioned by the Campaign Finance Board, in the last citywide election in 2005, $9.4 million out of $42.3 million in campaign donations came from those that "do business" with the city, while in 2001 those that did business with the city accounted for $15.6 million in contributions, or 22.3 percent.
In the proposed legislation, "they have successfully resolved issues that protect the right of the people to participate in campaigns, strengthen the value of small donors while limiting the influence of many big money interests who do business with the system," said Dick Dadey, the executive director of Citizens Union (a sister organization to the Citizens Union Foundation, which publishes Gotham Gazette).
But some of these measures, such as limits on contributions from government contractors and land use applicants, are accompanied by a timetable. Any delay in the creation of the "doing business" database by the mayor's Department of Information Technology and Telecommunications could affect when the legislation would go into effect. For example, if certain parts of the database are not certified by November 2008, the respective sections of the bill would not go into effect until the next election cycle.
Eric Friedman, a spokesman for the Campaign Finance Board, said officials designed the legislation to allow incumbents and prospective candidates to get accustomed to the new rules. Changing the guidelines quickly before Election Day, officials said, would not be fair to the candidates.
But whether the database, which would contain officers and individuals with more than a 10 percent stake in a contract, can be compiled quickly is another question. The data would have to be compiled within six to 18 months of the bill's passage.
Despite the tight time frame for the massive amount of data compilation, some said the deadlines could, and should, be met in time for the '09 contest. "The bill makes the mayor ultimately responsible for the development of the databases," Friedman said. "We are certainly going to work with them to provide any assistance."
A spokesman for the mayor's office said the administration was "completely confident" it could meet the deadline, and a City Council spokesman echoed that sentiment, contending Quinn wanted the legislation, which is co-sponsored by 24 other council members, to apply to the 2009 election.
Time to Beat the Clock
In hopes of seeking higher office, more than three dozen officials have already registered with the Campaign Finance Board to begin fundraising for the election more than two years away. Many have collected contributions that would not be permissible under the reform bill, such as donations from liability corporations or gifts that exceed limits anticipated by the legislation for individuals, such as lobbyists.
The legislation is not retroactive; so any funding collected prior to its enactment is free and clear of the more restrictive standards. And with both term limits and contribution restrictions looming, some candidates might be particularly aggressive in courting big donors now – before it is too late.
"When this bill is implemented there will be a timetable with passage and implementation," said Republican Councilmember James Oddo, the minority leader. "Every person seeking office in 2009 will be on the phone to make as much money as possible to beat the clock."
Oddo, who is looking toward a race in Staten Island as borough president, has not yet pledged to support or oppose the bill.
Chair of the Government Operations Committee and one of the bill's co-sponsors, Simcha Felder said it was inevitable candidates would try to beat the legislation's timeline and accumulate as many contributions as possible.
"Unless there could have existed a moratorium for months and months beforehand, there would be a level playing field," Felder said of racing to fundraise. "I can't blame anyone" for fundraising, he added. "They really would be putting themselves at a disadvantage."
And some officials said the current edge is no different from the advantage incumbents and other prominent candidates usually have. "Challengers really don't get started until the election is closer and on everyone's radar screen," Friedman said. "To that extent, yes, people that have gotten an early start may see some advantage. I don't know if that's different from any other election cycle."
For instance, Quinn has already received more than $84,000 in campaign contributions for the 2009 election, when she is expected to run for mayor. Approximately 7 percent of that is from limited liability corporations and partnerships.
A Classic Case: Does the End Justify the Means?
The bill, which will be before the Government Operations Committee this week and is expected to pass the full council, also intends to increase competition and influence of smaller, grassroots groups in citywide elections by upping the formula for public financing and specifying stricter criteria for declaring competitive elections, officials said.
However, some critics disagree on its ability to encourage competitive campaigning. Norman Adler, president of powerhouse, lobbying firm Bolton-St. Johns, said the proposed reforms close lucrative avenues of fundraising in a field with increasingly expensive elections.
"If you're talking about cause and effect, I know what the effect of this is going to be," said Adler, who has already surpassed potential limits on contributions to some candidates in the 2009 race. "It's going to be harder and harder to raise money, and it's going to penalize people."
Hank Sheinkopf, also a consultant, said the reforms could hurt candidates in minority or low-income districts who rely on larger donations from contributors limited by the proposed legislation. If passed, he said, the bill could hamper competition and make it easier for the more affluent, and self-financed, candidate or those with better name-recognition.
"People that contribute to politics happen to have an interest in politics," Sheinkopf said. "Where are these people going to get money from, the guy on the corner? It's nonsense."
Even Bloomberg has recognized the influence his own fortune played in his election.
And as with any other reforms, loopholes and detours will emerge, some said. "You know, how I would get around it?" Adler asked. "I would form a union."
An Equal Playing Field
The legislation largely leaves out one particular campaign contributor with a large influence in city government: unions.
According to the Campaign Finance Board, the top five contributors to City Council candidates in the last citywide election in 2005 were unions or union affiliated political action committees. Some critics said if government contractors are included in campaign contribution limitations, unions should be too.
"Clearly there is an 800-pound gorilla in the room," Oddo said of union's exclusion in the bill. "(The bill) is under inclusive, and it doesn't address all the incarnations of influence and perceived influence garnered by money," he added.
Others said in retrospect, unions should have been included in the legislation but doing so could have killed the measure.
"They could have never gotten the council to give them support," Felder said if unions had been included. "It was very personal."
But others said the legislation remains notable not for what has been left out, but for what has been included. Several government watchdog organizations, including Citizens Union, Common Cause/NY and the New York Public Interest Research Group have hailed the legislation and used it to contrast the tight rules on campaign finance in New York City with the lax rules for state elections in New York.
"We commend the city for advancing these forward-thinking reforms," said Megan Quattlebaum, associate director of Common Cause/NY. "Now, it's time for citizens to demand that lawmakers in Albany get out from under their shroud of winter darkness and follow in New York City's footsteps by drastically overhauling what remain some of the worst campaign finance laws in the nation."