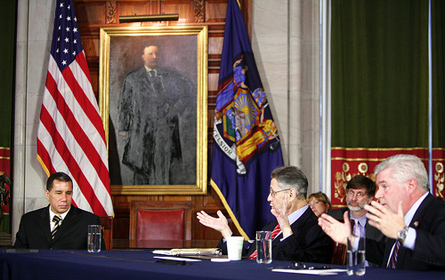 As the state enters its third month without a budget, Gov. David Paterson met with leaders of the legislature yesterday. With no agreement emerging, the governor said he plans to insert budget cuts and even measures to raise revenue into the emergency budget extenders that keep the state running in the absence of a formal budget -- starting next week.
Basically Paterson said he would start implementing his version of the budget piecemeal, and it is unlikely the legislature would vote against these bills because they keep the basic functions of the government running.
"Doing budget piecemeal is a crazy idea but to do no budget is even crazier," said Blair Horner of the New York Public Interest Research Group. "It will increase pressure on the legislature. We know the strategy of his proposal, but we have yet to see the substance."
Paterson and his budget director Robert Megna declined to lay out what cuts they might employ next week. Since April Paterson has introduced bare-bones budget extenders to keep the state running -- they did not include cuts or ways to raise revenues. Now, the governor could shut down entire programs or cut payments to organizations. Paterson has warned that the longer the budget process takes, the harder it will be to find savings, since the cuts will be spread over a shorter period of time.
Losing the Budget Battle
Paterson insisted yesterday as he has in the past that legislators and interest groups don't grasp the financial situation and are unwilling to present the public with tough cuts. "Every time we cut something it is a prelude to a press conference about restoration," said Paterson. "We are not having an ideological problem here. We are having an inability to face the public and address the fact we have lived beyond our means."
Senate Republican spokesman Scott Reif pointed out that members of his conference have been voting against Paterson's extenders for weeks. If Democrats join the fray to vote against unpopular cuts the extenders could go down to defeat leaving Paterson to decide whether to resubmit them without the cuts.
"We need to cut spending as part of the final budget product, not in an emergency appropriation," said Austin Shafran, spokesman for the Senate Majority Conference. "Our conference has proposed over $5 billion in spending cuts and is ready to cut more as part of a three-way agreement reached through an open conference committee process."
Assembly Speaker Sheldon Silvertold reporters he thinks Paterson should make cuts "where there is common agreement" part of the budget extenders. Asked what he thought about cuts where there is not agreement Silver said, "I would hope there would be a full budget before it comes into play."
A number of legislators declined to comment on Paterson's plan. Others simply said they will consider Paterson's cuts when they see them. "We need a balanced budget this year but the part we are losing sight of is long-term structural balance," said Assemblyman Richard Brodsky, a candidate for attorney general. "We are not really dealing with the problems of the long term. I am neither supporting or condemning what the governor says he is going to do but will view it in that context."
Paterson was dealt a major defeat last week when the courts blocked his plan to save money by furloughing workers. Now Paterson is considering instituting layoffs of state workers starting in the new year -- after his pledge not to avoid layoffs comes to an end and after he will have left office. "A lot of people think they can go to court and have the court bankrupt the government," said Paterson.
Another Week, Another Missed Deadline
With the budget 60 days late, June 1 was supposed to be the new deadline, as the state faces a $1 billion cash shortfall. Like most deadlines in Albany this one also fell to the wayside. Megna told reporters on Tuesday that the state had improved its cash flow position in June by delaying some education payments but added that each time payments are delayed it sets up a bigger "bottleneck" down the road. He said he expects such a bottleneck could occur in August or September if there is no action on the budget.
Close but No Cigar
How far are Albany's leaders from a budget agreement? If you listened to the promises and statements made during yesterday's leaders meeting you might get a sense that they are close -- or not.
"I thought there was a different tone more, more conciliatory than the last two leaders meetings," said Horner. "Maybe they've worked up a head of steam with the parks and charter [schools] bill." The Senate and Assembly did manage to agree on those two major pieces of legislation last week, and some see that as translating into progress in budget talks.
But the leaders' meeting did not totally reflect major unity across party lines or significant progress on the budget.
Senate Majority Conference Leader John Sampson and Silver indicated they are nearing an agreement on a framework of cuts but would give no time line.
According to the Budget Reform Act of 2007 before the budget can be completed conference committees must hash out differences in spending plans between both houses. Individual committees analyze spending on topics like health, education, etc.
Senate Democrats did release a list of members for different conference committees in May but Silver has insisted more negotiations need to take place before conference committees move forward.
Silver said until an agreement is reached on measures to raise revenue, conference committees would not make sense. "When are we going to have a meeting to get that resolved?" demanded Assembly Minority Leader Brian Kolb wondering when the leaders would decide on revenue.
There was dead silence.
"I think this is what they call in literature a pregnant pause," said Paterson.
There was further acrimony when Paterson sided with Silver in recommending that Senate Minority Leader Dean Skelos present his plan for cuts before going into conference committees. "When I was minority leader I put out a plan with specificity," Paterson told Skelos. Democrats say Skelos has avoided putting his own plans for cuts while criticizing the Democrats plans.
Skelos said the law was different when Paterson was minority leader.
"Our approach to conference committees is we will believe it when we see it," said Reif. "The speaker seems to be the only holdout. The Reform Act of 2007 mandated that leaders put out a schedule of conference committees 10 days after the governor releases his executive budget and there is still no schedule."
Tempered Optimism
Despite Paterson's tough talk, and the nasty back-and-forths there remains a sense that the budget process could come to an end shortly.
"I don't think this process needs to go past another two weeks," said Paterson.
"Saying we could be done in two weeks just puts it off again," said Skelos referencing the numerous false deadlines the state has already blown through. "If the Democrats want to fix this, they should do their jobs and pass a good budget," said Reif. Reif said he expects the budget to be agreed upon by the three Democratic leaders in secret and dumped in the laps of legislators with minimal time to consider it before it is voted on and until then he expects leaders meetings to continue. "It's positive. It forces everyone to put their cards on the table. If the speaker refuses to do conference committees then this is for all New Yorkers to see."
Horner remains unsure we will see a budget anytime soon. When asked if he thought the legislature will be out of town by the end of June he responded, "What year?"