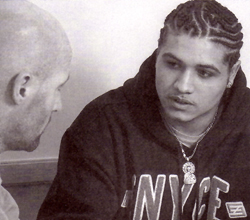 Najsha Chacon felt discouraged by her class work at crowded Fort Hamilton High School in Bay Ridge, Brooklyn. She began missing more and more of her classes, until there seemed to be little chance she could graduate. So she dropped out.
It was all the fighting and chaos in her school, Alexandria Stewart says, that drove her to drop out of Curtis High School in Staten Island.
Cooper Small had a 97.4 grade point average at low-crime, elite Stuyvesant High School in lower Manhattan. But he thought he was wasting his time.
Every year, thousands of young New Yorkers like these leave high school without getting a diploma. In a society with few good blue-collar jobs and increasing demand for technical skills, the low graduation rate has many people alarmed. It is "perhaps the most urgent problem that the school system faces," according to Michele Cahill, a top Department of Education official, testifying before the City Council.
STILL AN ISSUE
Last year, the low graduation rate, especially for African-American and Latino students, emerged as a major issue during the mayoral campaign. Democratic candidate Fernando Ferrer made the dropout rate one of his central themes, in part as a way to puncture Mayor Michael Bloomberg's boasts about improvements in education. Ferrer charged that only 38 percent of city students graduate on time. The debate quickly deteriorated into a squabble over numbers, with the Bloomberg camp saying the on-time graduation rate was actually 54.3 percent.
It was not just the Ferrer campaign that sees the Bloomberg administration's figure as greatly inflated, because, for example, it excludes some special education students, who graduate at a far lower rate, and it includes young people who get equivalency certificates (GEDs).
In any case, with the election over, there is general agreement that the number of drop-outs -- whatever it is -- is too high. Both Mayor Bloomberg and President George W. Bush, after focusing their respective efforts during their first terms on the education of younger students, have gone on record with their concern for teenagers.
Bloomberg announced a series of privately funded initiatives aimed at high schools, including the opening of more schools for students who had either dropped out or are at risk of dropping out. In his State of the City address last month, he promised to "begin creating more new schools, and new programs, that offer high school students additional routes to graduation, employment, and post-secondary education." But he did not say what those programs might be.
Last week saw the release of the Preliminary Mayor's Management Report, the major way the the public can see how city agencies measure up. In the education section of the report, it was evident that, by the Bloomberg administration's own figures, the on-time graduation rate had decreased slightly -- from 54.3 percent (the figure cited during the campaign) to 53.2 percent.
This week, the State Education Department released its own graduation rate for the city, one that was far worse -- 43.5 percent.
The Bloomberg administration did list other statistics to indicate that "more students are opting to stay in school at least an additional year to work towards graduation." But it was hard to deny the continuing problem of dropouts, though the mayor seemed to try to deflect some responsibility for it: "We have to wait for those who did get the benefit of having the basic skills earlier in their educational career to arrive at the high school level," he told reporters. "In the meantime, the numbers are going to go up and down and there's no reason to think that you're going to see lots of improvement until these things start kicking in."
WHY STUDENTS LEAVE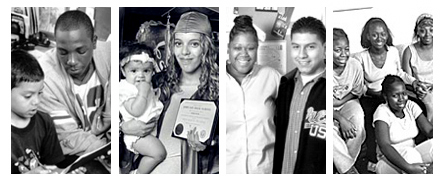 Reasons for dropping out are "as varied as the kids," said JoEllen Lynch, executive director of the Department of Education's Office of Youth Development and School-Community Services. "Things come up in their lives, and sometimes school can't meet their needs." Some of this is just part of adolescence. "I think they're always wondering why they have to be in high school," Lynch said
"Everyone's got their own story. But the common things are they feel alienated from school. And there are family pressures," said Nancy Romer, a Brooklyn College psychology professor and executive director of the Brooklyn College Community Partnership which runs after-school and weekend programs for high school students. (See story about this program, Luring Students with Fashion and Flash on the Community Gazette serving East Flatbush)
Outside Pressures
New York's failing students confront the array of problems that many poor people in the city grapple with. Some students need a job. Others must care for younger siblings, sick relatives or their own children. And their parents, perhaps juggling several jobs and barely making ends meet, may have little time or energy to make sure their teenager goes to school. Students in particularly stressful situations -- such as being homeless or living in foster care -- are more likely to drop out.
Lost in the Shuffle
Even after Najsha Chacon stopped attending classes at Fort Hamilton High School, she rarely saw a counselor. The school sent postcards home but she intercepted the mail. No one called to alert her father of the problem. Among 4,400 students, she was not likely to be missed. (For more on her story, see Bringing Dropouts Back on the Community Gazette serving Red Hook.)
"Often in school, there's such pressure to achieve, they don't have the time to pay attention emotionally and socially to kids," said Romer.
The situation can be particularly difficult for youngsters who need extra help or for those who do not speak English. (See related story, Helping Immigrant Teens Stay In School, on bilingual Luperon High School in the Community Gazette for Washington Heights.)
Academic Woes
Many students enter high school unable to do high school work. They may fail their ninth grade classes a couple of times -– and then give up. School enrollment figures for 2004 tell the story. Each grade from one to eight had about 75,000 students. Then, in ninth grade the number of students mushroomed to 103,000. But many students apparently got no further. Only 82,000 students enrolled in 10th grade and 41,000 in 12th.
Students find the move from junior high school to high school extremely difficult, said Susan Matloff-Nieves, associate executive director for youth services at Forest Hills Community House. In junior high school an adult or two watched out for them. That is rarely the case in the larger world of high school.
For whatever reason, students at some schools are far more likely to drop out than students elsewhere. "What stands out in New York City is not only the sheer concentration of poorly performing high schools, but how low" the graduation rate is in some schools, Robert Balfanz and Nettie Letgers of John Hopkins University wrote in a 2004 study (in pdf format): "For the class of 2002, there were more than 30 high schools in which the senior class was less than one third the size of the freshman class four years earlier."
Pushed Out
For some students the decision to leave was not voluntary. In 2002, Advocates for Children and the public advocate's office found that between 1998 and 2001 some 160,000 student were "pushed out" of school, many because they had low grades and seemed unlikely to graduate; by pushing them out, the schools' overall scores would look better. After the organization filed suit, the Department of Education, while not admitting any guilt, instituted policies to address the problem.
But Advocates for Children says the pushing out continues. Last summer, it filed suit against Boys and Girls High School in Brooklyn, charging it had illegally excluded students.
WHAT IS BEING DONE
Improving the Schools
As the mayor's comment on the latest dropout figures makes clear, he and schools chancellor, Joel Klein believe their overall reforms will eventually bring the dropout rate down.
But some question how much improvements in lower grades will help. A 2004 study of Chicago schools concluded that focusing reforms on elementary schools and ending social promotion did not lead to substantial improvements in the graduation rate. "Low performing high schools cannot be fundamentally improved by attempts to 'inoculate' children early," write Balfanz and Letgers" – if traditional large neighborhood high schools remain intact.
But Bloomberg and Klein have shut some of the large high schools, particularly ones with low graduation rates, and replaced them with small schools. The theory is that small schools provide students with more attention and keep better track of them. In small schools, "people develop relationships with one another. Teachers can use those relationships to leverage better performance," said Jacqueline Ancess, associate director of the National Center for Restructuring Education, Schools and Teaching at Teachers College. (See a related story, Building Community in a Cramped Space , about one small school, Banana Kelly High School, in the Community Gazettes for Hunts Point and other South Bronx neighborhoods.)
But Ancess cautioned, size is not enough. "If you re-create bigger schools in smaller versions, you're not going to see much of a difference," she said.
Although many small schools have not existed long enough even to have had a graduating class, there are indications that small schools hold on to students better. Unfortunately, they do not necessarily make those students perform better, said David Bloomfield, head of the Educational Leadership program at Brooklyn College and a parent member of the Citywide Council on High Schools.
He worries that many of the students at highest risk of dropping out -– particularly special education students (in pdf format) and those learning English -- are the least likely to benefit from the administration's reform.
Despite the emphasis on the small high schools, most city students attend larger schools and, Bloomfield said, the Department of Education does not seem to have plans for improving them. Instead, he said, they have "filled some schools with even more kids and cops."
Offering Extra Help
Many programs have sprung up seeking to address the deficiencies at so many public high schools.
They try to create "an environment that's conducive to learning, an environment where [students] can lead with their strengths," said Jim Marley, assistant executive director of Bronx community programs for Good Shepherd Services.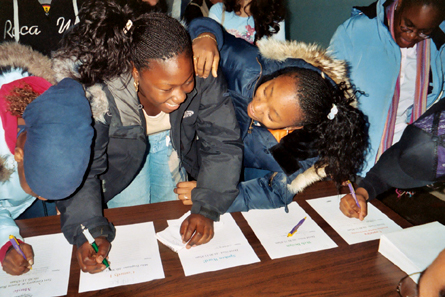 T
To get students to attend, they offer things kids like before moving on to homework help, test prep and counseling. The Hot Spots program run throughout Queens by Forest Hills Community House features sports, hip hop, break dancing and the like to attract middle and high school students to its programs.
The Brooklyn College Community Partnership program uses arts as the lure, and Robin Redmond, director of youth & immigration services for the Flatbush Development Corporation decided that, as long as kids were spending evenings in a school gym playing basketball, they might as well get some academic help as well.
The United Way's Community Achievement Project in the Schools works with several thousand middle and high school students who have been absent 27 to 75 days a year, which puts them at risk of dropping out. Working with community-based organizations, it provides counseling for students and their families. Last year, 49 percent of the students involved improved their attendance.
Making The Job Link
Young people find it "difficult to make the connection between what's happening in the classroom and future success," said Matloff-Nieves.
Cooper Small, the Stuyvesant dropout, did not think school would help him with his career -- and he may have been right. Small, profiled in the book The Case Against College, managed to make $175 an hour -- and get admitted to college -- without a diploma. But most students are not so fortunate, and thus many program seek to help kids make the link between school and career.
City as School, run by the education department for students at risk or dropping out offers work experiences with businesses, non profits and government agencies.
Good Shepherd Services oversees two mentoring programs in Bronx high schools -- one which places students at high schools with high dropout rates at the Ernest and Young accounting firm, the other with the Bronx district attorney's office.
And the Flatbush Development Corporation plans to launch a program at Erasmus Hall High School – a huge high school that has been broken into smaller "academies" – to provide college and career information to the predominantly low income students, many first generation Americans of immigrants. "We want to be the parent and mentor the school cannot be, "said Robin Redmon, director of education program's for the corporation.
If you "engage young people in their future," said Lynch. "You can excite them into re-engaging in learning.
"Transfer" Schools, The "GED," And Other Programs
Between the time a student drops out and reaches aged 22, the city offers several programs to try to get them back on track. Najsha Chacon attended one , South Brooklyn High School in Red Hook, and received her diploma in December. She now hopes to attend college and become a teacher.
For students who must work or take care of a child during the day, the Department of YABC program allows them to earn their diplomas at night. Beginning in September, the city added a Learning to Work program to provide vocational training at some of the YABC centers.
And many young people attend GED classes. Students can stay until they reach age 22 or pass the test. Alexandria Stewart, who dropped out of Curtis High School, recently began attending one of the classes -- run by the Flatbush Development Corporation -- at Brooklyn's Ditmas Junior High School. Many students in Stewart's class see the GED as an ideal alternative to school –- less class time, fewer hassles and in this particular case, thanks to evening classes, a way both to go to school and sleep late in the morning.
Others see shortcomings. "You miss so much by not being in high school," Redmond said. "You miss the socialization. And if you don't know how to get along with others, how are you going to get a job?"
But for students nearing age 21 and far behind in earning the number of credits, the GED may be the most effective path.
No single one of these program works for everyone. Few, if any, serve the students most in need –- those who read at an elementary school level, or worse. The people who work with dropouts or likely dropouts say the real solution lies in more resources for school and more attention being paid to the needs of city students, particularly poor and minority children. "The hope would be as you go on we will need fewer and fewer of the [special] programs," said Lynch. But, she added, "There may always be a reason a young person needs something extra in life."
FOR MORE INFORMATION
Articles and Reports
The Class of 2004 Four-Year Longitudinal Report and 2003-2004 Event Dropout Rates The Department's of Education's most recent analysis (In PDF Format).
High School Drop Out Rates in the United States (Manhattan Institute, 2002) This study by Jay Greene develops a new method of computing the dropout rate and, using it, determines that only 74 percent graduate nationwide.
Keeping Kids in School(American School Board Journal, December 2002)
Schools can do the most to keep kids from droping out.
Learning Disabled (City Limits, February 2002)
With the state setting tighter graduation requirements, more city students are leaving school to get a high school equivalency diploma rather than the real thing.
Leaving School Empty Handed: A Report on Graduation and Dropout Rates for Students who Receive Special Education Services In New York City (2005) A report by Advocates for Children examining data from 1996 to 2004.
Locating the Dropout Crisis (2005)
This study by two researchers at the Center for Social Organization of Schools at The Johns Hopkins University looks at how few of American's high school freshmen graduate four years later -- and why.
Losing Our Future (Harvard Civil Rights Project, 2004)
A report on how the nation's drop out crisis disproportionately affects blacks and Latinos.
Out of School, Out of Work … Out of Luck? (Community Service Society, 2005)
A study of the approximately 170,000 New Yorkers aged 16 through 24 who are neither working nor attending school.
On-Time High School Graduation Rate Fell in 2005 (New York Times, February 2006)
The percentage of New York City high school students graduating on time dropped last year, according to new figures released yesterday, to 53.2 percent in 2005 from 54.3 percent in 2004.
(School Improvement Research Series. 2001)
This report finds that the dropout problem is complex and requires a complex array of solutions.
Reinventing High School: Outcomes of the Coalition Campus Schools Project(American Educational Research Journal Fall 2002)
An assessment of a 1990s program to replace large failing New York high schools with smaller schools.
School Push-Outs: An Urban Case Study(Clearinghouse Review Journal of Poverty Law and Policy; January-February 2005)
An article by Elisa Hyman of Advocates for Children on the city's alleged efforts to encourage poorly performing students to leave school and legal efforts to fight it.
Programs
The After School Corporation
Provides grants, training and assistance to community groups running after school programs, including some aimed at dropout prevention, in New York City schools.
Brooklyn College Community Partnership
A network linking the college to the Brooklyn community, it runs after school programs at a number of Brooklyn schools and offers an arts program, which also provides tutoring and counseling, for middle and high school students at the Brooklyn College campus.
Coalition of Essential Schools
An organization that seeks to encourage the establishment of more personalized schools. Has been involved in the small school movement, including the Coalition Campus Schools in New York City.
College Now
A collaborative initiative of the City University of New York and the Department of Education designed to ensure that graduating students are ready to do college-level work.
Community Achievement Project n the Schools
A project of the United Way in which community organizations across the city work to help at-risk students stay in school.
Flatbush Development Corporation
Runs mentoring and career counseling programs for high school students and GED classes in Central Brooklyn.
Forest Hills Community House Runs a variety of after school and other services for middle and high school students.
Good Shepherd Services
A social services agency that provides an array of services for youth and families, including mentoring programs for at risk students at Bronx high schools. It runs South Brooklyn Community High School in partnership with the Department of Education and will open a second such school next year.
National Dropout Prevention Center/Network
A research center aimed at making schools better meet the needs of at-risk students so they can succeed academically and graduate from high school.
Â