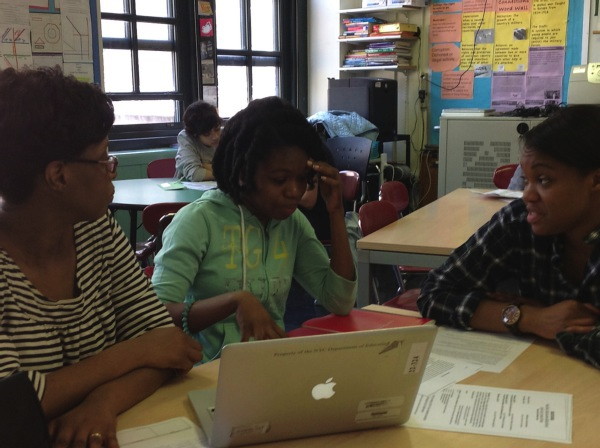 NEW YORK — One morning in March, New York City Schools Chancellor Dennis Walcott stopped by Global Technology Preparatory, a middle school in East Harlem.
He watched as sixth–graders who had just read Yummy, an acclaimed graphic novel based on the real-life shooting of an 11-year-old Chicago gang member, searched for articles on their laptops to support an essay on whether child perpetrators should be tried as adults.
In another class, a student recited a poem that built on what she had learned in an extended-day apprenticeship.
Walcott also chatted with Valerie Miller, a teacher who has spent years working with foreign-language software that allows kids to study a range of languages.
Global Tech, a school where most kids are poor, black or Latino — and about 40 percent have special-needs certifications — has become a showcase for one of the Bloomberg administration's signature education initiatives: the so-called innovation zone or iZone.
The premise behind the iZone initiative is that digital technology, projects based on real-world problems and tailored to student interests, as well as new approaches to scheduling both the school day and teachers' time, will both expand the horizons of the traditional classroom and inspire kids to learn.
The iZone initiative aims to address the disconnect between students' wired lives and the traditional chalk-and-blackboard classroom that, according to some education-technology experts, makes kids today less receptive to education.
In the waning months of the Bloomberg administration, however, the iZone initiative, and schools like Global Tech — which have benefited from extra funding and support offered through the program — are being buffeted by a series of changes, from budget cuts to city-wide implementation of the Common Core state standards.
And, with a new mayor set to take office in 2014, and likely changes in leadership at the Department of Education, it is unclear whether this Bloomberg legacy will endure.
Some of the changes, such as a new venture-capital-like challenge meant to get schools to compete for what is likely to be a much smaller pot of funding, are just the latest examples of the tumult that has characterized the experiment from the beginning.
As one iZone veteran told the Gotham Gazette on the condition of anonymity, ticking off the four executives who have run the organization in as many years: "The iZone is like the Hudson; it's constantly flowing, always changing."
The iZone highlights both the promise and the hype of the kind of outside-the-box thinking that was a hallmark of the Bloomberg years. It also demonstrates how challenging it can be to disseminate even the best ideas within New York City's large and ever changing public school system.
The iZone began in the 2009/2010 school year with 10 pilot schools. A few of the schools, including Global Tech, showed great promise both in terms of traditional measures — Global Tech received an A and B on its first two graded school report cards, as well as off-the-charts marks for student engagement, academic expectations and attendance. But the majority of the pilot schools dropped out of the experiment.
With those "failures," the DOE wrote the pilot year out of its history books and began dating the launch of the iZone to the following 2010/2011 school year when it expanded to 81 schools. The iZone initiative today encompasses 250 of the city's 1,700 public schools.
"It's been an iterative journey," says Andrea Coleman, who became CEO of the education department's Office of Innovation, which runs the iZone, in August. "The personalized learning experience overall has been a huge success for the district."
Last year, the iZone became a two-tier system with about 200 schools taking part in a limited way via access to education software offerings on the Department of Education's iLearn portal for interactive learning. Another 50 schools, including Global Tech, are involved with more extensive experiments, such as those involving scheduling, as part of what has become known as iZone360; participating schools also have access to a broader range of supports, including outside consultants.
For New York City's one million kids, such innovations have the potential to put an end to what Ken Robinson, the British education expert, calls the batch-processing approach to education, in which kids are sorted by their "manufacturing dates," i.e. by age and not ability or interests.
DEEP IN THE iZONE
The iZone has worked best where it has hewed to the vision of personalized learning.
At Global Tech, Carolyn Tarr, a music teacher, uses everything from garage-band software to podcast performances to mini-lessons on rhyme and rhythm, to teach a "challenge-based performance class."
The two sections of Tarr's class, which each meet once per week and have about 18 students each, work in small-groups — some formed bands, while others worked solo on slam poetry — in one cacophonous classroom.
For Walcott's visit, Zoe Cambrelen, an eighth grader who was first inspired to write poetry during a poetry apprenticeship that was part of Global Tech's after-school program, read, "Fight Like a Girl," which reads in part:
When they look her up and down and tell her not to hang around, she says, this is my city …
When they come around and try to beat her down, she goes the distance.
And you know why? Because she doesn't cry. She fights like a girl.
Meanwhile, on the Upper West Side, the West Side Collaborative, a respected, long-established Title 1 school, used its participation in iZone360 to expand experiments in flexible staffing, block scheduling and digital technology — all key iZone initiatives — that it had begun a decade earlier.
This year, for the first time, West Side created so-called "personal learning modules" tailored to the literacy needs of each student.
Working with a team of faculty, Jeanne Rotunda, the school principal, scheduled the entire seventh and eighth grades for a combined literacy period on Mondays and Fridays to work in small groups on discreet skills , which are based on each student's abilities and are mapped to the common core standards, as well as their preferred learning style and interests. The regular curriculum continues to be taught Tuesday through Thursday.
To help decide which PLM would be most beneficial for each student, and "to establish a baseline for student's mastery of a particular set of Common Core Standards," West Side teachers developed interactive challenge-based assessments. One of these, the Pacific Trash Vortex, which is based on a Texas-sized mass of garbage in the North Pacific, assembles a series of documents that students need to study, including news stories, lab reports and maps of ocean currents.
Each student is asked to imagine that she is an ecologist/oceanographer who has been hired by the National Oceanic and Atmospheric Administration to propose solutions to the United Nations. Students have to explain both the problem and the consequences of the vortex if it isn't solved, and create a Google presentation on their findings.
"The assessment is rigorous, engaging and authentic, and includes some gaming principles," said Paul Kehoe, a 32-year-old teacher who helped develop the assessment.
Teachers also surveyed the kids about their interests: sports, say, or art; their preferred learning styles — working in groups, individually or with a teacher; as well as data from their assessments.
By freeing up nine teachers to work with 120-or-so students in the combined grades, the teacher-student ratio for the PLM groups is much lower than it would be in a typical public- school classroom: While the largest group has 25 kids, the rest range in size from nine-to-18.
To support the idea of student-focused learning, West Side has also developed a highly nuanced "outcomes-based" grading system, in which students receive a grade of 1, below grade level, to 5, above grade level, on myriad competencies. Part of the point is to get kids to better understand their strengths and where they need to improve.
During a recent afternoon, students shared their report cards with their parents in student-led conferences.
Natalio Gonzalez, an 8th grader who loves art (especially the work of Brooklyn-born graffiti artist-turned-painter Jean-Michel Basquiat) and was recently accepted at the esteemed LaGaurdia High School, pulled up a multi-page spreadsheet on his MacBook to show his progress.
"My weakest spot is in communication," explained Natalio, who earned many 4s on his report card, but noted that he got a 3 in communication. He said students set academic goals with their advisors during a once-a-week "base-camp." One recent goal for Natalio was to do a better job of discerning evidence and using it to make claims in written essays.
Nearby, Niomi Manigault, a seventh grader, was showing her online report to her mom and older sister, explaining she wants to improve her performance in social studies in which she got an 88 on her most recent assessment. She also said she needs help in math.
Judith Manigault, Niomi's mom, says she is comfortable with the student-led conferences, which have only been in place since last January. "It holds her accountable," Manigault said. "I'm able to reach out to teachers via email or schedule a phone call" with questions and concerns.
Both West Side Collaborative and Global Tech are one-to-one laptop schools —though West Side's computer program predates the iZone. What the iZone has brought is both resources — including consultants who are expert at scheduling and technology — and, equally important, says Rotunda: "permission to push further."
Importantly, both schools also have developed their iZone innovations in collaboration with, and in order to maximize, the expertise of teachers. That is not always the case — either in the iZone or among education policymakers.
EVALUATING THE iZONE INITIATIVE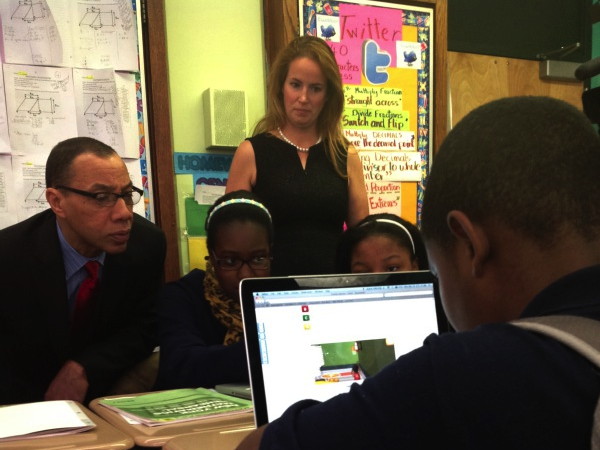 The iZone came of age in a climate where education technology has often been used as a Trojan horse for sidelining teachers unions and increasing class size. Conservative activists, led by Terry Moe and John Chubb (Liberating Learning: Technology, Politics, and the Future of American Education), promoted an explicitly anti-union, anti-teacher agenda in which kids would learn via computer with only occasional assistance from "asynchronous" instructors who work out of centralized teacher warehouses.
Joel Klein, the former schools chancellor who now runs Amplify, News Corp.'s education-technology business, had great enthusiasm for the iZone, especially its technology component: He envisioned classes in which Nobel laureates, such as Richard Feynman, would teach large groups of students via video.
"Joel misses the essence of teacher-student interactions, and the extent to which teachers focus on students' physical and emotional well-being, in addition to their academic learning," said Eric Nadelstern, the former New York City deputy schools chancellor and visiting professor of practice at Columbia University's Teachers College. "Virtual communities don't raise children, people do."
A subsidiary of Amplify has three current contracts with the DOE, though none for the company's new tablets.
There has been little systematic research inside or outside the iZone on the efficacy of K-12 online education. The number of U.S. students enrolled in online courses surged 47 percent in 2008 to just over one million, up from 700,000 two years earlier, according to two studies conducted by Anthony G. Picciano and Jeff Seaman, in a project funded by the Alfred P. Sloan Foundation. However, in the 2008 study, K-12 Online Learning, the authors note that, as of 2007, "no organization-public or private was systematically collecting" data on K-12 online schools.
Anecdotal evidence suggests that technology, in the absence of close teacher-student connections, doesn't improve outcomes, especially in inner-city schools where most kids can't count on parents to help them with their work.
Take the iZone's School of One, which was hailed by Time as one of the 50 best inventions of 2009. School of One uses a computer algorithm to sort kids by ability, generate a daily "playlist" of assignments for each child and grade quizzes. About eight adults supervise a typical jumbo-sized School-of-One classroom where most of the 150 kids work on computers, while a few teachers help smaller groups of students; but since half the adults are student teachers, the actual ratio of certified teachers to students is about 36-to-1. Many see School of One as part of a trend to create "teacher-proof" education.
After the first full year, School of One saw decidedly mixed results. Two of three pilot schools dropped the program and the founder of School of One, Joel Rose, left the DOE. While the School of One continues to operate in a few schools, there is little talk these days about the program's "miracles."
THE PRECARIOUS FUTURE OF THE iZONE
As the iZone enters its fifth school year, it faces both strategic and financial challenges.
The iZone's budget, which includes both public funds and private grants from philanthropies, such as the Bill and Melinda Gates Foundation, was $47 million in the 2012/13 school year. The city learned in December that it had lost a $40 million bid for Race-to-the-Top funding, which was aimed at rewarding schools that promote "personalized learning," including those in the iZone.
A map of iZone locations (source: NYC OpenData)
New York City also has yet to receive $256 million in Race-to-the-Top grants, which have been withheld by the State until a teacher-evaluation process is in place. In addition, the city lost about $257 million in the 2012/2013 school year for failing to arrive at an agreement with the United Federation of Teachers on a new teacher evaluation system — although a court recently ruled that the state could not withhold the funds to punish the schools.
Meanwhile, the DOE's $8.282 billion budget allocation from the state for the 2013/2014 school year represents about an 8 percent increase over the 2011/2012 school year.
Some schools — in and outside the iZone — also will benefit from a Microsoft class-action settlement with New York State, which will provide $87 million in the form of technology vouchers that will be reserved for high-poverty schools defined as those where at least 50 percent of the students are enrolled in a free or reduced-price lunch program.
At the same time, iZone schools are girding for a new system of "challenge" grants, which will be "shorter, sharper and more dynamic" than the more open-ended funding that has been provided thus far. The first of about 10 annual challenges will take place in May.
The challenge-grant process reflects the influence of business ideas on the DOE, which has worked with companies like Cisco and Apple since the beginning of the iZone.
For example, challenge-grant recipients are required to use such business-inspired strategies as "hackathons" — in the high-tech world, these are typically intensive one-day to one-week product development jam sessions. One long-time iZone consultant lauded the competitive nature of the challenge grants, saying they would ensure that only the best ideas, and most committed schools, get funding.
But educators are concerned. "School innovation isn't like software design," said Nick Siewert, a senior educational consultant at Teaching Matters, a leading nonprofit professional development organization, who works with several iZone schools.
Siewart argues that school improvement isn't analogous to one-time solutions or product fixes; rather, he says, it's about iterative learning and follow-through.
Chrystina Russell, the principal of Global Tech, worries that the challenge grant process will pit schools against each other and favor projects that "have immediate returns."
She is also concerned that established schools, already working on a portfolio of innovations, will get short shrift; she notes that Global Tech has not gotten any new funding yet for technology for the 2013/2014 school year—the first time she has gone into a new school year without such a commitment—and worries that the iZone will stop supporting ongoing experiments in favor of quick fixes.
Nor has the DOE done a good job of disseminating lessons learned in the iZone.
There is relatively little systematic research on the myriad innovations across the iZone, and few mechanisms for sharing the ideas that work, as well as those that don't.
"We know schools are idiosyncratic places, and finding the right opportunities to scale and diffuse ideas has always been a challenge," iZone's Coleman said.
She added that one of the iZone's goals is to focus on "scale and diffusion" and finding better ways "to maximize ideas across the system."
One way the iZone is hoping to do that is by expanding a system of principal and teacher-led affinity groups and events in which schools share the know-how they have developed in such areas as outcomes-based grading or fostering greater social-and-emotional awareness among kids.
Also this year, for the first time, schools receive some funding for assisting other schools.
This year, West Side Collaborative is helping East Bronx Academy implement student-led conferences. However, West Side's Rotunda notes there are limitations on the extent to which schools can learn directly from one another: "People learn through creating — by seeing something in one version and trying to create it for your own world."
Nor is it clear whether the education department will continue to fund this school-to-school mentoring initiative in the next school year.
Then, too, there is the chicken-and-egg problem.
The most respected iZone schools are ones that are noted for strong leaders who took advantage of myriad education department initiatives, especially the push to grant principals more autonomy and flexibility in exchange for greater accountability.
Even now, some of New York's most intriguing grassroots efforts aren't officially part of the iZone at all, but are led by entrepreneurial principals and teachers.
For example, the Staten Island School of Civic Leadership, a new school on Staten Island, uses software programs on the iZone's iLearn platform to help its most advanced eighth graders take the regents exam in algebra.
But a promising experiment at the school is taking place one grade below, and entirely outside the iZone framework, in a seventh-grade class led by three teachers under what school principal Rose Kerr calls the "triad" system.
She says the model is based on close collaboration among the teachers, block scheduling, intensive multi-disciplinary class projects and digital literacy.
For example, the class recently finished a Declaration of Independence for Staten Island, which began with a unit on the history of American War of Independence, including discussions about taxation without representation. It went on to cover questions about democracy versus autocracy that drew, in part, on readings from MacBeth. And it culminated with the writing of a press release that explains the secession movement and tweeting the plan.
The school received Teaching Matters' Elizabeth Rohatyn Prize, which recognizes principals who create rigorous and innovative learning environments, for its triad system. (West Side's Rotunda won the first prize in 2011.)
EDUCATION INNOVATION BEYOND BLOOMBERG
The Bloomberg years, with their school closings and the battles over punitive teacher evaluations, have often been confrontational and divisive. Yet, the best of New York's iZone schools have flourished on a culture of collaboration and entrepreneurialism fostered by strong principals and creative teachers who took advantage of a climate that promoted autonomy and accountability.
Now that autonomy is eroding, with a wave of new mandates from Tweed, even as the Common Core assessments and mayoral elections bring more upheaval. Last week, the iZone was abuzz with the news that two respected iZone principals had not received tenure.
Where the Common Core assessments are concerned, which have unsettled schools both inside and outside the iZone, the iZone schools have at least one advantage: Next year the assessments are to be administered online, which might help maintain funding for technology. It will also give schools that have done the upfront work on infrastructure an edge.
The real test for the DOE in the post-Bloomberg era will be whether it can nurture the entrepreneurism of both teachers and principals that have flourished at the best iZone schools, and find a way to spread that culture and the lessons learned throughout the system.
Andrea Gabor is the Bloomberg Chair of Business Journalism at Baruch College/CUNY; she is working on a new book on education reform.
___
Correction: This is an updated version of the story. A previous version incorrectly identified Richard Feynman as a chemist. He is a physicist. The story also misidentified him by the wrong first name.