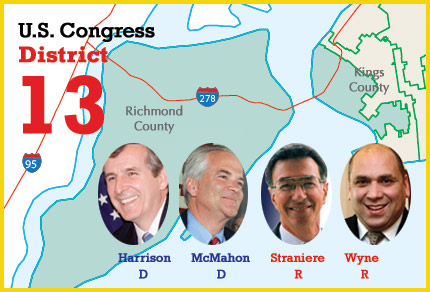 Their yards. Their minivans. Their accents. These are just a few of the things that distinguish Staten Islanders from other New Yorkers.
"It's just got a different vibe. Less metropolitan, more soccer mom," said Tom Johnson, who lives in Manhattan.
And there's another point of difference between Staten Island and the other five boroughs: It's Republican.
"Its political heritage is one of conservatism," said David Wasserman, the House analyst for the Cook Political Report, a nonpartisan newsletter. "Staten Island does not like to pay high taxes for city services that go to other boroughs that are typically in more need of government assistance."
This November, though, the most suburban borough could become a lot more like the rest of New York -- politically, at least. After going for President George W. Bush in the last presidential election, this district on Staten Island and a sliver of Brooklyn is poised to elect a Democratic representative for the first time in 26 years, according to many predictions.
But the Democrats shouldn't celebrate prematurely. With the Republicans fielding a determined candidate, much of the electorate still on the fence, and the Democrats waging an internal debate, there still is the possibility that this district could remain the only one in the city to send a Republican to Congress.
A Rough Summer for Republicans
If Staten Island does elect a Democratic congressman this November, it could be in part due to political upheaval on the Republican side. It takes an entire hand to count the controversies afflicting the borough's G.O.P. in recent months.
One: arrest of the incumbent representative, Vito Fossella, for drunk driving.
Two: his secret mistress -- and daughter.
Three: the party's struggle to name a replacement to run in November.
Four: the untimely death of the party's selected candidate.
Five: the opposition by many Republicans to the party's eventual choice, Robert Straniere.
But the G.O.P still sees Staten Island as Republican territory and does not intend to sit this one out.
Divided Democrats
With all their difficulties, the greatest hope for the Republicans may echo one buoying the G.O.P.'s hopes nationally: that ridden by divisions, the Democrats' will create their own undoing.
Four years ago, Democratic attorney Steven Harrison mounted an unexpectedly strong challenge to Fossella, winning 43.3 percent of the vote. Almost immediately he began laying the groundwork for a rematch.
Once Fossella got in trouble, though, Michael McMahon, a term-limited City Council member, decided to enter the race. McMahon portrays himself as a centrist, while Harrison, a local community board chair, has views that fall further to the left.
The establishment has lined up behind McMahon, with Senators Hillary Clinton and Chuck Schumer, major unions and even the Democratic Congressional Campaign Committee, which usually stays neutral in primaries, all endorsing the council member. An independent poll gives McMahon a 46 percentage point lead. Harrison also faces an upward battle financially: he had $180,000 compared to McMahon's near $500,000 as of the last filing deadline. (Straniere did not have to file because he was not a candidate at that time.)
"I don't think people see this as a competitive primary anymore," Wasserman said. "There's not much question McMahon will be the Democratic nominee unless Harrison can come up with a credible line of attack."
Republican Rifts
The Republicans, though, face their own deep divides. Tapped for the race after the party's initial choice Frank Powers died in June, the current candidate, Straniere, is a controversial figure. After 24 years in the State Assembly, he angered members of his own party in his unsuccessful campaign for borough president in 2001. In retaliation, he lost his Assembly seat in a Republican primary in 2004. His name still inspires vitriol from some of the Republican leadership.
Making matters worse in the eyes of many islanders, he now resides in Manhattan, though plans to move back to Staten Island, where he says he has lived "virtually all my life."
Straniere does have an opponent in the primary: Jamshad Wyne, a doctor. Wyne did not respond to requests for an interview. Neither did Carmine Morano, who will not appear on the ballot but is waging a write-in campaign for the Republican nomination. Nevertheless, the larger problem facing Straniere may well be Republicans who decide not to vote for him in November.
Straniere thinks he can overcome this -- and a widespread feeling that the GOP will not fare well this fall.
"You have an open seat in what we all acknowledge to be a difficult year for Republicans nationally," he said in an interview at his Manhattan office. "But that being said, my district has had a Republican representative for 28 years. I'm very confident that my district will continue to be represented by a Republican -- namely me."
Where They Stand
The alignment of the candidates on several issues presents a bit of a paradox: the contenders furthest to the left and to the right -- Straniere and Harrison respectively -- find more common ground with each other than with the centrist, McMahon. For example, in the commuter borough, Straniere and Harrison have similar positions opposing a policy McMahon supports: congestion pricing. Harrison calls the policy, which would charge people driving into Manhattan, "a Brooklyn Bridge toll."
"My constituents are already shouldering an enormous burden in the tolls they pay on the Verrazano Bridge," Straniere echoed.
McMahon has supported placing a waste station in the Brooklyn's Gravesend section, which falls within the congressional district. His opponents have come out strongly against it, citing environmental concerns and local opposition. McMahon's camp counters that he played a leading role on the City Council in working with the Bloomberg administration to craft a long-term solid waste plan for the city. McMahon chairs the council's committee on sanitation and solid waste management.
On many issues, some liberal Democrats question McMahon's positions. He ran with the backing of the Conservative Party in his City Council elections, favors civil unions over gay marriage, voted against a City Council resolution that called for a moratorium on the death penalty and opposed resolutions to end the Iraq war -- because, he said in a recent phone interview, "In matters of international affairs, the City Council isn't in a position to study the issues and do what the U.S. Congress should be doing." Critics, though, say he didn't want to alienate the right by voting against the war.
And he isn't strong enough on women's issues, according to the National Organization for Women (N.O.W.) and famed feminist Gloria Steinem, who both endorsed Harrison.
"[McMahon] has voted against much-needed information about emergency contraception," Steinem said in her letter endorsing Harrison. "This is one of those times when the choice between two Democrats is as clear as the choice between a Democrat and a Republican."
For his part, McMahon didn't seek the endorsement of N.O.W., gay rights groups or some organizations on the left.
To Drill or Not to Drill?
The candidates' views on the offshore oil drilling provide a kind of thumbnail of how they could think about many other issues. The debate over whether to search for oil in protected regions off the American coast has emerged as a hot partisan issue in recent weeks.
Harrison opposes drilling, because it would "not have an immediate impact on our current supply and would satisfy only a minor portion of our future need," he said. His position is substantiated by Department of Energy reports and lines up with the Democratic majority in Congress.
Straniere favors drilling, positing that the data in the energy department report is "misinformation. Absolutely not true." His view matches that of John McCain and most Republicans in Congress.
And coming in right down the middle, there's McMahon: He favors drilling, but also believes the government report casting doubts on its potential benefits.
"It's no surprise to me that Bob Straniere supports George Bush and John McCain's unfounded statements" on the reports, he said in a phone interview this week.
In his positions, McMahon walks a fine line: If he isn't branded a liberal, he may manage to peel off some moderate Republicans from Straniere. But can he do it without inspiring too much ire from liberal Democrats?
McMahon thinks he can.
"We're not going to win this race if we're coming from the far left," McMahon said, in a meeting with the Progressive Democrats, who ultimately supported Harrison. "We're not going to win this race if we're not coming from the center."
CORRECTION: This article originally incorrectly gave the elections results in the 13th district in the 2000 presidential election. The district went for Democrat Al Gore that year. It voted for George W. Bush in 2004.
Â