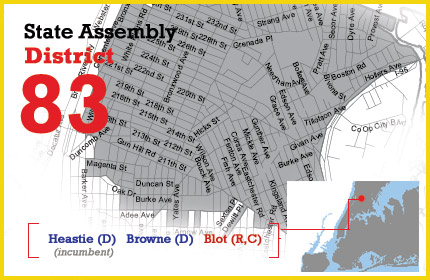 Update: Carl Heastie fended off the challenge from Sherman Browne, scoring what was widely viewed as one of several victories the Rainbow rebellion lodged against the Bronx Democratic organization on primary day. Now, he faces Michel Blot on the Republican Conservative lines.
Heastie's bigger challenge, though, lies elsewhere. He is locked in a heated battle to replace the current head of the Bronx organization, Assemblymember Jose Rivera. That fight has now gone to the courts.
Meanwhile, Heastie's most recent campaign finance report, apparently filed in July, showed him with about $36,000. Blot reported no contributions.
This contest is one of several viewed as skirmishes in a war between the Bronx County Democratic organization, headed by Assemblymember Jose Rivera, and a rival group, calling itself the Rainbow Rebellion. In the 83rd, the incumbent, Carl Heastie, is often described as a leader of Rainbow, and some observers see Heastie as a possible successor to Rivera -- if the Rainbow Rebellion manages to win control of the county organization. Heastie's challenger, Sherman Browne has served as chief of staff to City Councilmember (and organization stalwart) Maria Baez. Michel Blot is the Republican and Conservative candidate.

Back to the
Last Minute Voter Guide
Before going to the legislature, Heastie, who was first elected in 2000, worked as a budget analyst for the city comptroller's office. His Web site cites his work in " addressing education, economic development and furthering the interests of the elderly."
Heastie's July' campaign finance filing had him raising $73,240 and spending $43,414.62 for a closing balance of $36,031. Browne had $7,700 on hand. Records for Blot were not available.
Â