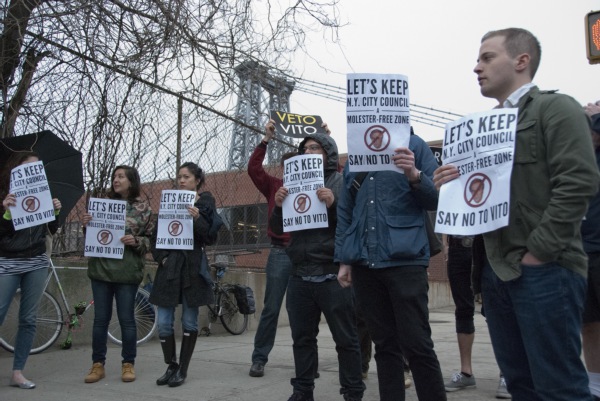 NEW YORK — With Vito Lopez having unceremoniously resigned from the state Assembly where he once lorded over the powerful housing committee, the career politician has turned his attention to getting elected to the City Council. And he just might succeed.
That's because the two other candidates in the race for the 34th district — one of whom is being backed by Council Speaker Christine Quinn — could end up appealing to the same pool of voters, potentially splitting them and handing Lopez a victory.
Perhaps more importantly, the disgraced former assemblyman, who is accused of sexually harassing several women, will undoubtedly call on his deep, established base of neighborhood support in the district to get out the vote on Election Day.
"He's a wonderful man, a wonderful politician," said Lalo Burgos, 73, who lives in the district and runs a barbershop near Maria Hernandez Park in Bushwick. And he said Lopez takes care of residents. "That's all that matters."
John Mollenkopf, a professor at the Center for Urban Research of the CUNY Graduate Center, said that community support could make all the difference for Lopez.
"He runs an old-fashioned type of operation that's very much based on loyalty," Mollenkopf said. "This will be a test of that loyalty."
It also doesn't take many votes to win in a Council primary: Diana Reyna, the term-limited Councilwoman who holds the seat, won in 2009 when there was no mayoral race, with 3,865 votes.
Last week's release of an embarrassing state ethics report detailing allegations of Lopez's misbehavior with female staffers led the 71-year-old legislator to announce his retirement at the end of the legislative session in June while also proclaiming his innocence.
The announcement was met with cries for an immediate resignation and movement within the Assembly to push him out of office.
Lopez then sped up his timeline. By Monday morning, his nameplate was taken from his office door and his Assembly web page was taken offline.
A second investigation, led by Staten Island District Attorney Dan Donovan as a special prosecutor, could find no basis for bringing criminal charges against Lopez. It did, however, call into question Assembly Speaker Sheldon Silver's role in a secret taxpayer-funded settlement for two of Lopez's former staffers.
"I have maintained my innocence throughout this matter and I believe no criminal investigation should ever have been conducted," Lopez said in his statement on May 17 announcing his resignation at the end of June before he was faced with the possibility of expulsion and resigned on Monday.
He said that he would focus on the Council race. "I expect to run a vigorous campaign on the issues facing the citizens of my community and hope to continue to serve them as a member of the City Council," he said. "I believe that the voters of the community should decide who should represent them."
Lopez and his representatives didn't respond to requests for comment for this story.
The longtime politician's deep ties to the Bushwick, Ridgewood and Williamsburg neighborhoods are rooted in his years as chair of the Assembly's housing committee, through which he steered state money to his district for low-income housing and a popular senior center he created.
Founded in 1973, the Ridgewood Bushwick Senior Citizens Council, was one of the main beneficiaries of the money that Lopez made sure flowed from Albany to his district.
"He's got a base of support through his social services that's going to vote for him no matter what," said Doug Muzzio, a political science professor at Baruch College.
And that, Muzzio says, could make the difference in how much the sexual harassment scandal plays into the Council race.
"In the 'should' world, this should kill him," Muzzio said. "But the 'is' world is another story."
Muzzio said a split between the other two candidates could hand Lopez the spot on the Democratic ticket, tantamount to election in November. "It's politics 101. If you want to win — split the competition," Muzzio said.
Lopez lost some of his support when news leaked last year that Lopez had been accused of sexual harassment by several former female employees. Lopez, who had represented the 53rd Assembly District since 1984, was censured and stripped of his housing committee chairmanship — the very seat of power which he used to funnel funding to his constituents.
He also lost his seat as the Kings County Democratic Party chair, which he took over in 2006 from disgraced former Assemblyman Clarence Norman Jr., after he was convicted of taking illegal campaign contributions.
Well before the ethics commission report was released, anti-Lopez protesters gathered on a soggy April afternoon around the corner from a posh Williamsburg restaurant on the water.
Organized by local members of the National Organization for Women and a progressive Democratic club, the New Kings Democrats, 20 or so protesters shouted from the sidewalk as cars drove in for Lopez's first fundraiser for the Council race.
"It's outrageous that someone who's been accused of sexual harassment has the chutzpah to run for City Council," said Lincoln Restler, a New Kings Democrats member and former Brooklyn district leader. Created in 2008, the reform club has spent years organizing against Lopez and endorsing candidates to subvert his influence across the borough.
One of those candidates is Antonio Reynoso, who is also a member of the New Kings Democrats. But he'll also have to face Tommy Torres, 40, in the district's Democratic primary.
Reynoso is the chief of staff to the 34th district's term-limited Councilwoman Diana Reyna, a former top aide to Lopez turned bitter foe. The 30-year-old Brooklyn native grew up in Williamsburg's South Side before leaving for college upstate.
By the time Reynoso came back to Brooklyn, he knew he wanted to be in politics even if he didn't know where to start. He said he went out one day with two resumes: one for Reyna and one for Lopez.
Lopez's office was closed that day; Reyna hired him. "God steered me in the right direction," Reynoso said.
Reynoso makes no effort to hide his disdain for Lopez, especially in the wake of last week's report. "He should resign immediately and step away from serving public office," he said. "There's no remorse. There's no realistic understanding of what he's done. And that's the biggest crime."
Reynoso isn't the only one upset by Lopez's bid for City Council, and he's already received powerful backing for his run. Speaker Christine Quinn launched a "Women for Reynoso" campaign, naming Reynoso as the only viable option for the 34th District.
"We must ensure that Vito Lopez never sets foot in City Hall," Quinn said in a statement.
Reynoso has also been endorsed by another Democratic progressive in the mayoral race, Bill de Blasio, and has gained the support of major unions — which Muzzio said will be a key factor in the race. To beat Vito, he said, "You need organizational muscle."
To date, Reynoso has raised around $86,000 for the race. While Lopez has managed to net approximately $38,000 for his City Council run, The New York Post has already reported that Lopez might be able to roll over some of the more than $1 million he has in state campaign coffers.
Meanwhile, Torres, the third candidate for the Council seat, has raised close to $23,000. A public school teacher and athletic coach, Torres grew up in Cooper Park Houses, one of Greenpoint's public housing developments.
Torres stayed in the borough for college, going to St. Francis College in Brooklyn Heights on a baseball scholarship. He followed that up with a master's degree in education from Mercy College in Westchester County, which Torres said wouldn't have been possible without the city's public education program.
"I took advantage of the public schools," said Torres over the phone after coaching a baseball game. "I came back to continue the good work."
For either Reynoso or Torres to come out on top, they need to beat Vito's ongoing popularity around the district. Throughout Bushwick, Lopez's current constituents still say that they care more about his generosity than the allegations against him.
Caesar Bettencourt, 72, stood near a stoop along St. Nicholas Avenue as he defended Lopez.
"I think certain people are trying to make trouble for him," said Bettencourt, a regular at the local senior center. "I think it's all a setup. It's politics."
An earlier version of this article originally appeared in a NYCity News Service multimedia project entitled "Bushwick Beyond the Brand," which examines continuing changes in the neighborhood as the Bloomberg era comes to an end.