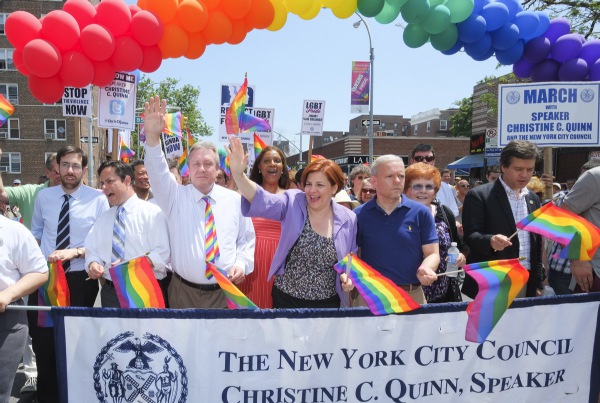 NEW YORK — Once again in 2013, the leading candidate for mayor is a woman: Christine Quinn as Bella Abzug was in 1977.
Quinn has become one of the most powerful woman politicians in the city through her role as City Council speaker. Abzug was a lieutenant to US House Speaker Tip O'Neill. Both had roots in community organizing.
While supporters of both acknowledge they are very different politicians for very different times, once again the most negative articles in the press are about the woman frontrunner.
Abzug was cast in the media as shrill, strident and loud — with one reporter calling her the "Muhammad Ali of feminist politicians" — and portrayed, at least once, as a witch on a broomstick in a cartoon.
While the New York Times has done some soft features on Quinn — showing her at her weekend home with her wife, Kim Catullo, and exchanging ideas with Holland Taylor who is playing Texas woman trailblazer Ann Richards on stage — in March it ran a front-page report on the trouble she has controlling her temper and how she has used her power as speaker to punish Council members who do not accede to her wishes. Some of her supporters have called the story a hit job.
In the first part of our look back at the 1977 race — and what lessons may be drawn from it for this year's race — we showed how the specific social backdrop of that year shaped a tumultuous field of contenders, while the New York Post as a newly conservative voice in the city worked successfully to shape the outcome. In the end, though, predicting the race before the primary was a gamble.
In this part, we look in particular at Quinn as the frontrunner in the Democratic field, which was complicated in recent days with the entry of former Congressman Anthony Weiner. We also look at the LGBT vote then and now; the Post's diminished role in the election; the gender gap; and race and the mayoralty.
As Quinn seeks to become the first woman mayor, Quinn owes a debt to Abzug who was the first serious woman candidate to run. But Quinn has governed and run her campaign more as what Ed Koch pitched himself as in 1977 — a "liberal with sanity." And she surely does not want to end up as Abzug did: fourth in a crowded field.
And with no one issue as yet proving transformative in the race, the 2013 election outcome may prove to be even more unpredictable than the race in 1977.
QUINN AND KOCH
While Quinn is an out lesbian and has been endorsed by national gay rights organizations, Koch's sexuality was a topic of rumors and innuendo throughout his political career — including the infamous "Vote for Cuomo, Not the Homo" poster campaign run by Cuomo supporters in conservative districts.
A lifelong bachelor, Koch did his best during the 1977 campaign to imply that he was heterosexual, making sure to be photographed holding hands with former Miss America Bess Myerson.
Once in his mayoralty he told an interviewer that he was heterosexual, a proclamation that made the front page of Newsday and was derided by his critics, especially by ACT UP, the then-radical direct action organization that was working to call attention to the plight of people with HIV/AIDS.
Thereafter, Koch resolutely refused to answer questions about his sexual orientation and when confronted with evidence of his homosexuality by the makers of the documentary "Outrage!" walked off the set spewing a barnyard epithet. At his death, even his closest gay friend acknowledged it would have been better if Koch had come out about who he was.
Quinn so identifies with Koch that she led a successful campaign in the City Council to rename the Queensborough Bridge for him—over the objections of some Queens Council Members such as Peter Vallone, Jr., who said they wouldn't even think of renaming the Brooklyn Bridge.
Koch endorsed Quinn for mayor back in December 2011, telling The New York Times: "I believe that she is center-left, which is what I am. Of all the candidates, Christine is the best able to follow in the steps of Mayor Bloomberg and myself."
When Koch did pass away earlier this year, Quinn said: "I can remember seeing him on TV when I was a little girl and thinking to myself, 'If I could ever meet him it would be a dream come true.' Years later when I was working at the Anti-Violence Project, I was in the midst of a very public battle with City Hall. Mayor Koch called me out of the blue. I had never spoken to him in my life. He told me, 'You're doing the right thing. Don't back down, and call me if I can do anything.'"
"New Yorkers want Daddy as their mayor," my co-host on "Gay USA," Ann Northrop, has hypothesized. "They just want someone to take care of them so they don't have to —and tell them what to do and to give the illusion of strength against everything they fear."
That may explain some of the tolerance New Yorkers have for zealous policing, like stop-and-frisk that has only now become a serious political issue.
(It may also be why, even this late in the race, there is unabated interest in some quarters for Ray Kelly for mayor — who gets high marks for his performance as police commissioner but is a virtual unknown on the many other issues a mayor has to deal with.)
But it is unclear yet who is wearing the pants in this race — Quinn or one of her opponents — or if the tough stance this year will be about who will keep order or who will restore some balance to the city's treatment of the middle class and poor.
Allen Roskoff, a gay activist who has been involved in city politics since the era of Mayor John Lindsay and is now president of the Jim Owles Liberal Democratic Club, a left-leaning citywide LGBT outfit, derides Quinn as "the Abe Beame" of this race. "She has effectively been deputy mayor for the last eight years and people want change," he said.
Mike Morey, spokesman for the Quinn campaign, told the Gotham Gazette that Quinn sees herself as someone in the mold of both Abzug and Koch.
"The passion and fire of Bella Abzug and the everyman common-sense of Ed Koch have both had strong and lasting influences on Christine Quinn's approach to public service," Morey wrote in an email. "She believes in telling the truth, standing by principle, and pushing hard to get things done and she believes that's what New Yorkers want in a mayor."
Quinn has also dedicated a good part of her campaign to trying to distance herself from the mayor she has worked closely with, while not alienating the voters who approve of him.
In particular, she has backed legislation that would create an inspector general for the police department — an idea Bloomberg has decried — and made more pro-union education proposals, such as making school closings a "last resort"--that have been attacked by Bloomberg's schools chancellor, Dennis Walcott.
Much is different this year, however. Quinn did indeed give Bloomberg the opportunity for a third term in 2009 by extending term limits for him — and herself and her fellow Council members.
But Bloomberg is not nearly as unpopular as Beame was nor has he presided over the same kind of catastrophes as Beame, unless you are looking at how unaffordable the city has become for the middle class and poor — themes being hammered by several of Quinn's opponents.
Indeed, Quinn herself says "middle class" as often as she can while campaigning. Anthony Weiner got in the race last week touting his middle-class roots and was quickly attacked by Bill De Blasio, the public advocate who also hopes to mayor, for living on Park Avenue now. After 12 years of being ruled by the wealthiest person in the city, the candidates all seem to be banking on the populace wanting someone more like them to govern now.
THE LGBT VOTE THEN AND NOW
While both Koch and Abzug had represented liberal Manhattan Congressional districts and were the lead sponsors of the federal gay rights bill, Abzug was seen as the darling of gay and lesbian voters in 1977.
When a national blow was dealt to gay rights in June of that year with the overturning of a gay rights ordinance in a Miami referendum, thousands of shocked and angry demonstrators in New York marched to Abzug's home in Greenwich Village as if asking mama to make it better.
Koch appeared at a raucous gay rally in the Village the night of that setback amidst boos for politicians, but his refusal to be dissuaded by that impressed me enough as a 23-year old activist to vote for him that year.
(By 1989, Koch was such a target of anger for AIDS activists that he was shouted down by hundreds of them when he tried to dedicate Stonewall Place in the Village.)
Koch also worked behind the scenes for the gay vote, becoming one of the first major politicians to court the emerging constituency. At that time, most gay and lesbian New Yorkers were not living openly in the workplace and may have identified with Koch's approach to his sexuality.
This year, Quinn — out, proud, and married to attorney Kim Catullo — enjoys the support of most LGBT groups and donors including the national Gay & Lesbian Victory Fund, but she also is supported by many of the rank-and-file LGBT voters who are looking for the validation of an out lesbian winning such a high office.
The rest of the Democratic candidates also have strong records on LGBT rights.
Albanese cast a critical vote for the 1986 gay rights bill from his conservative Bay Ridge district. Thompson and Liu used the comptroller's shareholder power to get corporations to adopt non-discrimination policies. Weiner championed LGBT rights in Congress. And de Blasio has a solid record of support and the distinction of having married a woman who was once a leading lesbian writer, Chirlane McCray.
None of the candidates for the Republican nomination profess to be anything but pro-LGBT rights, though George McDonald and Joe Lhota marched in the St. Patrick's Day Parade that most all Democrats have been boycotting since it excludes Irish LGBT contingents.
THE GENDER GAP
Quinn is holding on to some major feminist support, including from Abzug's daughter Liz and former Councilwoman Ronnie Eldridge, a liberal lion who was a protégé of Bobby Kennedy, once a special assistant to Lindsay and now hosts "Eldridge & Co." on CUNY-TV.
Gloria Steinem held out on Quinn until she let the sick leave bill onto the floor of the Council, albeit in a watered-down form after a three-year hold up.
"I wish it could have been faster," Steinem told The New York Times, while praising Quinn as someone who "has lived a life that allows her to understand the lives of most New Yorkers."
But Steinem added, "I wish Bella Abzug had been mayor."
Her daughter, Liz Abzug, said that a Times story on Quinn's temper reminds her of some of the negative press coverage that her mother Bella endured in 1977, also as "the one woman in the race."
Veteran Assemblywoman Deborah Glick, who has endorsed Quinn, said: "I thought that the Times front-page piece on Chris [about her temper] had an underlying element of sexism for sure. I am always entertained by young women reporters who say there isn't sexism. I do think there was an element of it. There are a number of men in office who yell and who threaten and I just found it mind-boggling the level of uneven application of scrutiny."
Lincoln historian Harold Holzer, who served as Bella Abzug's press spokesman in Congress, said he was concerned that Quinn was facing the same treatment as Abzug.
"I have never seen so many assaults so concentrated on [Abzug] by so many people in the establishment, including the newspapers," he said. "The Post would do anything they could to beat her down and make her seem responsible for the Son of Sam, the riots in Brooklyn and the blackout."
He said Koch attacked her for her "leniency" and belief in a right to strike and the death penalty.
"She and Mario did not believe in a life for a life, and were excoriated for it," Holzer said. "She went from 36 percent to 16 percent. I'm not ready to play the historian's role, but I do see Christine Quinn enduring an unfair expectation of having to be everything to everybody and the men and straight candidates are not" burdened with those expectation.
Which brings us to the gender gap, a term, Liz Abzug said, that wasn't used or polled for until her mother wrote a book about it in 1983.
"Before that," she said, "the differences in the way women voted was not a discussion point." Now, the gap between how women and men vote is regularly polled for and marked differences have emerged. The 2012 presidential election saw the biggest national gender gap in history, with Barack Obama winning women by 12 percent and Romney winning men by 8 percent. Obama won the war for women, successfully tarring the national Republican Party as conducting a war on women.
To Liz Abzug, a lot has changed since her mother ran.
"I think a woman — as we've seen in many cities — can be a person who is strong enough to break down the violence in an environment," she said. "I don't know if it is a better atmosphere for a woman. We've seen women in key positions as opposed to '77 — Speaker of the House, mayoralties in cities big like Houston and small — presidencies internationally. It is more accepted that women can govern from strength, toughness, passion — and heart — and still be commander-in-chief. It is just less of an issue."
Still, we've never had a woman mayor. Carol Bellamy ran on the Liberal line against Ed Koch in 1985, and got beaten badly; former Manhattan Borough President Ruth Messinger was the Democratic nominee in 1997 against Rudy Giuliani and got bested by a 12-point margin. We have had a woman comptroller, Liz Holtzman, Bellamy as Council president, and Betsy Gotbaum as public advocate.
While early polls showed no gender gap for Quinn, the April 15-18 Quinnipiac poll had her leading with 31 percent of women and 24 percent of men with Anthony Weiner polling at 12 percent of women and 20 percent of men, a gap most would attribute to his fame for sending erotic pictures of himself to women strangers. A gap had emerged.
But by the May 22 Quinnipiac poll, Quinn had less of a gap with 23 percent men for her and 26 percent of women, while Thompson fared better with men by six points (14-8 percent) and Weiner with men by four (17-13 percent). John Liu, who faded to 6 percent overall in the current poll has the support of twice as many women (8 percent) as men (4 percent).
THE NEW YORK POST
While Koch would tell you that Rupert Murdoch made him mayor along with his campaign manager David Garth, it is unclear if Murdoch's New York Post still has that kind of power even though it has already attacked Quinn, labeling her as "Mayor Dracula" based on a vampish New York magazine cover.
One headline says she is going for the "the Bella donna look" in what may have supposed to have been a reference to Bela Lugosi who played Dracula in the 1930s, but also summoned up the memory of Bella Abzug.
The paper has also gone after de Blasio for revelations that his wife had been a lesbian and Liu for the misdeeds of his aides. And they never tire of making front-page Weiner sex jokes.
In 1977, the Post aggressively went after Abzug over her pro-labor stances. According to historian Chris McNicle, Abzug sealed her fate when she backed the right of police and firefighters to strike just days before the city was blacked out and riots terrified whole neighborhoods. "That was bad politics in a city preoccupied with law and order," McNicle wrote in "To Be Mayor of New York: Ethnic Politics in the City."
It is hard to tell yet who Murdoch or the rest of the city's more establishment sectors (real estate and finance) want for mayor, but they have ways of letting their thoughts be known through attacks in the media and by where they spread their donations.
A big difference this year is that Murdoch is losing his grip on his media empire due to scandals in Britain.
And money will play less of a role with most of the candidates in the campaign finance system that matches the donations they get 6-to-1 but limits their spending at each stage of the race. No one but billionaire John Catsimatidas is self-financing.
So far the biggest independent expenditures have come from left-leaning labor and animal rights activists www.NYCityisNot4Sale.com doing their best to define Quinn in a negative way before she can run ads defining herself. The strategy has echoes in the way independent supporters of Obama painted Romney as an out-of-touch vulture capitalist while Romney was tied up fighting for the Republican nomination last year and unable to free up the funds to answer those attacks.
RACE AND THE MAYORALTY
While we did get a one-term black mayor in David Dinkins at a time of great racial unrest in 1989 after what was perceived as an era of racial polarization under Koch, Dinkins lost to Giuliani in 1993 partly because Dinkins was seen as not being able to control the racial unrest in Crown Heights that year.
We have never had a Latino mayor, despite Bronx Borough President Fernando Ferrer coming close to winning the Democratic nomination in 2001 against Mark Green, who went on to lose a squeaker to Bloomberg in the chaotic aftermath of 9-11. Ferrer came back to win the Democratic nomination in 2005, but lost to Bloomberg big.
The people of color in this year's race are Thompson, who came within 4.4 points of knocking off Bloomberg in 2009 despite being up against another $100 million Bloomberg campaign; and Liu, who despite the shadow of convictions of some of his top campaign aides, has a solid base in Asian communities and deep ties to other communities of color and labor. (Thompson also enjoys close ties to the city's Orthodox Jewish community.) And there is Carrion, who left the Democratic Party and sees a path to victory as a Republican and as the Independence Party nominee where the current Quinnipiac poll has him pulling 12 percent on that line—obviously not enough to win but more than enough to be a factor in the fall.
So far, the biggest racial issue in the contest is where the candidates stand on the stopping and frisking of hundreds of thousands of New Yorkers each year, most of them youth of color. Positions vary from Liu, who wants it banned, to Lhota who wants it maintained with the others on a scale in between.
AN UPREDICTABLE RACE
Veteran Times reporter Sam Roberts wrote last week about how the current mayoral race puts him in mind not just of the 1977 contest, but the one in 1973 when there was no incumbent, calling them all "heavily contested" and "unpredictable."
While this year Anthony Weiner has gotten in two years after a scandal, Roberts noted that, in 1973, Congressman Mario Biaggi was the frontrunner until it was revealed that he had taken the Fifth Amendment in a corruption trial. That let Beame get into a runoff with Badillo who undid himself by referring to Beame as "a malicious little man" — the kind of misstep in a long campaign that can derail one's prospects.
Roberts wrote that Beame was supposed to sit out the 1977 race after presiding over the fiscal crisis and endorse Manhattan Borough President Percy Sutton, an African American. And he credits Gov. Hugh Carey with getting Cuomo the Liberal line to the great consternation of Beame.
Political consultant Hank Sheinkopf told the Times regarding this year's race: "Now we have everybody splitting in a non-ideological environment, and that means anything can happen."
The biggest lesson from 1977 is that this 2013 race, with all its permutations and combinations, is indeed impossible to predict. A large field makes it harder for voters to focus on what their choice is. And New York City polls have a history of being notoriously wrong.
The primaries are especially unpredictable, but on the Democratic side — unless Quinn or a rival pulls down 40 percent — it will be followed by a one-on-one runoff. The polls currently have her vanquishing her chief rivals in such a runoff, but it is early and the electorate has not focused on the alternatives.
If 1977 is an indicator, no matter who is on what line, the voters of New York City in the end won't be looking at party affiliation but at the two candidates who have proved themselves most viable and choosing between them.
Right now, the relatively unknown Lhota loses 13 to 61 percent against "the Democratic candidate" according to the latest Quinnipiac poll. But let's remember that the eventual 1977 winner, Ed Koch, was at about 4 percent in the polls at this stage. And, in 2001, Mike Bloomberg, the eventual winner, was polling at about 25 percent in the early stages.
And the candidates are mostly arguing about policing (the merits of stop-and-frisk), education (keep mayoral control or share governance more), affordable and public housing, and term limits (right or wrong to have extended them).
It may be that the issue that will define the candidates for the voters may not have come to the fore.
Andy Humm is the co-host of the weekly Gay USA cable TV show, a contributor to Gay City News, and a former city Human Rights commissioner.