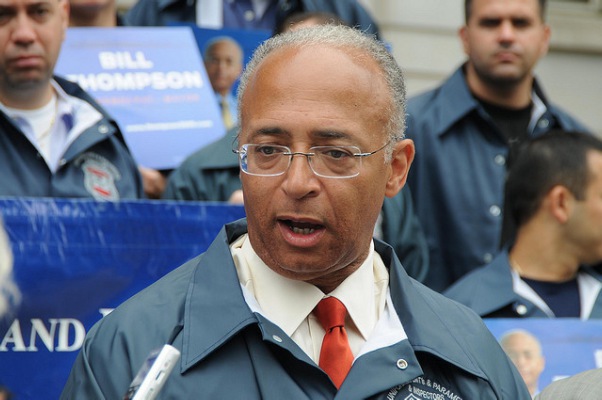 NEW YORK — Bill Thompson nearly stole Michael Bloomberg's third-term dreams away in 2009. This time around, he's the only black candidate in the race. Unencumbered by any major political scandal or unpopular policy decision, such as extending term limits, he would seem to have frontrunner status all but pinned down.
And yet Thompson has struggled to stand out among this year's Democratic candidates, often polling in the middle of the pack. That may have begun to change in recent weeks.
Following criticism from some that he had taken a too moderate stance on the New York Police Department's stop-and-frisk tactics, Thompson has become more outspoken on issues of race and policing. The day after a Florida jury acquitted 17-year-old Trayvon Martin's shooter, George Zimmerman, Thompson's campaign tweeted, "Trayvon Martin was killed because he was black. There was no justice done today in Florida."
Yesterday, he delivered a speech on race, again invoking Martin's death and linking it to issues close to home.
"Here in New York City, we have institutionalized Mr. Zimmerman's suspicion with a policy that all but requires our police officers to treat young black and Latino men with suspicion, to stop them and frisk them because of the color of their skin," Thompson said.
We interviewed Thompson exclusively on a recent Friday before he was set to spend the night at public housing in East Harlem with a handful of other Democratic mayoral hopefuls in an event sponsored by the Rev. Al Sharpton's National Action Network. He spoke at length about his position on stop-and-frisk, racial profiling, educational policy including mayoral control, sustainability and how he expects to work with the city's next comptroller (even if his name just happens to be Eliot Spitzer).
GOTHAM GAZETTE: Before we started this interview, we were talking about the various problems plaguing the city's Public Housing Authority, from the failure to install security cameras at developments to making much-needed repairs. Do you want to finish your thoughts?
BILL THOMPSON: The thing that has made it even more outrageous is the fact that they have money — and clearly not the money that's necessary to bring things to the level that it should be — but they sat on a billion dollars. And those are dollars that could have been used for renovation, dollars that could have been used for the upkeep and maintenance, dollars that could have been used to fix elevators, dollars that could have been used to get rid of mold and to fix leaking plumbing and other things.
GG: What do you think of the Bloomberg administration's plan to take care of the backlog of repairs?
BT: The thing about it is that you continue to be told that things are gonna be improved ... If it hasn't been done up to now, why would it be done? At least to the level that it needs to be. I mean, looking at the security cameras where you had $42 million. That wasn't installed. There was a commitment made on that. And it's clear that — I think, if I remember correctly, of dozens of developments that are supposed to have security cameras installed, they have only done eleven. I need to go back and look. I don't remember the exact number. But that's not on target. All of that together, you know, why would we believe that it should get done by now?
GG: What would you do differently than the Bloomberg administration?
BT: I think it's looking at not just the backlog but also what do you do better moving forward? At this point, how are repairs done? I mean, most have been done at a central location. Clearly that hasn't been working. Not being there right now and not exactly knowing how they are going about it, it's clear you have to change that, it's clear you have to start to create more of a list of priorities.
And, another thing, they have been sitting on money. And I think that's the thing that angers people even more. While there's necessary repairs that need to be made, they sat on money. And not just a little. You know, a billion dollars. And just a number of things that have occurred in the Housing Authority that are just incredibly unfair.
When you look at the money that comes off the top every year — take $75 million off the top for police protection — I don't see that happening any other place. People in the Housing Authority pay taxes also. Why this kind of double billing? I would eliminate that. I am not going to take money off the top.
GG: In some articles on your position on stop-and-frisk, you have said there has been an "overreaction" to the policy. Can you explain further your position on police stops?
BT: Here's what I meant. What I've said all along is that stop-and-frisk has been misused and abused by this administration. That when people are being stopped only because of who they are and what they look like, there's something wrong.
If I'm the mayor of the city of New York, people aren't going to be profiled. We aren't going to have stop-and-frisk continue to be misused. My police commissioner isn't going to misuse it the way it's been done. It's not going to be tied to performance goals. It will become a policing tool. That's exactly what it is. You don't want to eliminate it.
GG: What do you think about the Community Safety Act, which includes a bill to strengthen anti-racial profiling by police?
BT: Profiling is illegal. It isn't supposed to occur. Rather than just having legislation that perhaps adds additional bureaucracy, why don't we just have a mayor that won't engage in these practices? That won't allow people to be profiled? That will make sure that doesn't occur? That's the kind of mayor I want to be. I don't need the additional bureaucracy or the additional problems. I understand the legislation is moving forward. Everybody is frustrated. Everybody is tired of what's occurred.
The point I have been trying to make is that I would not need the additional legislation to be able to get rid of the way that stop-and-frisk has been misused. I would not allow people to be, in the city of New York, to be profiled. If you allowed that, you wouldn't be my police commissioner. I would terminate my police commissioner.
GG: Looking at Bloomberg's legacy on education, what policies would you keep? What would you reject?
BT: I would give the mayor credit for seeking mayoral control and for getting it. I've been supportive. I've testified in front of the City Council when it was moving forward. I think he should be given credit for getting mayoral control.
I think for looking to try to reform things and change bureaucracy, I will give [him] credit for that. And for the focus on education, attempting to be the education mayor. I will give him credit for that.
On the other side, I think they have failed in a number of ways when it comes to education. The excessive focus on standardized testing. Robbing the school system of content. In a lot of ways sacrificing it for, in search of, better scores on standardized testing is a mistake. And also underestimating how important it is to afford an educational vision and have an educator at the head of the system. That's one of the things I've said I would do. I want to have a chancellor who is an educator. Who is a classroom teacher. Who understands the structure. Who knows how to put forward a strong educational vision for the City of New York. Who knows how to engage people. We haven't seen that in many years.
GG: Turning to sustainability, would you, as mayor, call for a retreat from the coastline?
BT: There's not a one size fits all. If you look at some places like Sea Gate, where someone has said "Wow, it's flooded before," they'll talk to you about the need to do more seawalls, or seawalls again. But seawalls got breached. But it's an opportunity to rebuild. Coney Island? We're not going to walk away from Coney Island. At the same point, what can you do differently?
Things I've recommended that I want to do: a deputy mayor for infrastructure and construction. There's an opportunity to coordinate this. We're getting money from the federal government and from FEMA [Federal Emergency Management Administration]. You have city capital dollars. There's money from the state. Private dollars. Dollars from utilities. We need to coordinate this. So that when you look at neighborhoods, when you look at seaside comminutes … making sure that in the next extreme weather pattern, they are prepared. So you're not going to rebuild everything at once. It just doesn't make sense.
GG: As comptroller, what do you think were your top three achievements?
BT: I think that it was an office that was a different office when I left. That was a more aggressive office. That it was an office that involved itself in things other than the bottom line.
Whether it was working in shareholder rights on one side, being an incredibly aggressive office … whether it was a comptroller that got involved in education, public safety, you name it, there wasn't an issue that the office didn't get involved in. And before I was there? It was … the comptroller was involved in the books and the bottom line and a bunch of other things. After that? It was an activist office.
I was a frequent critic of some of the direction we were going in, and there was a question of fairness and equity across the city. You talk about budget cuts cross the boroughs ... You looked at neighborhoods and crime was going up in neighborhoods, I had no difficulty talking about that.
GG: How would you as mayor relate with the comptroller's office?
BT: It's starting out with a healthy, respectful comptroller's office as an institution, and understanding that we're not always going to be on the same page. There is some … almost built-in tension between the office of the comptroller and the mayor … and there are a lot of things that you can work on together. But you are going to disagree and you are going to bump heads. That's just kind of the nature of the job.
GG: What would you do about a comptroller who seeks to make the office even more of a platform, who is even more aggressive? How do you deal with that as mayor without there being political gridlock?
BT: The one thing about the system? It's designed to prevent gridlock. One of the things I found frustrating, as comptroller is that sometimes, even if you disagreed, the mayor can move forward. It is a very strong structure.
GG: A lot of people say Bill Thompson's a "really mild guy, he doesn't stand out to me." What do you think stands out about you?
BT: Perhaps the one thing that's overlooked, on behalf of the people of the City of New York, on issues of principle, I will always stand up. I was at the Board of Education as its president, and took on Rudy Giuliani. People believed he couldn't be beat over who the next chancellor of the education system was. And I stood up in spite of the fact that people thought I was crazy for doing that. It was the right thing to do. It was what made sense for our children.
I've always led, and I've never been scared to lead the city. I wouldn't end up being the mayor who screamed at people, but I would be the mayor who stood for the people of the city.