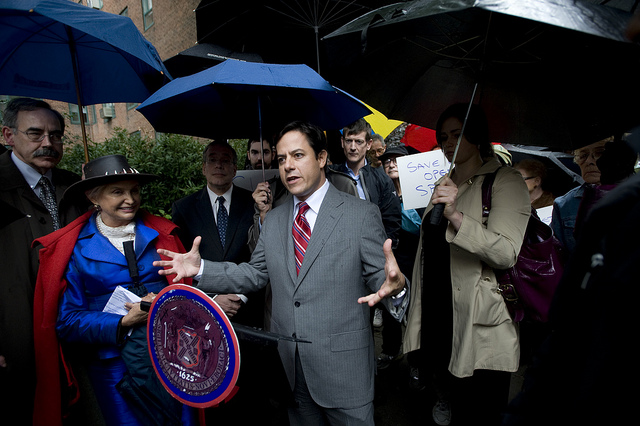 NEW YORK — At a recent forum of mayoral candidates at Stuyvesant Town and Peter Cooper Village, one politician emerged as a clear winner: City Councilman Dan Garodnick.
One candidate after another stepped up to the lectern, thanked the audience for being there and paid tribute to the councilman, who sat at a small table at the side of the stage. Democrat Anthony Weiner prefaced his remarks by telling the crowd he felt obligated to "suck up" to Garodnick.
The accolades had much to do with venue. State records show that the Stuyvesant Town and Peter Cooper Village is home to nearly 15,000 registered voters — almost 10,000 of them registered Democrats. That translates into quite a voting bloc.
The mayoral hopefuls were keenly aware that Garodnick, who grew up in the sprawling complex and lives there in a 10th floor apartment with his wife and toddler son, had championed tenants' interests during a tumultuous period. Since he was first elected to the City Council in 2005, the complex underwent a contentious sale, a class action lawsuit and a devastating hurricane. How Garodnick responded to those challenges has helped shore up his political profile.
"Yes, he's riding a crest of popularity because he's always been there for us in times of crisis," said tenants association chair Susan Steinberg. "There are a great many people here who support him and take an active part in his campaign."
The two-term councilman has parlayed his popularity into his all-but-certain re-election and possibly a stint as the next speaker of the City Council.
"I have a Republican or Libertarian opponent," said Garodnick when asked about his 4th district campaign. "I don't know who it is. I know there's a name out there."
The name is Helene Jnane, an attorney who has the endorsement of the Libertarian Party. She hasn't raised any money for a campaign, but said she plans to launch a website soon.
Jnane rejected the notion that Garodnick is politically invincible and was quick to note that his vote on two bills to reform the city's stop-and-frisk policy have cost him support. The Patrolman's Benevolent Association denounced Garodnick's vote in fliers it mailed to district residents, for instance.
"I want to campaign on principles, sound government and accountability," Jnane said.
She's challenging a savvy politician who became the darling of STPCV and a crusader for affordable housing soon after joining the Council. During his first year in office, the 41-year-old Democrat supported the tenants association's attempt to purchase the 80-acre complex, the largest enclave of middle-class renters in the city. The following year, he introduced a bill creating the Tenant Protection Act, which essentially bars property owners from harassing low-rent tenants out of their apartments to make room to market-rate renters.
"It's not every day that you're elected to the City Council and six months later a quarter of your district goes up for sale," he said.
The highly leveraged purchase of STPCV by Tishman Speyer for $5.4 billion all but crushed the hopes of residents who wanted control of their community. When the new owners defaulted on their debt in 2010 and handed the property over to the bondholders, tenants worried. When their landlord challenged about 870 rent-stabilized leases, tenants became infuriated.
Garodnick called for a moratorium on the lease challenges and set up a "tenant hotline" and legal clinics for residents.
"Dan took a leadership role in helping residents weather the Tishman Speyer sale and what followed," said Darren Marks, president of the Lexington Democratic Club. "People there are politically savvy. And I think they're thrilled with Dan."
Tenants filed a class action lawsuit claiming Tishman Speyer and Met Life, the previous owner of the complex, had illegally converted rent-stabilized apartments into market-rate units. A settlement in the case promised to reimburse tenants for more than $68 million in over-paid rents. But it also stipulated rents could be raised for some tenants who were paying less than what the property owners could legally charge.
When more than 1,000 residents were subsequently slapped with mid-lease rent increases in May — a few as high as $900 a month — Garodnick publicly rebuked CW Capital, the company managing the complex.
"That was not about the settlement," he recalled. "That was about CW Capital taking a step that was crass and unnecessary and which really impacted the lives of many residents. Some people had to move."
Newer residents complained that CW Capital's rental agents had told them not to worry about any rent hikes.
"That's why we brought the issue to the New York state attorney general," Garodnick said. "And that's why he investigated and forced them to roll back the increases for those people who had a misrepresentation by a leasing agent."
Garodnick also spearheaded efforts to help residents in the aftermath of Hurricane Sandy. He organized door-to-door checks on elderly residents and evacuated those who wanted to leave but couldn't navigate the darkened hallways and stairwells. His office collected donations of food, water and other supplies and opened a volunteer center in Stuyvesant Town. He later chastised CW Capital for failing to keep tenants informed about building repairs.
"He's the hometown hero there," said Mark Thompson, a government relations advisor for Capalino and Company and a longtime Stuyvesant Town resident.
Thompson considered running for the 4th district seat when Garodnick announced his intent to seek the city comptroller position. Garodnick pulled out of that race when fellow Democrat Manhattan Borough President Scot Stringer opened a campaign for the comptroller job.
"I support Dan one-hundred, no, one-thousand percent," Thompson said. "Nobody was going to oppose him and I feel there's a lot of support for Dan to be the next Speaker."
Not that Garodnick's popularity at the complex is all that matters. A candidate can win the 4th district seat without carrying STPCV because the bulk of the voters reside on the Upper East Side, said Dara Adams, a lobbyist who shut down her campaign for Garodnick's seat when he decided to seek reelection.
"But it's a very important voting bloc," she said of STPVC. "From a political perspective, it's home to a lot of Democrats with shared experiences."
It's also an efficient campaign stop for any politician. A candidate could attend a tenants association meeting and encounter a thousand potential voters.
"The residents there are civic-minded and the place has a reputation for high voter turnout," said state Assemblyman Dan Kavanagh, whose district includes all of STPCV. "In politics, it's often easier to communicate effectively with people who have something in common and organize themselves — even more so when the community is under siege by powerful economic forces."
Garodnick still supports a purchase of STPVC by its tenants. And the association is assembling an offer for the property in partnership with Brookfield Asset Management Inc. But CW Capital has been unwilling to talk about selling.
Still, it's likely that STPCV will continue to draw Garodnick into the media spotlight.
"In reality I am focused on a variety of different issues from greening the city to consumer protections to improving our transportation options and streetscape throughout the district," he said. "But there is no question that I am deeply in tuned to the concerns of the people in Stuyvesant Town and Peter Cooper Village because of the incredible upheaval we have seen in the community."
Garodnick's reelection campaign can tap into a stockpile of nearly $700,000 in contributions, most of it raised during his abbreviated candidacy for comptroller. With no serious contender in sight, it's unlikely he'll need to.
As for taking the reins as the next City Council speaker?
"At the moment all I'm focused on is my reelection and asking my constituents for an opportunity to serve the district again," he said.