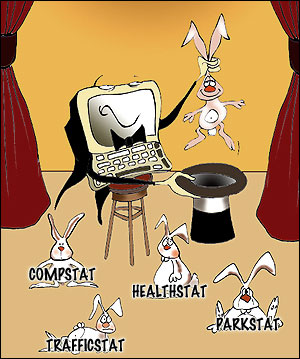 When 57-year-old Alberta Spruill died after a botched police raid on her Harlem apartment in May, Mayor Michael Bloomberg and Police Commissioner Raymond Kelly reacted immediately. Kelly apologized for her death, Bloomberg spoke at her funeral, both men promised an investigation. And, in a response that has become familiar in New York, the police department vowed to look at the numbers -- in this case to create a database with information on police raids conducted as the result of search warrants. The police department, like so many other city agencies and city governments, was hoping that another thorny problem could be solved by using yet another variation of Compstat.
In 1994, Police Commissioner William Bratton launched Compstat, a program that used hard data and stepped-up accountability to try to stem lawlessness in the city. It was, said George L. Kelling and William Sousa in a paper for the Manhattan Institute, "perhaps the single most important organizational/administrative innovation in policing during the latter half of the 20th century."
Officials in New York and elsewhere began copying it -- to fight crime but also to address many other problems as well. Soon, we had Healthstat and Parkstat and TrafficStat, and many more - with even more on the way.
Few seem to question whether there is a limit to the magic. But not everybody sees the trend as wholly positive. Indeed, some critics might go so far as to argue that Compstat actually played a part, albeit very indirectly, in Alberta Spruill's death.
THE BIRTH OF COMPSTAT
Collecting data and then mapping it has been used to identify trends and help find solutions since at least 1854, when a London doctor plotted the locations of more than 500 cholera deaths and saw that they clustered around one water pump. He had the handle of that water pump removed and ended the epidemic.
When William Bratton became police commissioner of New York City almost a century and a half later, he asked for a count of major crimes and where they occurred. A team of four police officers set to work transforming a rudimentary software program for small businesses into an elementary database with statistics about the seven crimes that municipalities must report to the Federal Bureau of Investigation -- murder, rape, robbery, felony assault, burglary, grand larceny and grand larceny auto. When the time came to save the file, one of the officers suggested naming it CompStat.
From this humble christening, something remarkable emerged. Police would enter crime reports into the computer system, which sorted them by type. Then officers pored over the weekly statistics to create maps and charts showing notable changes and emerging problem spots. Police department heads convened regular meetings to discuss the trends and strategies, inviting commanders from relevant precincts.
The sessions could be rough. As described by Craig Horowitz in New York magazine Jack Maple, the deputy police commissioner, "hammered every commander who came to a meeting unprepared. If robberies were up in the four-five that [commander] better have some suggestion to deal with it. Otherwise, he risked not only humiliation at the Compstat meeting but career derailment as well."
"In the Compstat meeting, people were accountable for getting the mission accomplished," said David Weisburd, a professor of criminology and criminal justice at the University of Maryland and the lead researcher on a Police Foundation study into the proliferation of Compstat. "The idea was, if you don't do the job, we are going to get rid of you, which was a radical idea. And if you do a good job, we are going to reward you." (The meetings are reportedly less contentious these days.)
But perhaps even more important than these meetings, write Kelling and Sousa, was the fact that Compstat spurred the development of local crime fighting strategies.
As Compstat evolved, crime fell sharply throughout the city, in all 76 precincts. The trend has continued. Overall, the serious crime rate (in pdf format) in 2002 was 65 percent lower than in 1993. For example, 2002 had 584 murders, compared to almost 2,000 in 1993.
Experts debate the true cause of that crime drop, pointing to the police department's pursuit of minor offenders during the Giuliani administration as well as demographic changes, the end of the crack epidemic and the strong economy. Some say that people in high crime neighborhoods, particularly young people, were angry at the violence and brought about the change themselves. Some critics note that other cities throughout the country also saw crime plummet in the 1990s - without Compstat.
Further, "the drop in crime [in New York] did not start in 1994," said Richard Holden (in pdf format), a professor of criminal justice at Central Missouri State University. Crime in the city peaked in 1990, Holden wrote, "and began its rapid decline from there. New York City was already in its fourth year of a dramatic downward trend in crime rates when it implemented its new approach."
"The data do not support a strong argument for Compstat causing, contributing to or accelerating the decline in homicides in New York City or elsewhere," criminologists John E. Eck and Edward R. McGuire have said.
But many officials and experts think, as Eli Silverman of John Jay College of Criminal Justice puts it, that Compstat "deserves some of the credit." The program received an Innovation in American Government Award, from Harvard's Kennedy School and the Ford Foundation, and officials in New York and beyond began looking for ways to apply it to other city scourges.
CHILDREN OF COMPSTAT
Over the past decade, especially in the past few years, city officials have implemented Compstat-like systems to address problems ranging from dangerous intersections to unruly inmates to negligent landlords.
First Compstat itself has evolved. "Compstat has changed over the years," said Detective Walter Burns, a spokesman for the New York City Police Department. "We've added different elements. The original concept was just dealing with precinct commanders. But one would come in and say, 'My problem is narcotics and I don't have a narcotics group. So bring narcotics into Compstat.' One says, 'I'm having a big problem with kids stealing cars.' Now auto theft is part of Compstat."
In New York, Trafficstat was among the first offshoots to take off. Also run by the police department, the program tracked accidents, arrests for driving while under the influence and other moving violations.
The Department of Correction implemented the Compstat model with T.E.A.M.S., its Total Efficiency Accountability Management System, and decreased overtime payments while increasing prison safety. The jails on Rikers Island became among the safest prison facilities in the nation, according to a report (in pdf format) about Compstat by the Rockefeller Foundation.
The New York City Department of Parks and Recreation developed Parkstat. City parks were regularly rated for cleanliness and safety, and department supervisors were called upon monthly to account for their park's rating and discuss ways to solve problems. The percentage of parks rated acceptably clean and safe by the department rose from 47 percent in 1993 to 86 percent in 2001.
In August 2001, the Giuliani administration announced the Citywide Accountability Program which asked all city agencies to develop programs that implement the essential elements of Compstat. The agencies would collect data about their work and hold regular meetings with managers to find solutions to the problems revealed by the data. Currently, 20 city agencies participate in the program and publish data on the internet, where one can track all sorts of city statistics, from the numbers of complaints against taxi drivers to the number of malfunctioning off-track betting machines.
More "children of Compstat" appear every day. For example, the Mayor's Office of Health Insurance has been re-focusing Healthstat, a program designed to help uninsured New Yorkers enroll in publicly funded health insurance programs. In the first 18 months, participating agencies enrolled about 340,000 eligible New Yorkers. There are still 1.6 million uninsured New Yorkers, about 900,000 of whom are eligible for public insurance programs.
The Department of Education's new Office of School Safety and Planning will use elements of Compstat for SchoolSafe, a program that will identify schools with the highest crime rates and implement action plans.
And the Department of Transportation has M.O.V.E., a performance management and accountability system that meets twice each month to examine measurements of each operation's performance and to review its function and workflow.
And proposals for more Compstat type programs keep coming.
"We've done Compstat, let's do Jobstat," wrote Mike Wallace in his book 'A New Deal for New York.' Using the same kind of targeted analyses that helped reduce crime, he argues, we can help manufacturers stay in the city and nurture new kinds of industries.
Others think the Compstat approach can improve education in the city. "Changing the behaviors and attitudes of the school system toward parents and community won't be as easy," one-time mayoral candidate Fernando Ferrer, now president of the Drum Major Institute, said. "That is why we proposed a Compstat-like mechanism for measuring the system's attempts to create meaningful relationships with parents and communities."
The Department of Homeless Services and the Vera Institute of Justice is gearing up for Homestat. The idea, says department spokesman Jim Anderson, is to examine the incidence of homelessness in various areas, as well as factors that may contribute to homelessness. The department hopes that a better understanding of factors contributing to homelessness will help it develop strategies to prevent homelessness, not simply try to house those already out on the streets.
The reaction to the death of Alberta Spruill provides more evidence of how much faith officials now put in tracking numbers. According to the New York Times, the Civilian Complaint Review Board had suggested as early as January that the police department track and store information on search warrants executed by police. Spruill's death apparently spurred the department to move to put the proposal into effect.
Some have even suggested a Compstat for city government as a whole. "Rather than casually assert that government is efficient, City Hall should create an Office of Continuing Reinvention to aggressively keep pursuing new streamlinings and efficiencies - a CompStat for all services," former Public Advocate Mark Green has suggested.
OTHER CITIES
Meanwhile, the idea has spread across the country. By 2000, a third of the country's 515 largest police departments had implemented a Compstat-like program, according to the Police Foundation study. Bratton, now chief of the Los Angeles police, has taken Compstat west with him, instituting it in America's second largest city last fall.
"That's an amazing diffusion of innovation," said David Weisburd, the lead investigator of the study. "I compared it to diffusion ranks of the fastest growing innovations, agricultural innovations and social innovations like birth control. Most innovations take a very long time to spread. This one, in comparison, was extremely fast."
The researchers at the Police Foundation believe that Compstat's popularity came from its top-down authority model. "Compstat emphasizes putting pressure on commanders," Weisburd said. "The drama occurs with the higher-ups."
Like their colleagues in New York, officials in other cities have created Compstats for other problems -- or a combination of problems. Baltimore, Maryland, has taken Mark Green's suggestion and implemented Citistat, which tracks city government as a whole. City agencies provide regular data about their work to a central office that analyzes the data and creates reports for the mayor.
"The charts, maps, and pictures tell a story of performance, and those managers are held accountable," said Matt Gallagher, director of operations for Citistat. Since the program was implemented, Baltimore has experienced a 40 percent reduction in payroll overtime, saving the city $15 million over two years, while taking on such indicators of urban blight as graffiti and abandoned vehicles.
Cities from Miami to Pittsburgh will soon implement similar programs.
The Compstat mania has gone so far that one proponent, Heather MacDonald of the Manhattan Institute has turned it into a verb. In a November 2001 Daily News column urging that Compstat techniques be used to track down terrorists, MacDonald wrote, "The FBI's anti-terrorism efforts should be Compstated in every city where the bureau operates."
NO MAGIC BULLET
Nobody has been heard suggesting that Compstat can root out members of Al Queda. But Eli Silverman, author of NYPD Battles Crime: Innovative Strategies in Policing says it makes sense for city officials to try to extend the Compstat model. "It''s not rocket science. It's fundamental management accounting," he says, adding, "if it's done right it can be very meaningful."
But he offers some caveats. When the system is introduced, it has to be explained to the organization. The basic information -- the numbers -- must be consistent. "The managers have to feel top management is serious about it," Silverman says, and management has to stick to it. The New York Police Department, he says, has done most of this. In particular, he says, the department "has been consistent about it. That's one of the secrets of its success."
Even Compstat's most ardent proponents concede that Compstat-style programs do have some downsides. "What is not counted tends to be discounted," wrote Dennis Smith and William Bratton in a Rockefeller Institute Report (in pdf format) that considered some of the unintended consequences of the New York City Police Department's Compstat.
Commanders tend to overlook other indicators of police performance, such as civilian complaints and patterns of police misconduct, including too-aggressive policing and a lack of respect for citizens. Critics say such an attention to the numbers helped create the aggressive police tactics of the late 1990s, leading to the killing by police of Amadou Diallo and frayed relations between the police department and many black and Hispanic communities. And, though relations have improved, some have suggested that the recent incident with Alberta Spruill is a continuation of the imbalance in police attitudes and values.
Sidney L. Harring, a professor of law at City University of New York Law School, and Gerda W. Ray of the University of Missouri-St. Louis, wrote in 1999, that as the police strove to increase arrests, they did not keep track of how many people they stopped and frisked on city streets. "That all of this scientifically structured, aggressive police work could be pulled off without even the most rudimentary data about its result reveals the hollow core of the social scientific foundation of New York City's highly managed policing. Compstat is no better than its flawed database," Harring and Ray said.
Indeed tracking systems are only as good as the numbers that guide them. Last month, police officials revealed that many felonies committed in the 10th precinct in Manhattan last year were improperly reported as misdemeanors, making the crime rate in the area appear lower than it really was. The department was investigating a former commander and a sergeant for downgrading crimes in the precinct, which includes Chelsea.
Police department spokesperson Michael O'Looney told the New York Times that the distortions were too small to have any impact on the Compstat statistics. But critics reportedly say that as crime has fallen, police commanders feel intensifying pressure to drive the numbers even lower. Since Compstat went into effect, "at least five police commanders have been accused of reclassifying crimes to improve their statistics, which are reviewed at sometimes contentious weekly Compstat meetings," William K. Rashbaum reported.
After Philadelphia began using Compstat, some police officials there also changed crime reports to make the areas under their command appear safer than they really were. "If a person was punched in the eye, it might have been written up as a hospital report, so it didn't reflect a crime had occurred," said Philadelphia police department Inspector Bill Colarulo, who said that checks and balances have since been put in place to avoid such fraud.
Even without such fraud, the system makes some managers uncomfortable. "Poor managers hate it, because there's no where to hide. You are constantly being questioned about what you are doing," said Gallagher of Baltimore's Citistat. But it is not just incompetent managers who have been bothered by the harsh tone of Compstat meetings and the constant attention to statistical details. Holden of Central Missouri University blamed Compstat (as well as low salaries) "for its share of the drop in officer morale."
Such concerns are increasing as the paramilitary management style of the police department is extended into traditionally collegial and collaborative realms, such as education.
But the biggest problem with Compstat, said Holden, may simply be that we expect too much of it: "Compstat has ceased to be a tool and has become a religion dominated by high priests."
It is a religion that, given Mayor Bloomberg's well-known enthusiasm for technology, will only increase in municipal acolytes, whatever the reservations of the unfaithful.