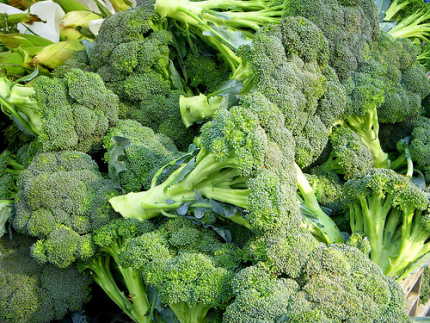 Everyone loves a farmer's market. From the bright, eye-catching crimson of cherries in July, to the subtle smell of cinnamon apple cider in January, they offer sensory delights during all seasons. Unfortunately, until recently, lower income New Yorkers often had limited access to the city's greenmarkets.
Residents of the city's less affluent communities have long complained that finding healthy foods, especially fresh produce can pose a real challenge in their neighborhoods. Now a series of initiatives by the city and state hope to make it easier for more New Yorkers to shop at farmer's markets.
Payment Problems
In 1999, the state government stopped the distribution of paper food stamps and joined the federal transition to Electronic Transfer Benefit, or EBT, cards. While this change was much more convenient for large supermarkets, the city's farmer's markets, which are open-air, had no access to the outlets necessary to process the electronic payments.
To address this, in 2001, the state Department of Agriculture and Markets and the Farmers' Market Federation of New York launched "The Wireless EBT Project," which provided wireless EBT machines to some individual farmer's market vendors. Although consumers generally applauded the effort, the machines often experienced delays of 20 to 30 second when processing the payments, a problem in the markets, where vendors rely on many small, quick sales.
In response, the project changed its format. Rather than give wireless terminals to individual vendors, some markets received a central terminal. Consumers swiped their benefit cards in exchange for wooden tokens, which they can then spend them as cash in that particular market. At the end of the day, farmers handed in their tokens to the manager for reimbursement. Although this made it easier for people to use EBTs, not every market could afford the central terminal or to have a manager to perform these duties.
In May 2006, City Council President Christine Quinn proposed allocating $81,200 to buy EBT machines for individual farmers, with the purpose of providing food stamp recipients with greater access to greenmarkets. Two markets received central EBT terminals, and two more were given EBT terminals for each vendor. Signs in English and Spanish informed consumers that food stamps were accepted.
Producing Results
Two years later, it seems that almost no one has anything bad to say about the EBT machines being used in the markets. Electronic benefits sales have increased from $1,000 in 20005 to $40,000 last year, according to Michael Hurwitz, greenmarket director for the Council on the Environment, which operates the greenmarket program. The terminals, he said, "have brought more money to farmers, and customers are thrilled that they can use them."
"There's been a tremendous positive response from customers," said Bob Lewis, the chief marketing representative for the state Department of Agriculture and Markets. "The advantage is that then the farmer doesn't need to have a terminal, so there's no account which requires a monthly fee. The other thing is that the farmer doesn't need to be authorized with food stamp program, so there's very little paperwork involved."
The East New York Farms farmer's market, which, unlike the greenmarkets, is not operated by the Council on the Environment, has accepted Electronic Benefits Transfers for three years. "I've noticed that over time it becomes more and more frequent. "Over time, I've noticed that the use of EBTs has become more frequent," said Jonah Braverman, urban agriculture coordinator for East New York Farms.
Adding Markets
Making it easier to pay at the market only goes so far. Before they can use the new machines customers have to be able to get to the market in the first place. That called for placing markets in more neighborhoods.
In June 2006, the Mayor's Community Affairs Unit, the Council on the Environmental Affairs of New York City and City Council decided to open 10 new greenmarkets in underserved neighborhoods in the South Bronx, North and Central Brooklyn, and Harlem. All were up and running by that August of that year. Two of the locations are in Harlem, for example, and one on the Lower East Side.
Clearly demands exists in lower income communities for what the greenmarkets have to offer. Most people using the Electronic Benefit Transfer at the market shunned prepared foods. "Eighty-two percent of our EBT sales last year went to fruits and vegetables," said Hurwitz. "We are committed to providing all New Yorkers with the opportunity to healthy fruits and vegetables."
Â