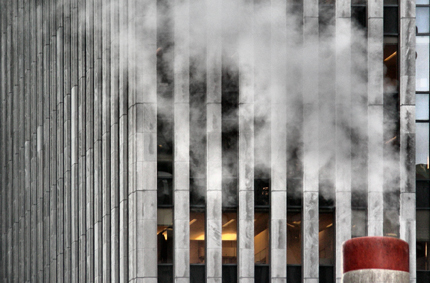 Over the last year, New Yorkers have been led to believe that the worst thing they can do for the environment is drive their car. According to PlaNYC, cars and light trucks contribute approximately 17 percent of the city's total carbon emissions, a number that will decrease considerably with the popularity of hybrid and alternative fuel vehicles.
However, a whopping 79 percent of New York City's carbon dioxide emissions come from buildings -- from the burning of heating oil and natural gas. So environmentally speaking, the worst thing we can do is wait any longer for meaningful building emissions reforms, such as the bioheat and low sulfur heating mandate outlined in Intro 594.
One part of the building emissions problem well within our power to change at the local level is in the heating oil sector. The emergence of biodiesel -- a cleaner-burning, renewable energy source that is processed from plant and vegetable oils in the United States and is blended with diesel for use in trucks and blended with heating oil for use in buildings--has finally made this possible.
A Smart Solution
Bioheat, as this blend of heating oil and biodiesel is called, displaces up to 20 percent of petroleum-based heating oil with renewable "B100 biodiesel" that is made from vegetable or plant oils like soy or recycled restaurant grease.
A "B20 bioheat blend," which is 20 percent renewable biodiesel, significantly reduces carbon emissions and fine particulate matter, a major contributor to asthma and one reason why parts of New York City have some of the highest asthma rates in the United States. My bill would require this blend be used throughout New York City, in both commercial and residential properties, by 2013.
Bioheat also reduces our dependence on foreign oil by displacing a significant amount of petroleum with a domestic product.
Bioheat seamlessly replaces heating oil in all boilers, requires no expensive modifications and is available today through at least a half dozen companies in the New York Metropolitan Area. Yet only a very small fraction of the 1.2 million heating oil households and commercial heating oil users burn bioheat.
An Immediate Solution
So why do we need Intro 594 to require that all heating oil buildings use bioheat? Because unless bioheat is mandated, we will be having this conversation 10 years from now, while more damage is done to our environment, more New Yorkers suffer from asthma and our dependence on foreign oil continues to be ignored.
That is not to say there aren't many important questions that need to be addressed:
Cost: Currently, bioheat costs more than heating oil. That is why I sponsored City Council Resolution 1303, which urged the governor and the State Legislature to ensure the passage of a four-year Bioheat Tax Credit, which, fortunately, was adopted in the state budget. It goes a long way to bridging the cost gap for homeowners and residential landlords.
Supply: According to the National Biodiesel Board, in 2006, 250 million gallons of biodiesel were produced in the United States -- more than triple the amount produced in the previous year. And New York City will likely be host to a 110 million-gallon-capacity biodiesel processing facility -- a proposal by Metro Fuel Oil currently slated for Brooklyn, which could be one of the largest facilities in the country.
Equipment feasibility: B20 bioheat has been used in New York City for several years with no reported equipment problems. One of the largest heating oil equipment manufacturers in the country now warranties bioheat and with the ASTM International standards organization set to strengthen its commitment to bioheat this summer, all manufacturers will likely follow suit.
Sustainability: The primary feedstock used to produce biodiesel in the United States is soy. When processing soy for biodiesel, the food value -- which accounts for 80 percent of the soy bean -- is left untouched. Therefore, it is not a "food for fuel" issue. It is also plentiful, with the United States leading the world in soy exports for many years. Recent confusion on "biofuels," which includes the more controversial ethanol, has led some to question all biofuels-- but the details are what are important. American-grown soy-based biodiesel has not been pegged as problematic. Plus, it is expected by many that in just a few years biodiesel will be made with oil made from algae which can be made cheaper and has higher yields.
A Feasible Solution
In the year since I held the first oversight hearing on the use of biofuels in New York City and then introduced Intro 594, I am proud to have witnessed a broad-based coalition of unlikely allies form around this bill and this issue.
In announcing the bill, environmental groups like Environmental Defense and health advocacy groups like the American Lung Association stood shoulder to shoulder with the New York Oil Heating Association and several heating oil companies. The New York League of Conservation Voters included the bioheat mandate in its 2008 New York City Policy Agenda and the Mayor's Office of Long Term Planning and Sustainability testified in favor of Intro 594 at my committee's hearing earlier this year.
There are some who think that New York should wait on a bioheat mandate; that we should wait for California to come out with a report on air emissions; wait for the economy to pick up; wait until a new technology emerges. If we wait long enough, we'll come up with even more reasons to wait. At the peril of our health and environment, we have waited decades for the forces of science and technology to converge with commercial viability and political will to produce a more renewable, more domestic, cleaner, greener heating product.
The fact is there is no reason to wait. Like gasoline, heating oil is too integrated into our energy infrastructure to disappear any time soon. It is here today and it will be here tomorrow. My bill proposes the how--the only question remaining is when do we make heating oil cleaner, greener and more domestic?
That time is now.
Councilmember James Gennaro has represented District 24 in Queens since 2002. He chairs the council's Committee on Environmental Protection. Â