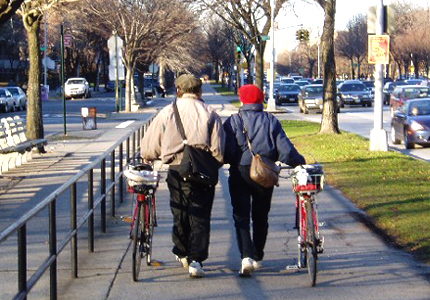 When Mayor Michael Bloomberg made his 2007 Earth Day speech announcing PlaNYC to reduce greenhouse emissions in New York City, scientists were predicting that the North Pole's ice cap would be almost fully melted by 2040. Now, just a year later, the predicted date of that event is 2015.
In contrast, New York City's greenways system, one of our best chances to dramatically reduce transportation emissions, is moving ahead at a glacial pace. Although PlaNYC calls for connections in the bicycle network, and while building a system of greenways has been city policy for more than 15 years, construction has been slow. Due to intransigence by the city Department of Transportation's engineers, greenway development seems to have ground to a halt. The question now is whether a new transportation commissioner will be able to move the glacier in the remaining 20 months of the Bloomberg administration.
The 350-mile city greenways system of pedestrian and cycling trails separated from roadways was to be developed mostly along parks, waterfronts, cemetery edges and other breaks in the street grid, and along parkway and railroad right-of-ways. Sheltered from traffic, the greenways would improve the safety of pollution-free transportation and encourage cycling by children. (Statistics indicate that a smaller percentage of youth are learning to ride bicycles, and surveys show that parental fear of traffic is the reason.)
Over the last 15 years, the New York City parks department has built new trails in parks in every borough, but not one mile to connect these trails has been built along a city street controlled by the city's Department of Transportation. Every effort by advocates and agency insiders to get the department to begin connecting the trails has been thwarted. For example, the Brooklyn Waterfront greenway became a street-widening project that eliminated the sidewalk that was to become the greenway. UN Plaza has been offered at least a dozen times as a way to connect the two segments of the Manhattan East River trail but that never happened.
For the greenway system to serve its purpose, the city must provide sheltered lanes to encourage fearful cyclists to cycle on roadways. Painting stripes on streets does not make a greenway. The city's greenways plan calls for separated trails with trees and landscaping to shield pedestrians from particulate pollution and with clear signage to direct cyclists.
What Needs to Be Done
After 15 years of fighting, I have come up with 10 steps to help the city make greenways a reality. These projects are on the agendas of greenway advocates around the city.
First Avenue first: A separate bike lane, modeled on the new Ninth Avenue lane, should be installed along First Avenue and United Nations Plaza to connect the two existing sections of the East River Greenway. This will give East Side commuters the same continuous off-street cycling option that thousands of New Yorkers who use the West Side greenway have had for years.
Not about Manhattan only: An additional separated bike lane should be installed as an interim greenway along the entire Queens and Brooklyn East River waterfront from Red Hook to Flushing Meadows Park.
The Staten Island commute: The almost completed Staten Island South Shore greenway should be connected to the Staten Island Ferry. Lightly trafficked streets can be easily reconfigured to complete this important commuter route.
Recognize opportunities for major improvement: Crotona Parkway and Southern Boulevard are two parallel streets in the Bronx that are separated by a park not much wider than a traffic island. Crotona Parkway should be reconfigured to discourage through traffic and to encourage bike traffic as proposed in a 10-year-old plan prepared by the Neighborhood Open Space Coalition and the Bronx Council for Environmental Quality.
Greenways are also walking trails: Greenways should be a priority in the Million Trees program and should feature benches and drinking fountains. Creating greened environments for walking is a national health priority since they will increase physical activity.
Make signage easy to follow: "Interim-greenway" signs should be installed along the entire 350-mile NYC Greenways route using the well-recognized and Art Commission-approved signage that has been in use in city parks for years.
Fast track improvements: Measures to protect cyclists from motorists should be implemented along the entire system including greened traffic islands. There should be a citywide strategy and policy for implementation rather than the failed and expensive piecemeal approach.
Put trails on key bridges: While much has been done to improve pedestrian and bike access to the East River bridges over the years, the Verrazano, Whitestone/Throgs Neck and Outerbridge/Goethals bridges continue to be dead ends. The attitude that cyclists can travel around inaccessible bridges and pedestrians can take a bus has to end.
Provide access to all bridges: Many smaller bridges are also inaccessible. The transportation department should inventory bridge access and see that all bridge access points are direct and easy to find.
Create long-distance greenways: A special effort should be made to complete long distance routes that feature the dramatic interplay between the built city and the natural world. The city's greenways would connect to the East Coast Greenway system stretching from Maine to Florida. New York's other long distance greenways include the Gateway Greenway, which connects Jamaica Bay to Sandy Hook, N.J.; and the Hudson River Greenway from Troy, N.Y. and the Erie Canal to the Battery. This would promote ecotourism in the region.
The Benefits of Greenways
There are a number of reasons to implement this program. Existing greenways are heavily utilized. The Hudson River Greenway, for example, is sometimes credited with kick-starting the current cycling renaissance in New York City. But this is not just a Manhattan phenomenon. National Park Service personnel have noted significant increases in cycling past Floyd Bennett Field in Brooklyn after a greenway link was built along Flatbush Avenue. The more people travel on greenways, whether by bicycle or on foot, the less energy they use, the less pollution they produce and the more healthy exercise they get.
The greenways system was meant to provide a travel alternative for New Yorkers. A disconnected series of isolated local park paths will not accomplish that. If PlaNYC2030's goals of drastically reducing greenhouse gas emissions from motor vehicles are to become a reality, the city will need to move quickly to put an alternative infrastructure in place.
Dave Lutz is the executive director of Friends of Gateway and Neighborhood Open Space Coalition, which works for a healthier, greener city.

For a guide to the city's greenways, click here. Â