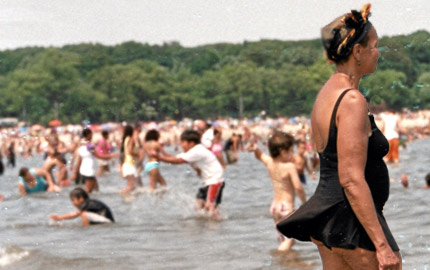 Photo by Courtney Gross
Music throbs from the cement steps as gawkers line railings and eye young women in bikinis at the Bronx's Orchard Beach. Umbrellas and sunbathers stretch out seemingly for miles -- tiny specs of blue, red and yellow, loaded with sunscreen and wide-rimmed sunglasses.
It's July. It's Saturday, and the city has turned out to catch some sun.
Among those sunbathers are Silvia and Paul Martinez, a brother and sister from Castle Hill who have made the Bronx's only public beach a routine visit during their summer days. Silvia, 18, may enjoy Orchard Beach, but she wasn't shy about admitting its drawbacks.
"We're not going to deny it," Silvia said as she eyed her sibling splashing in the waves. "It's dirty."
That perception is not uncommon.
While the seven city parks department beaches meet federal health standards and attracted an estimated 15 million visitors last year, they have their shortcomings. It's the litter, and it's the water quality, say beachgoers. Overall, our city beaches have an inferior reputation -- some say unjustly -- compared to suburban sunbathing spots.
Officials, advocates and others argue the city shore offers amenities you can't get on Long Island -- swimming with a view of the Verrazano-Narrows Bridge or being able to leave nature's waves for the ups and downs of The Cyclone -- and the quality of its facilities has improved.
Urban beaches, though, pose special challenges for the parks officials who run them. The shore offers relief from our cement landscape but it also is very much a part of the city. That gives the beaches a kind of gritty charm but also presents huge problems in terms of pollution, debris and ordinary litter.
Sewage Water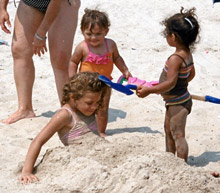 Photo by Courtney Gross
As the Mermaid Parade trekked down Coney Island's boardwalk last month -- solidifying the start of the city's official beach season -- Joyce and Peter Jagassar of the Bronx poured beer into plastic cups and dug their feet into the sand.
The Jagassars travel nearly two hours to Coney Island because they think it's cleaner than their own borough's Orchard Beach. Even at Coney Island, though, while they enjoy the vista, they stay clear of the water.
"We don't try to go in the water," said Joyce. Pointing to remnants of previous visitors -- the trash they left behind -- she asks, "Would you want that in your bathtub?"
While littering can threaten the water quality, the larger danger is the city's combined sewer and stormwater system, which covers about 60 to 65 percent of the whole city. Heavy rainfalls overwhelm the sewage plants and cause untreated sewage and stormwater to run off into our water bodies. More than one-tenth of an inch of rain can cause the sewage system to reach capacity and overflow into the ocean or the Long Island Sound.
"Absolutely, positively, there is no doubt about that," said Councilmember James Gennaro, the chair of the council's Environmental Protection Committee, calling the combined sewer system the biggest threat to our water quality. "This is the gospel."
There have been significant improvements -- in the 1980s the system caught 30 percent of the overflow, while it now contains more than 70 percent. Years ago, it was not uncommon for medical waste or other "objectionable material" to wash up on the beach said Department of Parks and Recreation Deputy Commissioner Liam Kavanagh. Now it is extremely rare that a public beach will be closed because of water quality.
According to a report from the Department of Health and Mental Hygiene, which oversees bacteria testing in the city's waterways, the city did not close any beaches due to water quality in 2007, compared to two closures in 2006. It issued 24 wet weather advisories -- pre-emptive warnings to the public to avoid the water after heavy rainfalls -- up from just 3 in 2006. Those warnings come when rainfall is expected to overflow the sewage system. The increase, the report said, is due to a higher frequency of rainstorms.
Compared to the rest of the state, the city's beaches are on the cleaner end of the spectrum -- with Chautaugua County next to Lake Erie exceeding bacteria standards most frequently in 2006, according to a report by the Natural Resources Defense Council. Queens County ranked third best in terms of the number of beaches that never exceeded state standards for bacteria counts. But other parts of the city did not fare as well. In Staten Island, for example, only a third of the beaches never exceeded standards.
At least half of the beach closings statewide in 2006 were attributed to stormwater and sewer overflows, according to the Natural Resources Defense Council.
Testing the Waters
Photo by Olivia Warren
The city tests most beaches for bacteria once a week, while Rockaway Beach, the public beach with the largest Atlantic Ocean beachfront, is tested only biweekly. Land mass and the body of water contiguous to the beach determines the frequency of testing. For instance, Rockaway Beach consistently averages low bacteria counts -- well within single day and monthly requirements.
On the other hand, private beaches in the Bronx and north shore of Queens, which are farther from the open ocean, have higher levels. According to the health department, there were 50 closure days and 26 pollution advisory days for the city's private beaches in 2007. Douglaston Manor Beach, a private beach nestled in an inlet on the border of Queens, has consistently high bacteria levels. In 2007, the Douglaston beach did not meet bacteria level requirements 81 percent of the time.
Chris Boyd, the director of public health engineering at the city's health department, said Douglaston has been closed since June. Its location, near an area of Queens serviced by septic systems, could affect bacteria levels. "Local residents have reported that they do have some neighbors that have failing septic systems and may be inappropriately discharging them," said Boyd.
The city is currently coordinating a "multi-agency response" to the issues facing Douglaston Beach, said Boyd.
The Limits of Testing
Some advocates contend the testing system does not adequately measure the safety of the city's recreational waterways. Unsafe bacteria levels that result in beach closures are based on 30-day averages, so a single spike will not close a beach. Larry Levine of the Natural Resources Defense Council said the reliance on averages does not reflect current conditions and can be "misleading."
"No one swims in an average water condition," said Levine. "The city needs to do a much better job on an ongoing continuous basis of notifying the public of what the current water quality conditions are."
Boyd disagrees, saying the average monthly testing offers protection to the public since any spike in bacteria would factor into a beach's water quality rating for 30 days. The weekly testing, he added, is also standard.
Some other coastal cities test more often. From Santa Monica to Malibu, beaches in Los Angeles are tested at least several times a week if not on a daily basis, said Dusty Crane, division chief for community marketing service for the county Department of Beaches and Harbors. Her office receives beach quality reports twice a day. Back on the East Coast, coastal waters off Boston are tested once daily with both a top and bottom sample.
Cleaning the Waters
Despite improvements in the sewer system, 27 billion gallons of untreated waste and stormwater still get dumped into our waterways every year. That might stop some New Yorkers from jumping in any urban waves.
The city is implementing several proposals aimed at harnessing more of the overflow. This year, said Gennaro, an underground storage tank in Flushing is being put into use. It could retain 28 million gallons of stormwater that could then be slowly pumped into the treatment system. The $400 million project is meant to alleviate overflow into the Flushing River.
Similar projects have been implemented elsewhere. To protect South Boston's beaches, Massachusetts is constructing a 2.1 mile long storage tank to hold stormwater, according to Ria Convery of the Massachusetts Water Resources Authority.
While separating the sewer system and the stormwater system has become the standard method to address overflow, this would be prohibitively expensive. New York City is testing another, greener approach, said Gennaro. Legislation, which he authored and the council approved this year, requires the city to create a stormwater management plan by December. It likely will include the sprinkling of green roofs and porous pavement throughout the five boroughs.
In addition to that, the Bloomberg administration's PlaNYC 2030 requires that 90 percent of city waterways be clean enough for recreational use by 2030. Some advocates, though, do not think this approach is ambitious enough.
"Thirty years after the Clean Water Act asked for swimable and fishable water, all we're asking for is that you don't get sick if splashed," said Levine. The goal refers to water recreational activities, like kayaking, not swimming.
Floating Debris
At the beach, it's not always just about the water. It's the sand, the volleyball and, of course, the sun.
The health department and parks department both measure beach conditions -- from the cleanliness of bathrooms to the amount of trash littering the sand. (For related story on beach facilities at the best and worst beaches, click here.)
Though it is not uncommon for sunbathers to spot shards of glass or bits of trash, beachgoers across the city say the sanitary conditions have gotten better. Jimmy Cardinoto, 42, has lived on Staten Island for nearly three decades. On a recent morning, he lounged with his two sons on Midland Beach with the Verrazano behind them.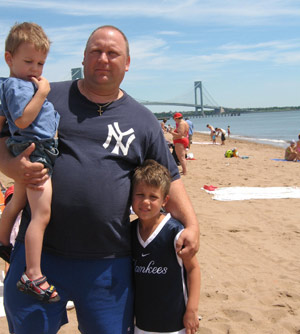 Photo by Courtney Gross
"The people are starting to care," said Cardinoto. "The trash is there, but it's really not as bad as it used to be."
A beer bottle here. An orange peel there. None of that seems to deter millions from building sandcastles or riding the waves.
"Our biggest challenge is just keeping up with the day to day conditions on the beach," said Kavanagh. "Glass is our number one priority on the beach. People go to the beach to relax, to take off their shoes."
The city has a no-glass policy on its sands, but enforcement presents a challenge. Kavanagh said the parks department is currently working on public awareness and experimenting with new equipment to rid the sands of litter and glass. Since 2002, he added, its beach cleaning fleet has expanded by 32 percent.
According to a report from New Yorkers for Parks, litter was found on 42 percent of city shorelines and broken glass was retrieved on 53 percent of city beaches in 2007. "The largest problem is always the maintenance issue," said Sheelah Feinberg, director of government and external relations for the advocacy group. "That's parks citywide."
In response, Councilmember Joseph Addabbo has introduced legislation to ban the sale of glass containers -- from Coronas to Snapples -- within 150 feet of a beach. A parks department official said it was supportive of the concept, but questioned how it would be enforced.
It takes a lot more than a little litter, though, to deter some New Yorkers.
While setting up a picnic at Manhattan Beach in Brooklyn on a recent afternoon, Debra Void, dressed in a yellow apron, swayed her hips to tunes from a nearby boom box. The 42-year-old's father had already dug into the snacks standing nearby, laid out for the birthday party that was about to ensue.
It was Void's daughter's 19th birthday and the family was at Manhattan Beach in Brooklyn to celebrate -- just like they do every year.
Though the area was crowded, even in the middle of the week, Void, a Starrett City resident, didn't find that surprising. The sun and the surf, after all, always keep her satisfied.
"Good news spreads around," said Void. "This is a place where you'd have a nice time."
When originally published, this article incorrectly stated 14 billion gallons of untreated sewage is dumped in our waterways annually. That figure is actually 27 billion gallons of untreated raw sewage and stormwater runoff.
Â