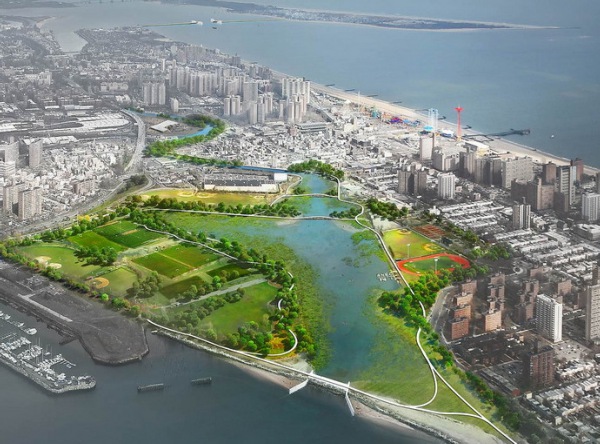 NEW YORK — Striking a tone of defiance, Mayor Michael Bloomberg said today that New York City will not retreat from its coastline despite the threat of rising sea levels and the possibility of storms more catastrophic than Hurricane Sandy.
On the contrary, he argued, the city should not only continue to build along the waterfront but build better.
"As New Yorkers, we cannot and will not abandon our waterfront. It's one of our greatest assets. We must protect it, not retreat from it," the mayor said at the unveiling of a voluminous report detailing the city's assessment of the impact of Superstorm Sandy and the risks posed by climate change.
The report itself states that, prior to Sandy, the city had made significant strides in preparing for climate change.
"Our resiliency investments performed well during Sandy," the authors write. "But Sandy's magnitude, its effects on so many parts of the city, and the threat of even greater risks from climate change also taught a second lesson: we needed to redouble our efforts."
From sand dunes to temporary flood barriers to funding for building system upgrades, the plan unveiled by the mayor aspires to fortify the city — at an estimated cost of $19.5 billion — in the face of a rapidly changing environment rather than pull back development from the waterfront.
It is also ambitious, asserting that a large, new residential and office development project off the tip of Lower Manhattan and similar to Battery Park City, was not only realistic but necessary.
The report released today, "A Stronger More Resilient New York," is part of the city's ongoing and far-reaching sustainability initiative, PlaNYC.
The risks posed to New York City are daunting. Underpinning the conclusions of the report is new data generated by the city's Panel on Climate Change, also released today. The panel projects that "by mid-century, sea levels could rise by more than 2.5 feet, especially if the polar ice sheets melt at a more rapid rate than previously anticipated. That magnitude of sea level rise would threaten low-lying communities in New York with regular and highly disruptive tidal flooding."
The Panel also projects that average temperatures in the city could rise as much as 6.5 degrees Fahrenheit by the 2050's, while precipitation could increase by fifteen percent. As a result, both the number of annual heat waves and days with intense precipitation — rainfall in excess of 2 inches — will increase steadily.
By that point, the mayor said in his speech, "up to one-quarter of all of New York City's land area, where 800,000 residents live today, will be in the floodplain." Precisely because so much of the city is now threatened by rising sea levels, retreating is not considered an option, he argued.
The mayor noted some 270,000 jobs are now in areas within the federal government's 100-year flood maps.
"They are not going anywhere, and we cannot and will not abandon them," Bloomberg said. Instead, the city's response, as detailed in the report, is to aggressively and pro-actively construct "layers of defense."
One layer would consist of off-shore barriers like breakwaters and wetlands that would help to blunt the force of powerful storm surges.
Another layer is what the mayor described as "a strong line of coastal defense," which would rely on reinforced dunes and widened beaches, levees, floodwalls, bulkheads, tide gates, and surge barriers. The mayor noted that constructing a massive barrier across New York Harbor — one idea being floated — was impractical. But smaller "localized" surge barriers, he argued, could make a big difference.
Many of the surge and tidal barriers now being proposed by the city are intended to address "back-door" flooding, when a storm surge pushes floodwater into rivers, creeks and canals. The city is looking at possible barriers in several locations, including the mouth of Jamaica Bay, Newtown Creek, the Gowanus Canal, and Coney Island Creek.


The report includes 37 proposed coastal defense projects, some of which are already underway, such as beach and dune restoration projects on Staten Island, Coney Island and along the Rockaways. The city said construction of flooding and erosion barriers on the South shore of Staten Island has also begun.
Other layers of defense include green infrastructure, like permeable pavement surfaces, which can absorb floodwater or channel it into "higher capacity" sewers.
An especially critical layer is the city's building stock. The Bloomberg administration is proposing a $1.2 billion incentive program – in conjunction with HUD – to assist property owners in vulnerable areas with flood-proofing their heating, electrical and other building systems.
The report also examines how to protect and upgrade local utility, telecommunications and fuel supply networks in light of climate change and its impacts. The mayor noted that two-thirds of major substations and nearly all of the city's power plants are situated in floodplains.
Measures to safeguard critical infrastructure, such as hospitals and other health care facilities, along with the city's transportation network, parks, water, wastewater and solid waste systems, are outlined as well.
The mayor said that more than $100 million of the $1.77 billion in federal relief funding that had been allocated to New York City would be diverted to public housing for upgrades. The city's Housing Authority is also slated to receive funds from the Federal Emergency Management Administration. Four-hundred NYCHA buildings — housing 80,000 residents — were damaged during Sandy. Several NYCHA developments are located in coastal areas.
Building in flood-prone areas can be done safely, argued the mayor. "We've proposed new zoning that makes it easier to elevate existing buildings above the floodplain," he said. The city will also be making changes to its construction codes that it said will raise standards for new buildings.
The mayor argued that waterfront development does not have to be deterred by rising sea levels. Referring to Lower Manhattan's need for housing and office space, the mayor proposed a new waterfront development similar to Battery Park City called "Seaport City" that would be constructed on the East Side. The development would potentially house "thousands of new residents and hundreds of businesses."
The mayor asserted that Battery Park City was specifically designed to withstand major flooding and for the most part did so. He described Seaport City as an "ambitious idea" and added that the new development had the potential to protect "existing residents and businesses from future storms."
"Yes, it would be expensive to build. But over time it could prove to be a great investment," he said.
When asked if the administration believed that any areas of the city would eventually have to be abandoned due to sea level rise, Economic Development Corporation President Seth Pinsky said that "building on the coast is not a problem." Pinsky, who led the team that created the city's new report, added that construction had to happen at "the right elevation." The city's confidence that it can retain use of its entire coastline is not shared by all climate experts.
Klaus Jacob, a member of the city's Panel on Climate Change and a geophysicist with the Columbia University Lamont-Doherty Earth Observatory, told the Gotham Gazette in January that it was necessary to think beyond the next few decades. By the end of the century, he maintained, sea level could rise by 6 feet, making parts of the city uninhabitable.
"Sea level rise is the ultimate fate of the city," he told the Gazette. "It truly threatens the livelihood of the city as we have it now — unless it adapts. It can adapt. It can be a totally lively city without barriers. We are lucky. We have high ground within our boundaries. Neither New Orleans nor Amsterdam nor Venice have that luxury. We have that luxury. We just have to move together on higher ground."
The city estimates that the initiatives and projects it proposes within "A Stronger, More Resilient New York" will cost $19.5 billion. The mayor said that $10 billion was covered by existing city capital dollars and federal funds. Another $5 billion would be available from FEMA and future rounds of federal Sandy relief dollars that have been appropriated by Congress.
City officials said they will press the federal government for the remaining $4.5 billion.