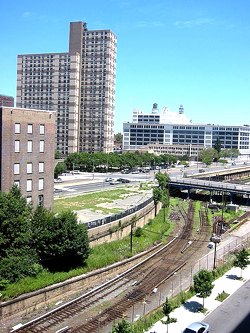 At a recent forum, Freddie Hamilton, a candidate for State Assembly in central Brooklyn, told the audience packed into an unventilated church basement, that she would not be answering any questions about the Atlantic Yards proposal. The disappointed crowd responded with boos.
The exchange illustrated how devisive the Atlantic Yards issue has become in the race for the Assembly seat being vacated by Roger Green, who is running for Congress.
The three Democrats. Freddie Hamilton, William Batson, and Hakeem Jeffries, all have different views on the controversial proposal for the district. The one Republican candidate, Henry Weinstein was unreachable for comment.
Atlantic Yards
The Frank Gehry design for Atlantic Yards calls for building 16 high-rise structures for offices and apartments as well as an arena for the Brooklyn Nets professional basketball team in downtown Brooklyn.
Freddie Hamilton, a staunch supporter of the project, was a signatory of a community benefits agreement between six community based organizations and the developer of the project, Forest City Ratner Companies. Hamilton believes that the project 'will ultimately provide the best outcomes for the district.'
William Batson, former aide to State Senator David Patterson, is an outspoken opponent of the 6.5-acre real estate development. 'This project has everything that's wrong with overdevelopment in it' .It's a three-card monte proposal that changes every time you look down' said Batson.
Hakeem Jeffries, a litigator for the CBS Corporation and third time candidate, refuses to denounce the $4.2 billion project, but criticizes the plan in its current form. 'The proposed project is too dense and would dramatically change the character of the tree-lined residential neighborhood that it borders,' he said.
Affordable Housing
All the candidates agree that the district needs more affordable housing. However, they differ over whether Atlantic Yards will help provide that.
Freddie Hamilton believes that it will. According to her, plans for the development include over 200 units for residents with annual incomes as low as $19,00 .
William Batson, who has worked with local residents to protest the pending development, calls Forest City Ratner's promise of new affordable housing a 'fraud.' 'We need real government action to address our housing crises, not the dubious promises of private developers,' said Batson during a recent speech.
If elected, Hakeem Jeffries hopes to address the housing situation by repealing the Urstadt law, which places the power to control rents in the hands of the state legislature rather than city government.
'Working families and senior citizens on fixed incomes are being pushed out of the only neighborhoods they've ever called home,' said Jeffries, who was born and raised in central Brooklyn and provides free legal advice to residents who are facing displacement.
Arson
The housing problem has been made worse by a rash of over 18 arsons in the past 14 months. Most of these crimes have not been solved. Many of the areas they affected are low-income neighborhoods where many residents do not have insurance. Along with losing a place to live; those lucky enough to survive the fires lose everything they own as well.
William Batson is focusing much of his campaign efforts on addressing the arson problem. Co-chair of the Fire Safety Committee on Community Board 8, Batson has been very vocal about his opposition to Mayor Michael Bloomberg's cuts in the number of fire marshals throughout the city, reducing the force by 25 percent in 2003. If elected, Batson has promised to work with city officials to improve response time for emergency services by ensuring all residents are never more than three minutes from a fire station.
Hakeem Jeffries wants to add more fire marshals to the district as well as establish arson prevention units to understand the cause of the problem better.
Schools and Youth Services
Freddie Hamilton has adopted the strengthening of childcare programs 'which she refers to as safety net services- as the defining issue of her campaign.
Freddie Hamilton, who believes the city should 'rethink' letting the mayor control the public school system, says that she will work to improve the training that teachers receive and to reduce class sizes.
Hakeem Jeffries, a father of two young boys, echoes similar concerns about the condition of Brooklyn public schools.
'Public schools are still failing some of our children; overcrowded classrooms, insufficient books,' said Jeffries ' We are at risk of dooming hundreds if not thousands of our young people to lives of disadvantage and despair.'
Candidate Debates
Citizens Union will present several Democratic candidate debates before the September 12 primary.
Assembly District 74
(The Lower East Side, East Side, Midtown East, and Murray Hill)
Candidates: Sylvia Friedman, Brian Kavanagh, Esther Yang, and Juan Pagan
Monday August 14; at 7:00 p.m. to 8:30 p.m.
St. Nicholas Church, 288 East 10th Street, (between First Avenue and Avenue A)
(Presented in partnership with Our Town Downtown and City Hall.)
Assembly District 13
(Flushing and surrounding areas)
:Julia Harrison and Ellen Young
(Flushing and surrounding areas)
Monday, August 21, 2006; 6:15 to 7:45 p.m.
Flushing Library, Main Street at Kissena Blvd.
Senate District 13
(Corona, Jackson Heights, and East Elmhurst)
Candidates: Hiram Monserrate and Jon Sabini
Wednesday, August 23; 6:15 to 7:45 p.m.
Langston Hughes Cultural Center/Library, 101-01 Northern Boulevard, Corona
The two Queens debates are presented in partnership with Queens Civic Congress and cosponsored by: North East Jewish Community Council, NAACP-Corona East Elmhurst, Mid Queens Community Council, Queens Chronicle; NAACP-North-East Branch, and Flushing Jewish Community Council.
For more information, go to Citizens Union.
If elected, Jeffries says he will fight for the hundreds of millions of dollars that New York City public schools are supposed to receive through the Campaign for Fiscal Equity lawsuit on school funding.
William Batson, co-founder of the youth outreach group American Civil Rights Education Service, believes that one of the keys to improving the quality of education in the district is to expose the youth to Brooklyn's cultural landmarks and rich history.
Brooklyn Democratic Party
From Assemblyman Roger Green's guilty plea for petty larceny to former Brooklyn Democratic Party Leader Clarence Norman's felony corruption convictions, the Brooklyn political establishment has been under attack.
Despite that, though, incumbents usually win, and critics say one reason is that legislative districts are drawn to protect them.
Hakeem Jeffries knows this all too well. After he won 40 percent of the vote in his 2000 bid to unseat incumbent Roger Green, Jeffries home was drawn out of the district.
'I went to bed in the 57th and woke up somewhere else' said Jeffries. Now Jeffries supports the redistricting reform bill introduced by State Assemblyman Michael Gianaris. 'Democratic elections,' he said, 'are meant to protect the people not political positions.'
William Batson points to cronyism as a major problem preventing reform. Batson thinks that, under current redistricting laws, legislators are not encouraged to act in the best interests of their constituents. And he says the current system results in a lack of representation for some areas and over-representation for others. 'There are districts upstate that have multiple seats because they count the nearby prison population of convicted felons, who cannot vote as residents,' said Batson. 'Meanwhile we have Hempstead, Long Island, with a growing minority population that has been fighting for a seat for decades.'
Freddie Hamilton agrees that the current system needs reform and promises that she will work for a more impartial system. 'Redistricting should be done by a neutral party'. It has not worked when elected officials draw their own district,' said Hamilton.
Campaign Support
So far, Assemblymember Roger Green has not endorsed any of the candidates vying to replace him. But each Assembly hopeful has garnered support from various local organizations.
William Batson has recently secured the endorsement of the Sierra Club, a grassroots environmental organization, and City Councilmember Bill de Blasio. Batson has also received $35,491 of campaign contributions.
According to Freddie Hamilton, her campaign is being supported by several child advocacy groups, including Black Administrators for Child Welfare. As of the July filing deadline, Hamilton's financial contributions from her supporters total $22760.04.
Hakeem Jeffries has the endorsements of the Working Families Party, the Progressive Association for Political Action, the Lambda Association for Independent Democrats, the Communication Workers of America- District 1, and SEIU 32BJ. Jeffries has received financial contributions totaling $77,610.00.