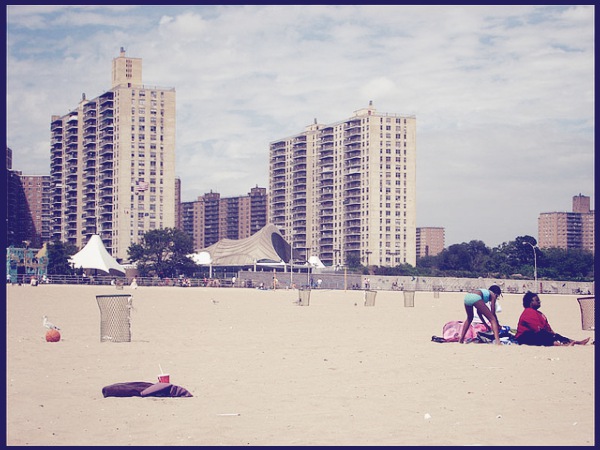 NEW YORK — On Neptune Avenue in Coney Island, state Sen. Diane Savino and a group of community activists walked a cracked and broken sidewalk on a recent day this summer — taking a tour of damage that remains nearly a year after Hurricane Sandy pummeled some of the city's notable coastal neighborhoods.
At one point, the group stopped to look past a contorted chain-link fence at a massive sinkhole filled with bags of trash, milk cartons and diapers. The crevasse yawned with fault lines that zigged and zagged onto the sidewalk and towards the street. It looked to be growing.
"That thing goes down a ways," said Ken Jones, a longtime community activist, referring to the sinkhole. "It's probably right under the sidewalk." The fact that it has apparently been used on more than one occasion as a dump only added to the activists' concern that no one — not the state, not the city — is paying enough attention to their neighborhood.
Only a few blocks down from the amusement district, where the sounds of the frolicking beachgoers and carnival games have come back with renewed vigor after the neighborhood's near-cataclysmic meeting with the superstorm, there is a different Coney Island that most tourists and beach goers don't see.
This is the Coney Island that continues to struggle to return to normalcy. The Coney Island where parks and playgrounds remain fenced off because of sinkholes or other damage done by last year's storm. The Coney Island where public housing tended by the New York City Housing Authority is wrapped in scaffolding and chain link fence; and where the library won't reopen until October. The Coney Island where the local hospital isn't operating at full capacity and where temporary structures containing furnaces and other critical infrastructure are still in full use.
"They say Coney Island is open for business. Sure, the entertainment district is, but no one talks about the parts of Coney Island where people actually live. They don't talk about the neighborhoods," said Ed Cosme, a resident who formed The People's Coalition of Coney Island to raise awareness about the problems in the parts of the neighborhood that don't normally draw tourists and bathers.
It's there, in those neighborhoods, that advocates on the July 8 tour of Coney Island said residents continued to struggle with the impact of the hurricane.
"We've got a bookmobile a few times a week instead of a library," Jones said. "We got a mobile clinic instead of a hospital. This isn't cutting it." He carried in his hands a binder full of pictures of every sinkhole he has spotted — over a dozen — as well as fenced off playgrounds. He wanted the group to see as many of these spots as possible.
Some relief for the neighborhood could be at hand. Coney Island is eligible to receive over $6 million through the state's "Storm Communities" plan announced by Gov. Andrew Cuomo on July 18. The program aims to address damage leftover from the hurricane that washed through the region on Oct. 29, 2012.
In the meantime, advocates say they are trying to draw attention to the needs of the community.
Councilman Domenic Recchia, whose district includes Coney Island, said he has been in contact with multiple city agencies that are working together to study the sinkhole problem in particular.
"They are trying to find out why we are having this problem," Recchia said. "It isn't clear if the earth is moving or the sand got pushed out from under the pavement by the flood. But I know it is a problem for a lot of people. They are getting them in their driveway or backyards. I get calls about it all the time."
The Bloomberg administration's recent report on the impacts of Sandy described how the area that is now Coney Island was developed from an island and a series of wetlands into the mostly-paved area we know today.
"The peninsula that now contains Coney Island and three other Southern Brooklyn neighborhoods was once an actual island,separated from the mainland by Coney Island Creek and reachable only at low tide," the report said. "The entire area was a collection of wetlands, tidal marshlands, bays, inlets, creeks, and barrier islands — first the fishing grounds of the Lenape people and then part of a quiet farming community."
The report goes on to describe how, during Hurricane Sandy, flood waters reached up to 10 feet in places like Neptune Avenue. Perhaps most striking is how drastically Sandy altered Coney Island's beaches: The storm is credited with moving 272,000 cubic yards of sand. "At Ocean Parkway, for instance, waves pushed thousands of tons of sand northward, with water traveling 1.5 miles north to Avenue W, joining floodwaters from Sheepshead Bay and Coney Island Creek," the report read.
Advocates and politicians alike speculate that flooding from Sandy also moved the sand and earth under the pavement, resulting in the sinkholes they see around western Coney Island.
Representatives for both the Department of Transportation and the Department of Environmental Protection said they have not received many complaints about potholes or sinkholes in western Coney Island.
DEP spokesman Christopher Gilbride said that sinkholes were a problem immediately after the storm because of broken water lines but he said there haven't been problems reported since then. He noted that sinkholes are either caused by a broken water main or through erosion of dirt or sand under roads — which is exactly what advocates say they are concerned about.
Savino's office said they have made repeated calls about potholes, sinkholes — or whatever you want to call them — and some of the holes have been patched with asphalt only to reopen bigger than before. Savino's office is working with Jones and Recchia's office to compile a master list of all the holes around western Coney Island and to present it to the DOT and DEP.
But it isn't just the sinkholes that have residents concerned that their part of Coney Island is being ignored. Looking past the massive sinkhole on Neptune Avenue, the tortured skeleton of a wooden dock uprooted and smashed by Hurricane Sandy could be seen. A number of boats remained lifted out of the water, stranded on rocks, water-damaged and rotting. "No one has claimed them yet?" Savino asked rhetorically.
The owners are likely long gone. Just like the proprietors of the closed Chinese food restaurant and bodega across the street. "They were just hanging on before Sandy," Savino said. "They were already in debt. After that storm, another loan wasn't going to save them."
Aida Leon is the executive director of the Amethyst Women's Project, a group that helps women struggling with substance abuse, domestic violence and HIV/AIDS.
As the tour of Coney Island progressed, she said she was concerned that established charitable organizations had been ignored by the larger groups that came in with funding to address problems caused by Sandy.
"They haven't been on the ground like we have," she said. "We lost a lot of people after Sandy. They didn't come back to the programs and I don't think they are coming back because the people with funding don't know how to reach them."
As the group of community advocates led by Savino continued their tour around Neptune, Mermaid and Surf avenues, it became clear that life for most residents here is far from normal.
Housing Authority properties like the 597-unit Surfside Gardens and 573-unit O'Dwyer Gardens were surrounded in metal fencing and scaffolding, each individual playground and park on the properties sealed off by chain-link fencing. Only a cursory glance revealed the likely reason: more sinkholes erupting underneath concrete at the bottom of slides, near merry-go-rounds and other playground equipment. Programs for children and seniors have been cancelled.
Jones insisted Savino see the sinkholes. He squeezed behind fences and lifted plywood that covered craters. "Look at this. This isn't safe," he says. "Where are the kids gonna play?" Jones noted that he lost a tire to a deep pothole, and has been documenting them since that episode.
A resident of the apartment complex walked by, suspiciously peering at the group. "What is they here for?," she wondered out loud. "Maybe they looking for them rats," she answered herself.
NYCHA said in a statement that sinkhole repairs were "currently underway" at developments affected by Sandy, including in Coney Island. "NYCHA is beginning the process to complete the work for the play areas at various affected developments in the area," the agency said.
Recchia said some programs for children were functioning. "We have summer programs like the Cornerstone program and others out of Kaiser Park. They may not all be open but there are programs," Recchia said.
Savino's staffers said their office had fruitlessly contacted NYCHA about playgrounds being closed and the scaffolding that surrounded the buildings and blocked windows. A recent report by Comptroller Bill de Blasio has highlighted the backlog of thousands of repairs dating back years that NYCHA has yet to address.
But Recchia was quick to defend the city's response — taking responsibility for the fact that public housing was still under construction and that the library wouldn't open until October.
"I've said from the start that we are not going to rush but address the long-lasting problems," Recchia said. "The reason the library isn't open is because I want things done the right way."
Recchia said his approach to addressing the problems left behind by Sandy was informed by a Council trip to Louisiana.
"The one thing they said they did wrong was that they rushed to get things back as quickly as possible," Recchia said. "But now they need to fix them again because no one addressed the core problems."
Savino is familiar with the damage Sandy wrought across the city. She served on the Senate's Bipartisan Task Force on Hurricane Sandy and toured not only the boroughs that were impacted but Long Island as well. Her district office in Coney Island wasn't spared Sandy's wrath: Her staffers described how flooding rose nearly five feet up to a poster of Savino on the wall, destroying furniture and tossing a heavy air conditioner. The office reopened this spring.
The same couldn't be said for Liberation Diploma Plus, a school that was the next stop on the tour and serves students in grades 9 through 12. Only three blocks from the beach, the school was ravaged by flooding.
April Leong, principal of Liberation, described for the group how the flooding destroyed everything on the first floor — books, supplies, desks, the kitchen, gym floors. The second floor also suffered.
The Department of Education leases the property and as a result the owner had to apply for federal recovery funds. Leong said she worked sometimes 18-hour days to get the school cleaned up.
The process took longer than it might have, but once repairs were finally initiated they were made quickly — too quickly. Water warped boards were left in place and new boards installed on top. As the group of activists stopped by, Leong was busy overseeing the second round of repairs.
Leong spent the early days of the storm struggling to get her students registered so that she wouldn't lose funding from the DOE — she succeeded but still lost funding. Liberation is a transfer school for a students from around the city who have struggled in regular classrooms so finding all the students after Sandy was not easy. "These are kids that people already gave up on," Leong said, stressing the importance of bringing Liberation back to life.
She took the group through the muggy first floor, into the cooler cafeteria where a few students sat and sipped juice.
Savino sat down at a lunch table, fanning herself from the heat. "This woman is single-handedly keeping this place afloat and it means so much to these kids and the community," shes said, motioning to Leong.
Savino said a number of residents and issues have slipped through the cracks because of confusion over programs.
"The state and city seem to be working at cross purposes on a lot of stuff," Savino said.
In announcing a home buyout program for areas that were in the dangerous flood zone, Gov. Andrew Cuomo told New Yorkers who lived next to the shore that "there are some parcels that Mother Nature owns. She may only visit once every few years. But she owns the parcel and when she comes to visit, she visits." Mayor Michael Bloomberg offered the opposite tactic: a plan to strengthen existing coastal communities while continuing to build smart around the coastline.
Savino noted that a number of homeowners have not requested help. She said she believes it is because they are undocumented immigrants from China who bought their homes with cash and are afraid to seek help from the government.
And both Savino and Recchia acknowledged they were at a loss at what to do about the small businesses that have left. "People are worried about taking the risk on Coney Island," Savino said.
Recchia said that things aren't back to normal, that life isn't easy for all those living in Coney Island. But he said the neighborhood was on the road to recovery. "Compared to other parts of the city, I think we're doing pretty good," he said. "Take a look at the NYCHA facilities — they are working on them. It's not like the work isn't happening."
After two hours of walking in the heat, the group members said their goodbyes. But Jones had a shocker for Savino. He said he was thinking about moving to New Jersey. "You can't go to Jersey!" Savino said. "You are Mr. Coney Island. You can't leave."
Jones hung his head for a second and looked up, smiling. "This is getting to be too much for me," he said. "I'm too old for this."