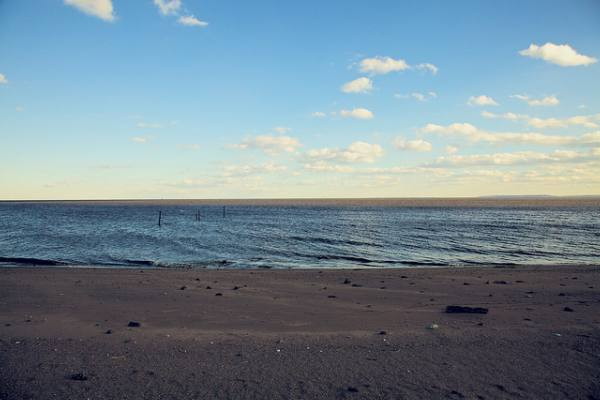 Until October 30, 2012, Dorothy Nolan lived with her husband in his childhood home in Fox Beach, a four-block subdivision of the Oakwood Beach neighborhood of Staten Island. Comprised mostly of bungalows constructed between 1930 and 1950, this was the kind of neighborhood where people stuck around, worked on their homes, and passed them down to their children.
The Nolans began renovating their home in 2008, piece by piece, as they could afford it. In the summer of 2012, they finally finished the last project – a back deck.
But the Nolans' enjoyment of their renovated home was brief — and ended when Hurricane Sandy plowed into the city last fall. Nolan described her family's harrowing experience in a letter to Governor Cuomo.
"We were trapped by flood waters that rose so high so quickly that we barely managed to escape up into a small crawl space in the attic of our home," she wrote. "We struggled to stay calm for the almost 12 hours that we were there, watching the water levels rise to over 8 feet in our home, ending just below the ceilings, and the space we were hiding in."
From the crawl space, Nolan said, "We could hear each wave come in. You would hear a crash and dishes breaking and everything moving."
When they emerged from their attic on the morning of Oct. 30, they found "everything was in a big pile. It was like a snow globe, like someone shook the house."
A year later, the turmoil wrought by the storm is far from over for Nolan and her neighbors on Staten Island's southeastern shore.
Median incomes in this area, known as "mid-Island" hover around $73,600. Some displaced homeowners are still paying rent on temporary housing while making monthly payments on mortgages and water bills. Others are faced with insurance payments that cover only a fraction of the costs to repair their homes. City and state relief programs promise to make up some of those differences, but applicants have yet to hear whether, and for how much, they qualify.
While some people have borrowed from retirement funds or family members in order to begin rebuilding, a surprising number have signed petitions asking for buyouts. Still others are waiting until they have more answers from the government before deciding whether to rebuild or relocate. Many living on Staten Island's storm-ravaged shores agree that moving on has been almost impossible.
"We Can't Take a Beating Every Year"
In neighborhoods like Fox Beach, where every home was damaged during Sandy, the buyout choice was clear. Since the 1980s, single-story bungalows have increasingly been joined by attached-home developments, and wetlands have given way to concrete foundations. Around the Nor'easter of 1992, residents experienced their first bad flood and began to agitate for better flood protections and less development. Many neighborhoods did not have storm sewers, and relied on vacant land to soak up storm water. "We've hardscaped those sponges, so that they no longer naturally slow down the impact of that incoming surge," William J. Fritz, a geologist and president of the College of Staten Island, told the Huffington Post last November.
Although the Army Corps of Engineers installed some berms and other measures in 2000, some of those protections began to come undone by 2008. New developments also continued to increase. Then, in 2011, Hurricane Irene brought up to 5 feet of flood water to this part of Staten Island.
Of course, that was nothing compared to Sandy, which sent up to 15 feet of water across the streets of the mid-Island. "Some people had just finished renovations from Irene. This storm was a knockout punch," said Joseph Tirone, founder of the Oakwood Beach Buyout Committee. Shortly after Sandy, Tirone began signing people in and around the subdivision onto a petition asking the state to buy them out and return their land to nature. As of last week, the borough president's office reported that over 1,000 people had signed up for buyouts.
"We can't take a beating every year," said Dimitri, a resident of a townhome development a few blocks from the Lower New York Bay. Ten years ago, Dimitri and his neighbor, Alex (both preferred only to use their first names), purchased townhomes here, thinking if the city had permitted his development "it must be safe." Now, he is concerned that owners who rent their townhouses have not properly abated the mold creeping along shared walls. In addition, he worries that if his development cannot be raised, his insurance rates will spike exponentially.
Dimitri is certainly not alone in this concern. This past Friday, Mayor Michael Bloomberg released a joint study by the city and the RAND Corp. on the impacts of new FEMA flood maps and changes to national flood program regulations. The study found that updated FEMA maps will consider thousands of new properties in New York City in the floodplain. Moreover, the Biggert-Waters Flood Insurance Reform Act of 2012, which is set to go into effect this month and which phases-out subsidies, will cause rate increases ranging from $5,000 to $10,000 for those properties that are below new flood height requirements.
With such issues in mind, the state announced a pilot buyout program in February, which eventually included 418 properties in Oakwood Beach. The program offered 100 percent of pre-storm home values and stipulated that it would keep the land undeveloped to serve as a natural flood barrier. Out of the 418, 300 homeowners, including all but three Foxbeach residents, signed up.
Meanwhile, the city put forward its own acquisition plan, promising to redevelop acquired land to be more storm resilient and offering post-storm home values plus a relocation bonus. On Oct. 7, the state signed off on its first buyout, a two-bedroom home in Fox Beach. Three days later, the city publicized its first acquisition – this time, the home of a woman on Staten Island's southernmost shore, who had lost her husband and daughter in the storm.
A week later, Staten Island City Council members James Oddo and Vincent Ignizio came out with some surprising news – the city had decided to turn its acquisition program over to the state. Exactly how the consolidation will affect buyout terms remains to be seen.
"The city and state are still in discussions regarding the acquisition program, the MOU has not been signed and the details have not yet been finalized," said Barbara Brancaccio, a spokeswoman for New York Rising, the state program managing New York's relief efforts.
Oddo, however, has reported that all buyout-eligible homes will now be acquired at pre-storm values.
"Every day is Oct. 30"
Meanwhile, after protracted struggles with insurance companies and a year of depleting their savings, more and more people are deciding that buyouts are their best option.
Jackie Parker, a nurse at the VA Hospital in midtown Manhattan, has lived on Staten Island for over 30 years. Although her Midland Beach house is 15 blocks inland, she got 12 feet of water during Sandy. "I still freak out every night," Parker said.
She was able to move into the top floors of her home shortly after the storm, and just last month, her bank received an insurance payment to make necessary repairs to the first floor. Parker said that while the bank will release the payment in full directly to her contractor, neither it nor the insurance company will agree to inspect the work once it has been completed.
Parker is not comfortable paying for work in advance without some kind of accountability. "I'm scared to do it," she revealed. Feeling "disenfranchised" by her experience, she recently signed a buyout petition.
Parker is one of the lucky ones. "I don't know anyone who has received a fair payment from their insurance," said Dee Vandenburg, president of the Staten Island Taxpayers Association. She went on to describe the situation of one man she knows whose "house was completely wiped off the foundation … The insurance company keeps telling him they can't find his house. He keeps saying it's gone."
In the vast number of cases, insurance offers are far lower than estimated repair costs. "A lot of people are only getting half of their policy. So they're getting $125,000 but they need more like $250,000," said Nicole Romano-Levine, president of the New Dorp Civic Association. According to Romano-Levine, insurance payouts are based on national averages far below the costs of construction in New York City.
Even the Nolans, who recently received a buyout offer, are still reeling from their nightmarish experiences with insurance companies and various bureaucracies.
Because they had paid for flood insurance, FEMA only offered them Small Business Administration loans and provided them with small, short-term rent stipends. They had a $100,000 homeowners policy to cover the contents of their home, but were initially declined all of this coverage. A few months ago, they finally received a flood insurance payment but by this time they needed that money to avoid defaulting on their mortgage.
Adding insult to injury, the city's Rapid Repair program turned their water and power on without their knowledge so they received several utility bills even though they had not lived in their home since Oct. 29.
Nolan said she has spent hours every day over the past year dealing with such issues. "Frankly, every day I wake up is Oct. 30 to me because I have to start the day pulling the files and sending emails all over again," she said.
Red Tape and Rumors
A city program, Build it Back, in particular, has received much criticism for its extended trails of red tape, response times, and lack of transparency. More than 5,000 Staten Islanders have registered for the program, which vows to help eligible applicants make up the difference between insurance payouts and costs of repairs. Since it launched in June, only a handful of people have heard back from the city to schedule home evaluations, the next step in the process. Build It Back spokespeople explain that lengthy federal reviews required for each project have delayed disbursements, a situation made worse by the federal shutdown earlier this month.
In the meantime, the definition of who can be considered "eligible" remains unclear. In the absence of information, rumors fly, fueling fears that the mid-Island's lower middle and middle incomes will be too high to qualify for relief programs. "The people out here are firemen, policemen, sanitation workers, MTA workers. They can't afford to not get this help" said Vandenburg.
Another key uncertainty concerns the future of development in the mid-Island. For years, mid-Islanders and local experts have tried to bring attention to the dangers of an increased trend towards subdividing of lots and infilling vacant land, especially in wetland areas.
While Mayor Michael Bloomberg has famously vowed not to back away from waterfront development, Cuomo told an audience at the College of Staten Island in February that "there are some places that Mother Nature owns." However, the state only intended to prohibit rebuilding in areas it designated as "enhanced" or "very high risk."
Now that the city and state have combined their acquisition programs, it is unclear how much of that land will be redeveloped. So far, Oddo has emphasized a provision to acquire properties with the intention of selling them for redevelopment. "That gives us the best chance to be transformative, to take a community and build a better housing stock, while giving people in that area the right, if they want, to come back and live in that housing stock," he said at a press conference.
In that case, much depends on the enforcement of zoning and building regulations. And that could depend heavily the upcoming election next week.
So many questions and so few answers will make Oct. 29, an already difficult day, all the harder.
A number of memorial events will be held throughout the Island, but Vandenburg predicts that a lot of people will opt to commemorate the day privately. "Lives were ripped open," she commented. "Everybody's nerves are still frayed."