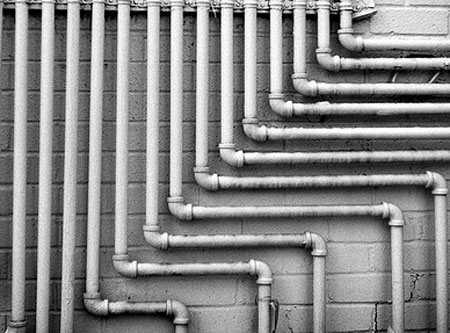 While New Yorkers hotly debate the safety of hydraulic fracturing, a controversial method for extracting natural gas from upstate rock formations, a second natural gas issue has quietly started to simmer.
Houston-based Spectra Energy filed a preliminary federal application to construct approximately 20 miles of new natural gas pipeline across northern Staten Island and southwestern New Jersey, under the Hudson River and into Manhattan's trendy meatpacking district where it will connect to Con Edison lines around Gansevoort Street and the West Side Highway.
The project will expand and diversify an existing natural gas pipeline system between Staten Island and New Jersey. According to a Con Edison spokesperson, Chris Olert, the expansion will help meet growing customer demand for natural gas and improve the reliability of gas delivery. Currently, Con Edison delivers 225 billion cubic feet of natural gas a year to residential and commercial buildings. New pipelines will increase that capacity by 8 million cubic feet per day. In addition, Spectra estimates the project will create 100 new construction jobs when it launches in 2012 and 500 in 2013, when it goes online.
However, some communities along the new pipeline route, which include Staten Island's North Shore, Bayonne, Jersey City and Manhattan's West Village, have rallied to protest the project. In early August, the debate came to a head at a series of public scoping meetings held by the Federal Energy Regulatory Commission, the primary federal agency regulating the project. Although attendance at the meetings was sometimes sparse, emotions surrounding the project were explosive.
"We don't want people or nature getting blown up," said Beryl Thurman, president of the North Shore Waterfront Conservancy of Staten Island.
Safety Concerns
Although natural gas explosions are relatively rare (the US Department of Transportation reported only 47 serious incidents across all US pipeline systems in 2009), they can be dangerous. Project opponents point out that just this summer, natural gas leaks led to explosions and deaths in Michigan, Texas and South Los Angeles. Closer to home, last February, a natural gas explosion in Middletown, Connecticut killed five people and in 1994 a natural gas pipeline ruptured in Edison, New Jersey, causing damage in excess of $25 million.
None of those places were as densely populated as these areas in New York and New Jersey. "Natural gas simply does not belong stored in an urban setting," stated Jersey City school superintendant, Charles Epps, pointing out that at least six schools sit within three blocks of the pipeline route. In addition, parts of the pipeline route come very close to the heavily trafficked New Jersey Turnpike, Holland Tunnel, and PATH Trains. The proposed line would also cross the West Side Highway.
These areas are as crowded with industries as they are with people. Fuel tanks line the Bayonne shore. Jersey City's Tropicana Plant, which includes a containment vessel for anhydrous ammonia -- a highly volatile gas --, is adjacent to the proposed pipeline route. This January, the federal Environmental Protection Agency designated Staten Island's North Shore one of the nation's ten "environmental justice showcase communities" because it houses at least 21 chemically contaminated sites all located within 70 feet of residential properties. Critics worry that project construction will release those contaminants and that various chemical combinations will make natural gas leaks more volatile and explosive.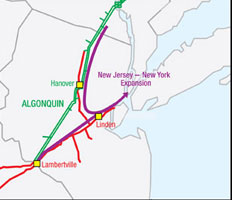 Image from Spectra Energy
The pipelines' marine routes are equally contaminated from scores of petroleum, chemical and manufacturing plants that historically lined their shores. In a letter to the Federal Energy Regulatory Commission, New York/New Jersey Baykeeper attorney Chris Len expressed concern that "the pipeline [could] impact ecological resources already stressed past any reasonable limit by centuries of industrial development."
Responding to such fears, Spectra spokesperson Marylee Hanley said, "The pipeline will be built to exceed highest safety standards set by federal government." She also explained to the Staten Island Advance that pipelines are monitored continuously for leaks and pressure loss by meter stations. Valves can be closed by remote and inspectors physically check the land surrounding the pipelines three times a week. The pipes themselves would be buried up to 30 to 40 feet below ground, added Spectra Project Manager Ed Gonzalez.
But critics question Spectra's safety record. In April, the Pennsylvania Department of Environmental Protection fined one of the company's joint ventures $22,000 for two unpermitted oil discharges and for delaying notifying the state of the incidents. In 2004, an underground storage facility operated by Duke Energy (from which Spectra spun off in 2007) exploded in Moss Bluff, Texas, causing an emergency evacuation and over four days of fires with flames that exceeded 1,000 feet.
Competing for Space
Part of the problem is that in dense urban areas, pipelines vie for space with other infrastructure. Last month, the New York City Department of Environmental Protection expressed concerns that the pipeline would have serious impacts on water and sewer lines along its routes in both Manhattan and Staten Island. In a January letter to U.S. Senator Robert Menendez, Jersey City Mayor Jerramiah Healy argued the pipeline would complicate city's ongoing efforts to service its aging water and sewer infrastructure.
On Staten Island's North Shore, which has the borough's highest asthma rates, proposed project construction would re-route heavy truck traffic from Richmond Avenue to residential streets. Traffic effects are less clear where the pipeline crosses the West Side Highway, but at this month's scoping meeting, Gonzalez promised to "minimize traffic interruption."
Gonzalez also promised to work closely with nearby construction projects, which continue to proliferate in the far west village. On Gansevoort, for instance, about a block from where the pipeline will connect to Con Edison, the new Whitney Museum is scheduled to break ground in May 2011. In addition, the pipeline will enter Manhattan via the Gansevoort Peninsula, where the Hudson River Park Trust plans to build baseball fields, batting cages, and a play lawn over the next several years. But park trust Vice President for Marketing David Katz remained sanguine about the park's new neighbor, "We are working with [Spectra] to make sure the project does not impact current and future park plans," said Katz.
The Need for Jobs
For pipeline supporters the energy options, tax revenues and jobs it will produce balance out much of the concern. At the scoping meetings, Gonzalez estimated the project would generate $10 million in tax revenues in addition to hundreds of jobs. But residents of Staten Island's North Shore, which has the borough's median lowest income and highest unemployment rate, remained doubtful that project jobs would directly benefit them. "These are union, skilled labor jobs. If you don't have a union book, you're not getting out there doing that work," said Dixon.
In his January letter, Mayor Healy argued that neither jobs nor tax revenues outweigh the project's potential to limit residential and commercial development. According to Healy, because the project requires laying pipelines under privately owned land and given the Federal Energy Regulatory Commission's historic support for eminent domain would lower property values and inhibit investment. The Lefrak Organization, one of the city's largest developers, supported this claim. At Jersey City's scoping meeting a representative testified that some potential commercial tenants have already backed off after hearing about the pipeline.
Just before the scoping meetings Lefrak, Healy and others joined NY/NJ Baykeeper in calling for an extension to the August 20 public comment deadline. Considering the complex issues involved, NYNJ BayKeeper's Len called the four-week timeline "startlingly short. "Moreover, Len argued that many constituents directly affected by the project do not speak English and others were on vacation.
The Bayonne meeting drew more than 100 people and in Jersey City nearly 300 residents and public officials attended. But only approximately 10 to 15 people showed up in Staten Island, where the meeting coincided with the popular "National Night Out Against Crime." In Manhattan, one of the few residents present commented, "holding a meeting in August is a slap in the face to Manhattanites."
On the west side of Manhattan, Community Board 2 announced last week it would hold a public hearing with representatives from Spectra, Con Edison and the Federal Energy Regulatory Commission in October.
A Federal Energy Regulatory Commission spokesperson confirmed that it will accept comments by phone, mail and email until Spectra submits its formal application, which they project for December. Until then, Spectra stated that it would continue to adjust its route and respond to public input. For instance, just before the scoping meetings, they announced that they were considering moving the pipeline from Staten Island's heavily trafficked Richmond Terrace into the water around Shooters Island -- a World War I shipyard turned bird sanctuary.
Once it receives the formal application, the Federal Energy Regulatory Commission will hold another round of public hearings before it issues an environmental impact statement. Looking forward to that period, Manhattan Borough President Scott Stringer issued a statement urging FERC to use "plain English "in explaining the impacts of the project. Stringer's office also offered to assist the commission in its public outreach efforts.
In the meantime, natural gas continues to be a pressing issue. Earlier this month, the New York State Senate approved a one-year moratorium on hydraulic fracturing (the state Assembly and Governor David Paterson are expected to follow suit). The new pipelines do not depend on that decision -- they will receive natural gas from the southeastern U.S. and Canada, as well as those parts of the Marcellus Shale in West Virginia and Pennsylvania, where hydraulic fracturing is expanding. Spectra has diverse interests in the shale. The company owns half of DCP Midstream Partners, a natural gas processor. DCP recently entered a joint venture with EQT Corp., Appalachia's largest natural gas exploration and production company to pursue natural gas opportunities in the Marcellus Shale upstate and the Huron Shale in extreme Southeast Ohio, West Virginia, and Northeast Kentucky.
The pipeline's links to upstate drilling are what alerted some people like Manhattan resident Wendy Byrne to its existence. Byrne said she has opposed hydraulic fracturing for some time and was concerned about the amount of methane released by natural gas.
For Staten Island's Thurman, challenging the Spectra pipeline represents solidarity with communities in Pennsylvania, who claim that hydraulic fracturing has destroyed their water supplies. "We're trying to get people to stop thinking in terms of 'just put it anywhere, just not near me,'" she said.