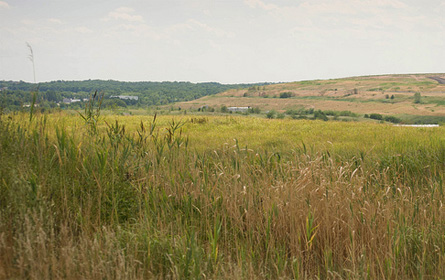 For years, popular urban legend on Staten Island held that there were only two things you could see from space -- the Great Wall of China and Fresh Kills Landfill. For over 50 years the landfill served as New York City's receptacle for trash, receiving approximately 29,000 tons of waste each day and spawning mounds reportedly taller than the Statue of Liberty.
The city officially closed Fresh Kills Landfill in 2001 and has since begun a 30-year process of reclaiming it as a park. The Freshkills Park project has become a poster child for Mayor Michael Bloomberg's PlaNYC initiative, a symbol of the city's movement toward sustainable, environmentally oriented growth. But despite the park's draft master plan, progress at Freshkills has been slow.
The vision entails not only converting what once had been a site of environmental blight into a verdant space for recreation and contemplation but also using the area as an energy source. To boost that effort, the Land Art Generator Initiative, or LAGI, a project aimed at integrating renewable energy infrastructure with public art, has announced that Freshkills Park would be the site for its 2012 international design competition, LAGINYC. If successful, LAGINYC has the potential to jumpstart the clean energy efforts at Freshkills -- and turn around 50 years of history for Staten Island.
Energy from Art
LAGI was founded by husband and-wife duo Robert Ferry and Elizabeth Monoianin in 2009 after they moved to Dubai. Ferry, an architect, and Monoianin, an interdisciplinary artist and designer, were inspired by the United Arab Emirates' Masdar initiative to introduce clean energy and sustainability to a region principally founded on the oil industry.
According to Ferry, LAGI aims to "create objects of profound beauty that are at the same time functional generators of clean energy" in the hope that public art "can help the transition to alternative energy." Ferry and Monoianin hope LAGI designs will "stimulate and challenge their viewers to re-conceptualize what clean energy can look like.
"All of the designs are new ways of thinking about renewable energy. … [They] create a vision for what the future can be," said Ferry.
LAGI's first ideas competition was held in the United Arab Emirates in 2010, drawing in hundreds of submissions from 40 countries worldwide. A panel of international artists, architects, academicians, industry leaders and writers chose Lunar Cubit as its winner in January 2011. Lunar Cubit, conceived by a New York-based team of Robert Flottemesch, Jen DeNike, Johanna Ballhaus and Adrian P. De Luca, proposes nine solar-paneled pyramids outside of Masdar City that would light up in accordance with the lunar cycle and generate energy for up to 250 houses in Abu Dhabi.
Runner-ups included Windstalk, a design for poles that use wind power in an effort to create a wind farm without turbines, and Solaris, a design for roughly 1,500 solar panels that resembles an ocean over the desert.
The winner of the LAGI competitions receives a $15,000 cash prize. LAGI, however, does not guarantee the construction of a design, although the initiative hopes to ultimately realize this goal. Ferry admits that Lunar Cubit's construction is still unclear, but he stressed that LAGI's intention is not just to generate innovative designs, but to build them as well.
"We're in really promising talks with very high-level people who have the ability to make it happen. … These things take time," he said.
From Garbage to Green
LAGI's mission is particularly relevant for Freshkills, whose history, according to park administrator Eloise Hirsh, has "carved a big, psychic scar for Staten Island." Ten years ago, the area was both environmentally dangerous and visually repellent. LAGI could turn that around by generating designs that have the potential to not only power thousands of homes with clean sources of energy, but transform the blighted landscape into something beautiful as well.
Aesthetics play a key part in correcting what occurred at Freshkills, Ferry thinks. "It's important that [clean energy infrastructure] responds to our natural desire for beauty and conceptual layering and interest rather than just having simple utilitarian objects."
The LAGINYC competition will complement the city's ongoing environmental efforts, Ferry said, which both "work to integrate renewable energy policies" and "embrace ambitious public art." In Hirsh's view, it's particularly fitting that the competition involve Freshkills, a park whose principal mission is to "promote innovative strategies for environmental sustainability."
Wind and Sun
Freshkills is not new to clean energy initiatives. Already the park boasts a gas collection system that recovers methane from the site's decomposing waste. The methane, sold to National Grid for $12 million a year, heats up to 22,000 homes in Staten Island. The Department of City Planning estimates that methane can be harvested from the site for at least 30 years.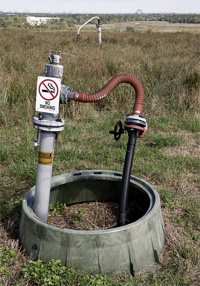 The city also is looking into the feasibility of solar and wind power, although no plans have been formalized. In an April speech, Bloomberg announced a new PlaNYC target to generate 50 megawatts of clean energy from solar power plants installed over landfills.
While no specific development has yet to occur, Freshkills would be a prime location to carry out such a project. "The understanding was the Freshkills would be a part of that," said Nick Dmytryszyn, the environmental engineer for Staten Island.
The location is also seen as a prime site for wind energy. A 2007 study conducted by the New York State Energy Research and Development Agency confirmed that Freshkills could support seven wind turbines and generate up to 17.5 megawatts of energy, over a third of Bloomberg's targeted goal.
"The fact is that it is doable, achievable," said Dmytryszyn, adding that the turbines "could supply the energy needs for 3 percent of the Staten Island population."
Borough President James Molinaro, one of the city's leading proponents of wind energy, has spent over three years trying to convince city officials of the feasibility of wind turbines at Freshkills. Last month city's, Environmental Protection commissioner, Cas Holloway, announced that the administration would look into Molinaro's proposal, promising Staten Islanders that they will "see movement on that pretty fast."
As of now, however, both the wind and solar projects are vaguely defined, and their actual implementation is far from certain.
"We're very hopeful about the feedback that we will get, but the projects are still in the pre-feasibility stages. We have commissioned studies and are awaiting findings," said Michael Saucier, press secretary for the Department of Environmental Protection.
Restoring a Landscape
Once completed, Freshkills Park is slated to be 2,200 acres, roughly three times the size of Central Park. Visions for the area are just as expansive. Freshkills will offer space for mountain biking, running, kayaking, and horseback riding, as well as cultural and educational programming. It will also serve as a focal point for the borough, with an "expansive network of paths, recreational waterways, and a system of park drives" that will connect it to surrounding neighborhoods.
At the heart of the Freshkills project, however, is a commitment to environmental renewal. According to Hirsh, it will "stand as a symbol for the kind of transformation that can happen in seriously compromised sites."
The Department of Parks and Recreation has various plans to restore the park's wetlands, eradicate invasive plants, and support a diverse wildlife habitat at the former landfill.
"They've made ecological restoration part of the vocabulary," said Deborah Popper, a professor of environmental studies at the College of Staten Island. "You can definitely see things … changing. … You can see the trees being planted, then starting to take off. [Freshkills] is beginning to look very, very different."
But with recent delays in some of the park's preliminary projects, such as Owl Hollow Fields and many of Freshkills' clean energy proposals barely in the planning stages, some residents feel this transformation is still far off.
"Most of the Staten Island community, while welcoming something of this size, has realized [they] won't see it come to fruition in their lifetime," said Dmytryszyn. "There's always hesitation that there' s not going to be funding for a park of this size -- in Staten Island of all places."
While Popper has seen significant changes at Freshkills over the last five years -- including increased access into the Park, ecological restoration and city-sponsored special events -- she admits that many residents remain skeptical.
"People really remember, and it wasn't even that long ago, how horrible the place smelled. … You don't forget that easily," she said. "For years its been drilled into people: It's not a safe place."
Echoing Dmytryszyn's concerns, Popper acknowledged the residents' resentment and distrust of city officials.
"Why did the rest of the city give us garbage?" she said. "It's that constant feeling that we're off in the sidelines even though we're the borough that's growing so fast, even though we're the borough that's contributing so much."
From Drive-Through to Destination
Perhaps, LAGINYC could help change that. A large-scale, site-specific installation at Fresh Kills could transform Staten Island. The island, which Freshkills Park designer James Corner once called "the place people drive through on their way to somewhere else," could "capture the imagination of the world," according to Ferry.
Echoing this sentiment, Hirsh said, "It's really going to be a great way to get creative attention to the many opportunities and constraints of this site, to Staten Island. It will help us engage larger public conversation."
Moreover, if the design actually is constructed at Freshkills, Ferry envisions it would draw attention to the park and its environs. Ferry believes the competition could have profound effects for Staten Island by providing "cultural value, economic development value [and] tourism potential."
For Staten Island, "the forgotten borough" as some call it, this would be true vindication for its 50 years as New York's garbage site. Perhaps, Popper said, Staten Island "could become a central spot instead of a congested pass-through." And, she said, if LAGINYC and, on a broader scale, Freshkills Park, succeed, future New Yorkers "won't even know what it used to be."