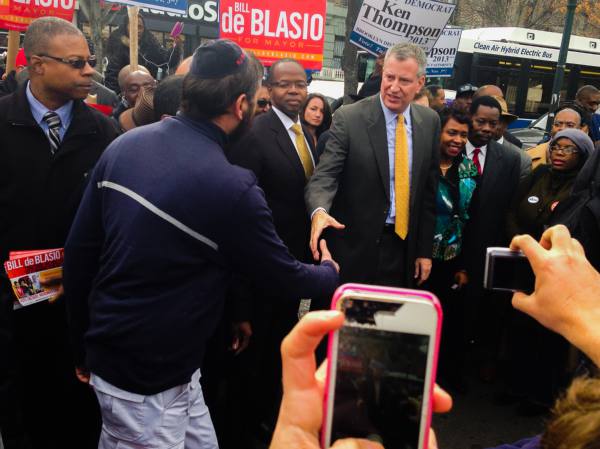 The polls might have predicted a winner long ago, but both of the two leading mayoral candidates were smiling as they headed into their voting booths on Election Day.
Like on the day of the primary, Democrat Bill de Blasio again cast his vote at the Park Slope public library with his wife Chirlane. Unlike last time, however, they were joined by son Dante and daughter Chiara. The family showed up later than the campaign planned but with good reason.
Chiara, who is going to college in California, surprised them at the family's front door after telling her candidate father that she couldn't join the family on election night.
"It turned out it was all a clever ruse from my family," said the outgoing public advocate. He added that he "was not sleeping in," in reference to recent stories that he was over an hour late to a campaign event because he had overslept. "Sorry, Joe Lhota," de Blasio said.
Both he and former transit chief Lhota have been caught up in a back-and-forth over issues both substantive and petty that hasn't moved the needle much since the September primary, with de Blasio holding a consistent 40-plus point lead over his Republican rival in almost every poll over the last six weeks.
But Lhota, joined by wife Tamra and daughter Kathryn, kept his hopes high after voting at his Brooklyn Heights polling station.
"Everything I've done I've wanted to do, and I'm looking forward to tonight," he said. "I'm very optimistic."
Lhota's turn in the booth today went a little better than it did during the primary in September, when the city's Board of Elections deployed the old lever machines to tally the vote. At the time, Lhota's machine was one of a handful that malfunctioned, forcing him to vote by emergency ballot.
"It was smooth last time," Lhota said of his primary vote by paper ballot. "My vote got counted today just like it got counted in the primary."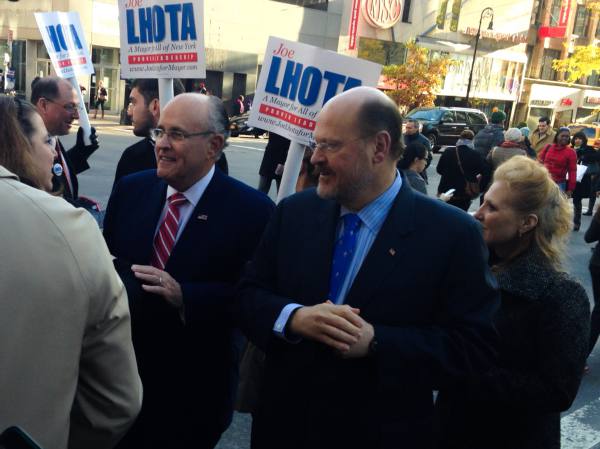 By the time Lhota voted at 9:30 a.m., the site had already reported 401 votes despite problems earlier in the day. BOE Executive Director Michael Ryan said there were some reported issues in the 52nd State Assembly District with the memory devices in the optical scanners, which the board addressed early this morning.
"We dealt with that and made sure that Mr. Lhota was not voting on an emergency ballot," Ryan said with a smile outside of de Blasio's polling site.
Instead of pulling levers this time around, New Yorkers got to fill in circles next to the names of the candidates of their choice, then scan their ballots using the optical scanning machines that first debuted in 2009.
While many people were glad that the scanning machines were back, some voters criticized the 6-point font size on the single-page ballot.
Brian Pressley, a 56-year-old retired mason from Harlem, was among those voters complaining about the type size.
"It's too small. I can't see anyway," Pressley told DNAInfo.com. "I had to look real close."
Ryan admitted that "the 6-point font is an issue" and pointed to remedies the board offered — ballots on the website, large samples in the polling sites and reading assistance devices.
"Clearly it's something we must address moving forward," Ryan added. "When you look at the complexity of this ballot … There's a limited amount of real estate on a piece of paper. We have to work on that moving forward."
A new election night counting procedure designed to cut the time needed to tally the vote will also make its debut this Election Day. Previously, results from each election district had to be tallied by hand by cutting paper printout rolls and taping pieces together before workers could count results.
Tonight is the first time flash disk devices on the optical scanners will be used for the original count as well, with New York Police Department officers collecting the devices and taking them to their precincts. A reporting team at each precinct will upload the data from the disks onto board-approved computers before releasing the results via The Associated Press.
"We're going to be uploading that data at the end of the night, which should — and I stress the word "should" — speed up the process at the back end," Ryan said.