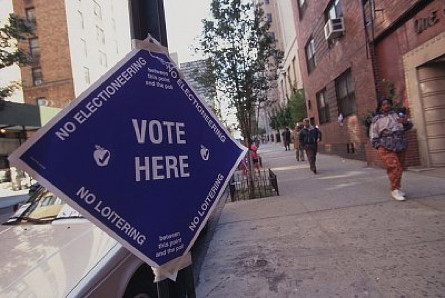 Small print on ballots and broken optical scanning machines were among the problems reported by voters to a helpline set up by the New York Public Interest Research Group. The good-government group also surveyed 31 poll sites and found malfunctioning scanners at 19 of them.
A disproportionate number of broken scanner machines were in the 52nd Assembly District that covers north central Brooklyn neighborhoods including Brooklyn Heights and Cobble Hill, the group said.
The use of the tiny type on the ballots — 6 point font-size — was widely criticized by good-government groups before the election. The city's Board of Elections decided to go with the size after determining that using different sized fonts for the languages required by law might spark lawsuits.
Here are the results of NYPIRG's survey of 31 polling sites between 7:45 and 9:30 a.m.
So what did our monitors see and hear?:

1. Most of the polling sites we visited were orderly. No long lines, no chaotic conditions, no harassment or electioneering. Our monitors observed that most voters were in the registration books and few voters were asked for identification. (Again, we did not conduct a random sample.)

2. Our monitors found two problematic areas. We observed a substantial number of broken optical scanning machines, as well as problems related to the small font of the ballot. (This mirror problems detected around the City.) Some 19 of the 31 sites we visited had a malfunctioning scanner at one point of the surveyor's visit.
One last thought: Turnout appears low in the race for mayor in 2013. That was the case in the contest between Mayor Bloomberg and Comptroller William Thompson in 2009. Only 28% of eligible New Yorkers voted ... [There are] some 1.2 million voters out of 4.1 million registered voters.

Low turnout often lessens problems for election officials in the short run. But in the long run greatly undermines local democracy. We hope the Board will move to explain scanner problems and fix this and ballot design issues before next year?s election.