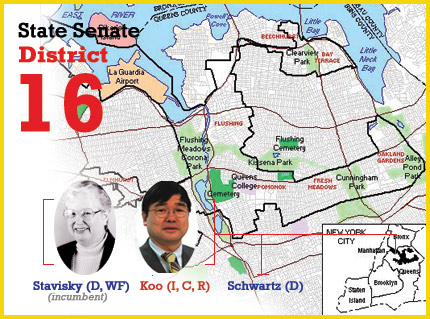 In 1999, Toby Ann Stavisky became a state senator -- the first woman from Queens to do so -- after the death of her husband, Dr. Leonard Price Stavisky, a university professor, who had served in the legislature for more than 30 years. She has easily won re-election ever since and now serves as assistant minority whip.
Most observers think that will probably be the case in the primary this year. Her opponent is Robert Schwartz, who is identified as a retired businessman and political newcomer, who apparently has not campaigned much.

Back to the
Last Minute Voter Guide
Assuming she bests him, Stavisky may face a more formidable challenge in November from Peter Koo, an immigrant from Shanghai who owns five pharmacies in Flushing and who is running on the Republican, Conservative and Independence party lines. Although Democrats outnumber Republicans by a four-to-one margin in the district, Koo has said he is helped by his ties in the area's growing Asian community.
She's kind of out of touch," Koo told the Daily News. "I can get more resources for the Asian community here."
Stavisky has mounted an energetic effort to knock Koo off the ballot, charging that he really lives in Port Washington on Long Island and therefore is not eligible to run for the seat.
A state Supreme Court Justice agreed, but in late August, a five-judge panel of an appeals court reinstated Koo. It agreed with Koo's contention that he had paid New York City resident taxes in 2007, and listed a Flushing condominium as his address on his driver's license and voted in Flushing.
This ends this particular challenge to Koo, but Stavisky seems undeterred. In a statement her campaign said it would evaluate "the legal options available to hold Peter Koo accountable for this serious election fraud."
Â