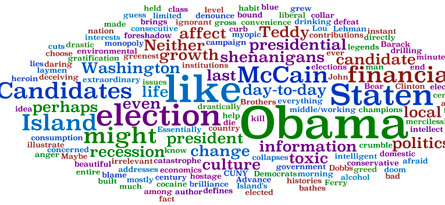 I'd like to think that electing Barack Obama for president would perhaps permeate our nation with his level of brilliance and intellect, but I'm afraid unquenchable greed and a myopic obsession with progress and growth has sealed our fate of doom.
Now, the day-to-day shenanigans in Washington rarely affect the day-to-day shenanigans of a CUNY undergrad from the suburbs of Staten Island, but information about Staten Island's local politics is held hostage by the local news monopoly, the Staten Island Advance. So subjected to limited information, I guess it's more sensible to write about this presidential election that has made political scientists out of us all.
Presidential elections have extraordinary histories of candidates mercilessly deceiving voters (Reagan Democrats) or reneging on campaign promises once elected (Clinton tax cuts). So this election might be more about peripheral persuasion than central issues. Sadly.
Obama speaks up for the middle/working class while he bathes in Wall Street contributions, and McCain refers to himself as a Teddy Roosevelt type of conservative while he champions offshore drilling. Teddy was perhaps our greenest president and would spit at the idea of such an environmental threat. Neither candidate addresses the fact that our entire way of life is suicidal.
Essentially this election is about which path of self-destruction to choose. To illustrate, Obama is like an alcohol and pill habit that will kill you in 20 or 30 years but John McCain is like shooting heroin and cocaine (speed-balling). You might last a while but you can die any minute. Life provides the beautiful option of sobriety but we have to pick one of these toxic candidates. Maybe they're not bad people with toxic souls, but this country is so screwed not even a man as intelligent as Obama or as daring as McCain can save it.
The collapses of financial legends like Bear Sterns and Lehman Brothers, both over a century old, foreshadow the unpredictable tumult that lies ahead. My $125 economics 101 textbook is even irrelevant. The author defines a recession as two consecutive financial quarters of negative growth. The Washington Post reported that gross domestic product grew 3.3 percent last quarter. Is it not a recession when storied financial institutions crumble?
There seems to be a ubiquitous notion among Obama supporters that he will drastically change things. I plan on voting for Obama, but regardless of which candidate brings drastic change or spastic catastrophe, neither of them can defeat the culture we've built: A culture of unyielding consumption; a population mostly concerned with personal convenience and instant gratification, bound to vote against their own interests, denounce responsibility and blame everything on the government.
The result of this election might not ever directly affect me. But its end should curb my drinking and help my anger problems with the ignorant laymen on the Staten Island Ferry who don't really know much about politics but watched Lou Dobbs the night before and feels like blue collar liberal scholars in the morning.
Â