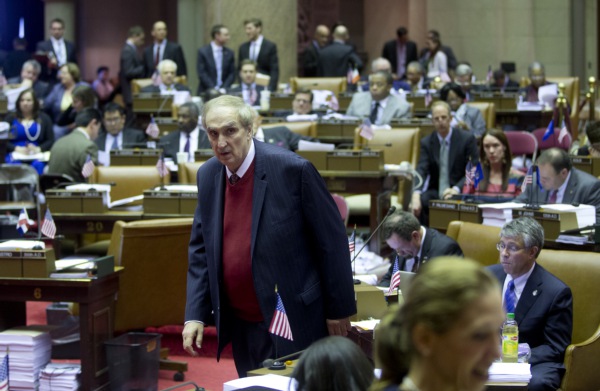 ALBANY, N.Y. — Allegations that former Assemblyman Vito Lopez routinely groped and propositioned young female staff members in his employ, detailed in a report released earlier this month, disturbed New Yorkers and contributed to his political downfall.
But one incident alleged by a female employee was perhaps most striking for another reason: It took place back in November 2010.
The legislative aide to Lopez told investigators that she had been on the job less than six months when her new boss began to touch her foot with his under a table during dinner with staff. "Sexual in nature" was how she described it in the report.
In the days after Lopez proclaimed his innocence and resigned, some questioned how, if the allegations were true, he had been allowed to hire so many women and subject them to such treatment for so long.
Several lawmakers, longtime Albany political operatives and former staffers argue that the reason is clear: for too long there has been a "boys' club" atmosphere in the capitol where women are pressured to go along to get along.
They blame a failed system of protection for women from unwanted advances and inappropriate behavior from male superiors — including outdated and sometimes confusing requirements for reporting sexual harassment that fail to provide the kind of safeguards that exist in the corporate world.
They also argue that Albany has grown so accustomed to hostility toward women that it just seems routine — and that the Lopez scandal should bring about change in Albany.
"I think this should be a good opportunity for both houses and the governor's office to look at their own policies (for sexual harassment reporting)," said Assemblywoman Amy Paulin, a Democrat from Westchester County who was elected in 2000. "This was a wake-up call."
But Barbara Bartoletti of The League of Women Voters, said she thinks Albany has changed for the positive since reforms were enacted after a top aide to Assemblyman Sheldon Silver was arrested after being accused of rape for the second time.
Paulin agreed that much has improved, but that not all is well.
"I think there has been a vast improvement over the years," Paulin said. "I haven't been a target of harassment but I have heard about it and witnessed some inappropriate behavior. I think it is important we make sure everyone knows how to report."
Spokesmen for the Assembly and senate majorities did not respond to several requests for information on how many sexual harassment complaints they have fielded in the last five years.
When asked during a May 17 radio appearance on WCNY-TV with Curtis Schick whether the system for making sexual harassment complaints in state government should be changed, Gov. Andrew Cuomo said there were plenty of options for filing complaints.
"People have different avenues and they have options," Cuomo said. "They can go to the legislative ethics committee, or whatever you call it, or the legislative leadership. They can talk to a private attorney. They can go to a district attorney. They can call a police officer, right? 911 is an option so all those options are available to a person."
"DRESS CONSERVATIVELY"
Staffers and others in Albany tell stories that involve legislators who frequently stop into offices "by mistake" and then ask if their favorite intern is around, senior staff members who look for dates and other legislators who expect kisses and long embraces from female subordinates.
One woman who got a job out of college working for a senator's district office in 2003 recalled for the Gotham Gazette how the senator constantly told her to wear shorter skirts and show more cleavage. The woman, who agreed to speak anonymoustly out of fear that talking to the press would affect her political career, said she wrote off the behavior as "machismo" but that other incidents made her think that such behavior was "condoned." She no longer works for the senator.
It isn't just staffers who suffer under Albany's culture of sexual harassment. Young interns who come to Albany because they want to gain experience in public policy and government also end up being taken advantage of by male legislators and their employees, say advocates.
One source, for instance, told the Gotham Gazette about a legislative staffer who used their power in office to pursue a 19-year-old intern who caught their eye.
"The staffer refused to set up meetings with anybody unless this intern joined the meeting," said the source, who did not want to be identified out of fear of jeopardizing long-standing relationships in the Capitol. "When she was around, he'd call her up and ask her out to dinner on a regular basis." The staffer no longer works in Albany.
"We are always concerned when one of our interns visits certain members," said another source who added that they always brief interns on how to report sexual harassment.
Democratic state Sen. Liz Krueger said she takes female interns aside and instructs them very carefully not to get into relationships with staff or legislators. "I tell them, 'Dress conservatively, don't accept social invitations. I don't care how big of a deal you think it is. If you ever have problems come to me.'"
Many interns are young and come to Albany bright-eyed and excited, she said. "It is the biggest deal for them to be paid attention to by people in elected office. They think, 'Wow, I'm special.' They don't understand they are being exploited. They don't understand that this is a totally unequal power equation."
Sonia Ossorio, president of the National Organization for Women in NYC, told the Gazette that "it is sad" that Krueger would have to warn interns. "That is a clear indication that this is a culture where harassment is allowed to take place," she said.
While interns are particularly vulnerable because of their youth and inexperience, legislative staffers are "at-will" employees and can be let go at a moment's notice.
"Being 'at will' means there is a tremendous amount of pressure on them to make the boss happy," said one legislator who wished to remain nameless.
Even some male legislators say more needs to be done to protect staff and interns.
"I have interns in my office because I believe young people should be allowed to see what we do in government," state Sen. Gustavo Rivera, of the Bronx, said. "We have to make sure we foster an environment where such a thing is unacceptable," he said of the allegations against Lopez.
HANDLING SEXUAL HARASSMENT COMPLAINTS
The handling of the allegations against Lopez, detailed in the 70-page report from the Joint Commission on Public Ethics, is a study in the mismanagement of sexual harassment complaints.
After Assembly Speaker Sheldon Silver and his staff were confronted with the first complaints about Lopez they kept them quiet and allowed Lopez to hire more female employees. Under Silver's direction, the Assembly also paid the complainants $103,000 in taxpayer money.
But there were also questions raised about the way attorneys for the Assembly handled the complaints — including whether an email sent by one of Lopez's accusers to Lopez outlining her complaint could be considered an actual claim under the Assembly sexual harassment policy.
Gloria Allred, an attorney for two of the women who brought complaints against Lopez, detailed her clients' long struggle to get recognition from the Assembly.
"Our clients made multiple efforts — over and over again — to get the Assembly to pay attention to their serious complaints," Allred told the New York Post.
"They called Human Resources . . . They then followed the instructions of the HR point person, and sent in their complaints in writing repeatedly. Those complaints started in early December 2012. . . . Nothing was done," Allred continued.
Krueger suggested that the Senate's current sexual harassment reporting policy isn't ideal for encouraging victims to bring complaints. The policy requires complainants to confront the person who is harassing them and to ask them to stop. If the harasser does not stop their behavior or the victim is too uncomfortable to approach the harasser, the policy suggests that the complainant go to a supervisor or, if needed, the Senate personnel officer or the Secretary of the Senate.
"We are asking people to go complain to someone who is employed by their harasser or who is their harasser's best friend," Krueger said. "I think it is incumbent on both houses of the legislature and the governor's office that when dealing with young staff and interns, electeds and senior staff have very strict lines. We need clearer lines and stricter laws."
Ossorio said that Lopez's behavior would never have been tolerated in corporate America the way it was in Albany. "The corporate world has really grown. They have clear guidelines and rules to follow so that women are protected."
Facing calls to resign from editorial boards across the state because of his handling of the matter, Silver apologized and created an independent investigative unit with its own budget to take sexual harassment complaints and investigate them.
He has also declared that all legislators and senior staff will be mandatory reporters of sexual harassment and will face sanctions if they fail to report an incident. Finally, Silver introduced legislation that would ban secret settlements in all state government.
Paulin backs Silver's plan. "I like the idea of an independent office. I feel like it is making sure these cases are getting a fair review because the accusation could be against someone at a very high level. It will also put a little more fear into a member who is acting inappropriately."
However, Silver's new proposals did not strike Ossorio as an answer to the situation in Albany.
"The aspiring young women who would like to start a career in government deserve a real answer as to what behavior will be tolerated when they get there," Ossorio said in a statement on Monday.
Ossorio said the incident was like deja vu and recalled Silver's past handling of sexual harassment charges. "Until we hear more specifics from Speaker Silver, the women of New York are left to merely hope that he will finally address sexual harassment, and even violence against women, with the seriousness it deserves."
PAST EPISODES
The episode didn't just dredge up memories for Ossorio. It has been a distinct reminder of the bad old days in Albany when it seemed there were very few mores about interactions between legislators and their staffers and interns, and the men in power got more of a benefit of the doubt than their accusers.
From the 1980s to the early 2000s, male legislators and their female subordinates could be found after hours a few blocks up from the capitol on Lark Street — what locals like to think of as their St. Marks Place, with its funky head shops and art galleries — at a jazz cafe called Justin's. But as societal attitudes started to change, so did Albany — but slowly.
In 2001, the Michael Boxley case seemed, in some ways, to shake sense into the town. Boxley was a top Silver aide who was accused of rape by a young female Assembly staffer. Silver personally heard the woman's story but publically defended Boxley.
The Assembly ethics commission looked into the allegations, but its final report was inconclusive. Two years later Boxley was taken out of the capitol in handcuffs as another female staffer accused him of rape. Boxley pleaded guilty to the misdemeanor of sexual misconduct.
Silver felt the effects of his handling of the incident, just as he did recently after the Lopez case. Silver implemented new rules banning after-hours fraternization between legislators, staff and interns.
Some changes in ethics law slowed down Albany's legislative party scene — new lobbying rules meant legislators could no longer call up lobbyists and tell them to take them out for dinner and drinks; they had to pay for such dinners themselves.
But, according to others, the culture has simply adapted, become less public.
"I would be lying if I said I haven't been in a coffee shop in Albany early in the morning when a legislator and an intern walk in together with their hair still wet from the shower," said one source.
In 2007, Republican Assemblyman Mike Cole was removed from his ranking position on the drug and alcohol committee for sleeping at the house of a 21-year-old intern after a night of heavy drinking.
In 2008, the Assembly's Ethics and Guidance Committee found that Democratic Assemblyman Sam Hoyt had a sexual affair with an intern from 2003, when she was 23, to 2005. Silver's rule banning fraternization between legislators and interns went into effect in 2004 and, by that time, the intern had become a paid staffer.
Thanks to that technicality, Hoyt was simply banned from participating in the Assembly internship program and forbidden from hiring interns at his Buffalo district office.
Sen. Greg Ball has also dealt with a number of accusations from women. Before he was elected, Ball was hit with a restraining order by his former girlfriend, who accused him of stalking her.
During Ball's time in the Assembly, a waitress at the Assembly Restaurant and Lounge accused him of groping her in a sexual manner, and a sexual harassment charge brought in the Assembly was eventually dismissed.
Ball told The New York Times in 2010 that the two incidents were politically motivated.
Bartoletti, Krueger and Cuomo have all said they think the Lopez scandal should motivate lawmakers to take legislative action against sexual harassment.
Cuomo's 10-point women's equality agenda includes measures that tackle sexual trafficking; discrimination against pregnant women; a controversial piece that would that would make abortion part of the state's health code rather than the criminal code; and a portion that would create, "zero tolerance" for sexual harassment in the workplace. The measure faces steep opposition from the Republican Senate.
Cuomo has yet to actually introduce the details of his plan or actual legislation.
"If anyone should be the poster boy for the women's agenda legislation, Vito Lopez is it," Bartoletti said.