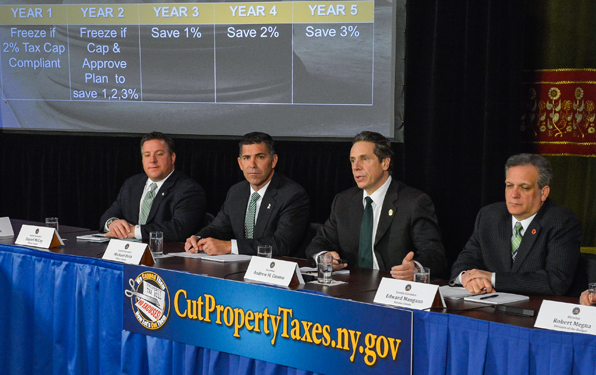 Gov. Andrew Cuomo is determined to cut taxes (governor.ny.gov)

---
New York City Mayor Bill de Blasio's push for universal pre-kindergarten has dominated discussion of this year's state budget negotiations. Though it is doubtful de Blasio has convinced state officials to approve his desired tax increase on the city's highest earners to pay for city pre-K, it now seems likely that the upcoming Albany budget will include funding of some significant amount for a major expansion of pre-K state-wide.
Along with a newly reinvigorated debate over the status of charter schools, the de Blasio-Cuomo pre-K face-off continues to command many headlines, but, a wide array of other issues of major importance to the city will soon be decided on without much public discussion.
By most accounts, the state legislature is only a few days away from shutting down budget negotiations. The backroom bargaining will likely culminate with the annual frenzy of late-night-into-early-morning votes on each budget bill.
If this year follows the typical hurried process of most years, rank-and-file legislators will have only a brief time with the voluminous stacks of budget bills that will be dropped onto their desks fresh from the printers of their more powerful colleagues.
According to legislators and other experts, there are several key budget elements other than pre-K that New York City residents should watch carefully:
MTA Sweep
Gov. Andrew Cuomo's budget proposal includes a measure that would take $40 million raised by a tax designed to help the Metropolitan Transportation Authority pay down debt and put it in the state's general fund.
The Department of Budget says the governor's proposed budget increases funding for the MTA by 2 percent, or $85 million. But legislators like Sen. Martin Dilan (D-Brooklyn), the Senate Democrats' ranking member of the Transportation Committee, say that the $40 million in tax money could be used to reduce fare hikes or better performance. The Senate and Assembly have not included Cuomo's proposed maneuver in their budgets. "We can't keep doing this to the MTA and expect it to thrive," said Dilan.
The legislature has passed bills in the past few years that were designed to make it more difficult for funds to be diverted out of the MTA's budget, but last year Cuomo vetoed such a bill. Whether or not the $40 million transfer is stopped this year, transportation experts expect the governor to continue to attempt such actions in the future. Last year Cuomo successfully took $20 million from the MTA.
Renters' Tax Credit
Cuomo balanced his Upstate tax relief proposals, which include cutting property taxes and eliminating some business taxes, with a renters' tax credit for seniors and married couples who earn up to $100,000 a year and have dependents – a measure that will primarily impact city residents.
The budget proposal from Senate Republicans and the Independent Democratic Conference (IDC) does not include the credit. Senate Democrats are pushing a broader tax credit for renters, while members of the IDC point to a bill they passed this month that would freeze rents for seniors. The independent Democrats say the freeze covers at least half of the population that would benefit from Cuomo's proposal.
Earlier this month, Cuomo made it clear to reporters that a budget deal won't be reached without the credits.
"The Senate budget eliminates New York City residents from getting tax breaks and the tax breaks only go to Long Island and Upstate," Cuomo said. "That is a non-starter and that is a very serious issue. I believe that is the most serious issue we have on the table. I am not going to pass a budget that shorts the people of New York City."
Pesticide Reporting
New York's pioneering pesticide-reporting law, passed in 1996, is credited with helping researchers discover links between pesticides and health problems. The legislation requires companies to report what chemicals they are using and where. The executive budget changes this to require only that retailers report their sales of pesticides to both commercial and private users.
Environmental advocates are concerned that this will jeopardize public safety because it removes the element that forces pesticide users to report where they are using pesticides. "My constituents care about the environment and are constantly dealing with air quality issues," said Sen. Liz Krueger (D-Manhattan). "This is something that matters to them because it actually impacts their health and safety."
Aid to Municipalities
In 2010, New York City saw its Aid to Municipalities Funding zeroed out in Cuomo's budget as the state was facing a $10 billion budget gap. Despite Cuomo's projection of a $2 billion surplus next fiscal year, the city still is not scheduled to receive any aid, which had totaled about $302 million a year from 2008-2010.
Mayor Michael Bloomberg decried the funding cuts in 2011, but Mayor Bill de Blasio didn't mention the issue in his January testimony before the state legislature's joint budget committee. The only issue de Blasio focused on in his written statement was his pre-K plan. State legislators who represent the city said they have been told that New York "is where the money is," and the rest of the state is in greater need. Krueger said, however, that she understands upstate cities are in desperate need of the relatively small amounts of money their mayors come to Albany "to beg for" every year. She noted that New York City's economy has recovered quickly from the Great Recession while most upstate cities rely on property taxes to stay afloat.
DREAM Act
Along with the pre-K and charter schools debates, the DREAM Act has been among the most high-profile topics of late. Supporters of the DREAM Act have been pushing since the start of the session for Cuomo and both houses of the legislature to include the act in their budgets. The Assembly made it part of their budget and passed the measure, which would provide college tuition assistance to undocumented immigrants who arrived in the U.S. at a young age.
Advocates felt momentum was building until last week, when they were surprised to learn a vote was about to take place on the legislation. Bills rarely come to the Senate floor for a vote if they don't have the support to pass. Supporters' excitement at seeing the bill come to the floor for debate fizzled as they realized one possible Republican supporter, Sen. Philip Boyle (Long Island), was absent for the vote. Another possible Republican supporter, Sen.Jack Martins (Long Island), voted no, along with Democratic Sens. Ted O'Brien (Rochester) and Simcha Felder (Brooklyn). Felder conferences with the Republicans.
Feeling a bit bamboozled, DREAM Act supporters have returned to their original plan of pushing for the bill in budget negotiations. Assembly Speaker Sheldon Silver (D-Manhattan) emerged from a leaders' meeting yesterday to tell reporters the act is still "on the table."
"We are fully committed to getting this done this year for these kids," said Sen. Jose Serrano (D-Bronx, Manhattan). "This isn't about spending money. This is about investing in education and our workforce."
Several Hispanic legislators have reaffirmed their commitment to vote against the final budget bills if the act is not included.
The DREAM Act is favored by most Democratic legislators who represent the five boroughs as the city remains an immigration hub. They say that giving immigrants a better chance at education is both morally and practically correct, arguing that it will serve to boost the city's economy.
Moreland Funding
Both houses of the legislature eliminated funding for Cuomo's anti-corruption Moreland Commission in their budgets. Legislators fought Moreland and its legal authority to investigate them since it was empaneled, and now good government advocates are wary that the legislature is looking to trade minor reforms in ethics and campaign financing for the elimination of the commission.
The executive budget calls for an independent elections enforcement head, public financing of campaigns and increased enforcement of election law. The Senate's budget proposal contains a sentence regarding the plans saying only that it intends to "modify" Cuomo's proposal. The sentence is a bit of a coup for good government groups and reform advocates as it is the first time the Senate has included anything regarding campaign finance reform in its budget. Senators had decried such measures as a waste of taxpayer funds. During debate over its one-house budget, Republican Sen. John DeFrancisco (Syracuse) said that there wasn't a "clear consensus" on campaign finance reform but that the details of the issue would be discussed further as the budget process advances.
The city has seen a recent rash of legislators indicted for corruption and several Assembly and Senate districts are currently without representation. Many advocates argue that the city's campaign finance system should be a model for a new state one.
Insurance Marketplaces and Medicaid
In what may be a symbolic gesture, the Senate's one-house budget defunds the state's health insurance marketplace, created under the Affordable Care Act or "Obamacare." Slightly more than $53 million is cut from funding for the marketplace. "We have the most successful insurance marketplace in the nation," said Democratic Sen. Gustavo Rivera (D-Bronx). "They are trying to defund something that keeps people healthy. This is something very important to the people of my district."
Neither the Governor nor the Assembly is likely to go along with anything close to the Senate's language on the exchanges.
Meanwhile, more practically, the Senate and Assembly also want more say about how the state spends Medicaid waivers. The Cuomo administration has indicated that the $8 billion waiver the federal government approved in February will in part be used to help such floundering Brooklyn hospitals as Interfaith Medical Center and Brookdale Hospital. But Upstate legislators say they have hospitals that need help as well, and they would like more say about where the waiver is applied.
Kruger said that in general this year's budget conversation is not focused in a way that reflects most New Yorkers' priorities. "The state is doing well. We supposedly have a $2 billion surplus. You would think this would be an opportunity to make amends for the cuts we made to essential programs when we were facing a $10 billion deficit," said Krueger. "I don't get the feeling people are thinking about that or listening to the people."
by David King, Albany Editor