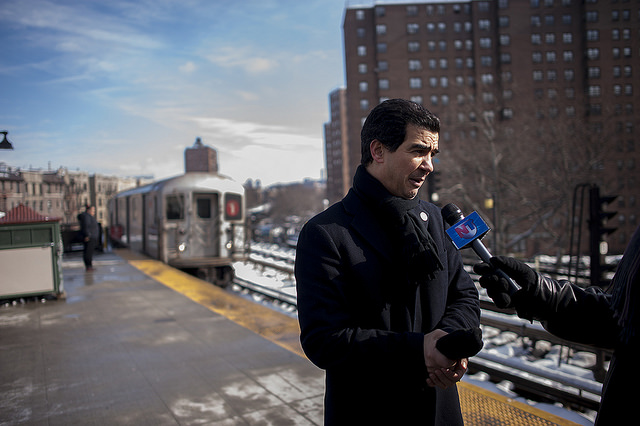 Council Member Ydanis Rodriguez (William Alitriste)
---
It's a New York City ritual: hurry up and wait. Across the city, car owners rush to move their vehicles and then, they wait. Once the street sweepers come by and those who've been double parked or driving around in circles quickly claim good spots in front of their buildings, they wait again. All told, it's typically a two-hour process each time – one that car owners become numb to and non-car owners marvel at.
Mostly, the waiting read books, listen to WFAN, or play games on their phones until the alternate side parking window closes and they are free to get on with their days. It's car-owning New York City-living – at least for those who don't pay for a garage or have a driveway.
But, a bill introduced in the City Council last month could drastically change New York City car-owning as we know it, and, in the process, also bring significant change to city revenue.
Manhattan Council Member Ydanis Rodriguez, chair of the Council's transportation committee, wants to end alternate side parking restrictions as soon as a street has been swept, negating any further wait time for affected drivers.
Rodriguez first proposed the idea in 2010, but despite his securing 30 co-sponsors and holding a hearing on it, the legislation never made it to the council floor for a vote. A lot has changed in four years, though. New York has a proud outer borough car owner for mayor, a council speaker who co-sponsored the original bill, and many elected officials city-wide who strongly support the change.
Though a seemingly small parking-related bill, the success of this legislation may be a sign of how far New York's new political leadership is willing to go in undoing the ticket-frenzy policies of the previous administration. At its core, the bill helps working and middle class New Yorkers who can't afford to pay to have their car in a garage, but hurts one of the great money makers in city history: parking ticket revenue.
Sweeping change
Alternate side parking regulations are in affect in 54 of the 59 community boards in New York City, with the only exceptions coming on most of Staten Island and in parts of eastern Queens. The Department of Sanitation's 435 street sweepers run 47,400 scheduled routes across the city every year, during which time cars are not allowed to park for varying intervals. Car owners who do not move their cars can get hit with a ticket: $65 in Manhattan south of 96th Street or $45 elsewhere.
Rodriguez argues his "common sense bill" would bring relief to working class New Yorkers. "They don't need to be wasting their time when they can be at their jobs or be in their house with their family," he said. "This would benefit the working class who don't make top figures to have their cars in a parking garage. They are the ones suffering the most."
He also said the change would help the environment because drivers would not be idling in their cars for hours every week.
Lawrence Berezin, a retired lawyer who runs the website New York Parking Ticket, said it's a quality of life issue.
"I think alternate side parking is barbaric," he said. "The idea that when its five below zero in February that you get out in your bath robe and slippers and you go out to your car to cruise around looking for a parking space or illegally double park, is barbaric."
He circulated a petition four years ago to pass Rodriguez's bill and said he thinks the political climate in New York is right for the legislation to succeed now.
'New day in New York City'
Many people who supported the legislation in 2010 have since been elevated to positions of power in New York City. As a rank-and-file council member, current speaker Melissa Mark-Viverito co-sponsored the bill. As chair of the council's sanitation committee in 2010, now-Public Advocate Letitia James convened a hearing on the bill and supported it strongly. Comptroller Scott Stringer, then Manhattan borough president, testified at that hearing in favor of the rule change.
James and Stringer are still in favor of the bill, which currently has nine co-sponsors.
"This legislation would make the lives of New Yorkers easier without sacrificing the cleanliness of our city streets," James said in a statement. "I am hopeful that incoming (Sanitation) Commissioner Kathryn Garcia will take a second look at this legislation to determine its feasibility, especially in light of the positive impact it could have on the lives of so many New Yorkers."
"Councilmember Rodriguez's bill will help us make our streets smarter, safer and more efficient," reads a statement from Stringer. Thousands of drivers in this City are forced to circle for parking or idle until street sweepers come through – polluting the air, causing unnecessary congestion and making streets more dangerous. In a city where our snowplows are GPS-enabled, it's time to upgrade our technology so New Yorkers spend more time being productive and less time behind the wheel."
Mark-Viverito did not respond to a request for comment, but Rodriguez said he has talked with her about it.
"With the new leadership in the Council I think we will have a hearing very soon," he said. "We are in a new day in New York City where we have a different leadership, they are more open and more inclusive."
As for the mayor, he campaigned as Mr. Outer Borough.
"I live in the outer-borough neighborhood," Mr. de Blasio said during the campaign according to The New York Times. "I drive my own car, I think I understand what a lot of people are experiencing and confronting every day, and how life in the outer boroughs particularly has gotten more difficult, less affordable."
While reformed parking rules will be friendlier for car owners, the rule change would mean less revenue for the city. And parking tickets are something previous administrations have counted on to pad city coffers.
De Blasio railed against the previous administration for nickel-and-diming small businesses and accused the mayor of inappropriately and unfairly using Department of Health violations as a way to increase revenue.
A spokesperson for the Department of Sanitation said there would be no comment on proposed legislation but that its position has not changed since 2010. Then, sanitation chief John Nucatola, who retired in October as director of the Bureau of Cleaning and Collection, said the rule change would not work because traffic agents may not know when a street had been swept and that sometimes sweepers return to a street to clean it again within the alternate side suspension window.
Rodriguez, like Stringer, says that argument doesn't hold up any longer now that Sanitation has proved it can use GPS trackers to see what streets have been plowed around the city in real time. They argue the same technology can be used on sweepers.
"That concern shouldn't be there anymore," Rodriguez said.
If those logistical concerns are worked out and the change goes into effect, city revenue will be impacted.
Money maker
New York City took in $505.6 million in parking ticket revenue in 2013, according to the Department of Finance. Each year, the City issues between 1.3 and 1.6 million tickets for alternate side parking violations. Last year, those tickets led to the City raking in more than $70 million.
The income has been steady. Data from the Department of Finance shows the city has made between $63.8 and $71.5 million each year in the last decade from alternate side parking violations. It is unclear how many of those would not be issued if Rodriguez's proposal were in effect.
Rodriguez's bill also includes a proposal that drivers who are in their cars and able to move when a street cleaner approaches would not ticket-able, which would also mean fewer tickets issued.
Rodriguez's office has not looked into revenue implications and there was never a fiscal impact statement conducted on the original bill. Spokesman Russell Murphy said such revenue is "ill gotten" anyway.
"While we understand the city earns revenue from this, if it is simply earned through creating an inconvenience, it should be reformed," Murphy wrote in an e-mail.
One of Mayor de Blasio's early key initiatives is his Vision Zero campaign to reduce the number of pedestrian fatalities. The first bullet point in the press release announcing the plan is "Increasing Enforcement Against Speeding."
"The NYPD will increase precinct-level enforcement of speeding violations by adding additional personnel in its Highway Division and ensuring every precinct has access to state-of-the-art speed detection devices," reads the mayor's office press release.
If the alternate side parking legislation passes and the City wants to compensate for the resulting dip in revenue, it will have to work twice as hard to make up for it with speeding tickets. New York City keeps 100 percent of the revenue it earns from parking tickets, but it has to split revenue from speeding tickets with the state. Some have pointed to this as one reason the City has so aggressively ticketed parking violations while expending few resources on speeding enforcement.
A report from State Comptroller Thomas DiNapoli says the revenue split is "particularly complex," but one key takeaway is that the state assesses a surcharge on every ticket issued and the surcharges, which can run as high as $93, are sometimes larger than the speeding tickets themselves.
The Bloomberg administration never explicitly admitted to focusing on parking tickets instead of speeding tickets, but it is clear that the revenue-sharing structure leaves the city with less than half of speeding ticket fines, according to a Daily News column written by Sam Schwartz, a former New York City traffic commissioner.
Advocates for the City Council bill have said they are confident the new mayor will eventually support the change despite the potential hit to revenue.
"Bloomberg, he's a money guy. De Blasio has a heart, not a cash box," said Berezin.
Wilbert Ortiz, a 33-year-old Bronx resident who spends a chunk of most Wednesdays dealing with alternate side restrictions, said the change would help him get more sleep. Ortiz said he works nights and gets home in the early morning hours, sleeps for a while, wakes up to move his car to a meter to avoid getting a ticket, goes back to sleep briefly, and, finally, when restrictions are lifted, moves his car back in front of his building.
"An hour and a half is a big window," he said. "It would be nice to be able to come downstairs for thirty minutes, watch the sweepers go by and then leave your car there."