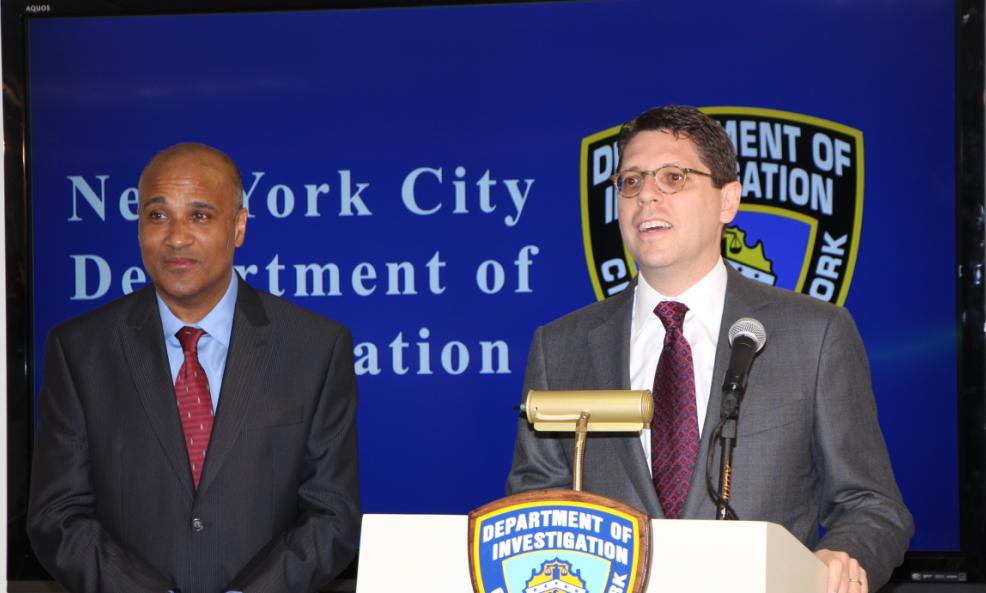 New NYPD IG Philip Eure (left) & Department of Investigations (DOI) head Mark Peters (DOI)
---
NEW YORK—It was a long, difficult road to get Local Law 70, which created the office of the Inspector General for the NYPD, passed through the City Council. But on Friday, nearly two years after that battle began, Philip Eure was named as the city's first NYPD inspector general (IG).
Eure, who was appointed by Department of Investigation Commissioner Mark Peters, will officially start May 27. With a $5 million annual budget and staff of about 50, Eure will look broadly at NYPD policies and practices with the goals of increasing public safety, protecting citizens' civil liberties, and improving police-community relations. He will have the power to make recommendations, but cannot directly change NYPD policy.
Since October 2012, when the IG bill was first introduced in direct response to the NYPD's stop-and-frisk practices, the landscape of police and community relations has changed dramatically.
Stop-and-frisk data from 2011 shows the NYPD stopped a record 685,724 New Yorkers, 87 percent of whom were either black or Latino. Of all the stops, 88 percent were found innocent of wrongdoing. Despite this data and increasing criticism from both the public and elected officials, then-Mayor Michael Bloomberg refused to admit there was a problem or direct his police chief, Ray Kelly, to alter policies. The administration's refusal to budge on stop-and-frisk became a major driver for Local Law 70, which was introduced by Council Members Jumaane Williams and Brad Lander.
The law passed the Council in dramatic fashion in June 2013, but would need to override a veto from Mayor Bloomberg in August. This, along with public outcry and a federal judge's ruling in Floyd v. the City of New York that the NYPD had been practicing stop-and-frisk unconstitutionally, coincided with changes to the practice.
Even without an inspector general in place, stop-and-frisk numbers dropped dramatically. In 2013, the last year of Bloomberg's mayoralty and Kelly's leadership of the NYPD, only 191,558 stops were made, 85 percent of which were of blacks or Latinos.
Mayor Bill de Blasio, who campaigned, in part, on promises of major stop-and-frisk reform at the NYPD, hired Bill Bratton to be his police commissioner. Bratton has touted his ability to mend fences between police and community, as evident in his work as police commissioner in Los Angeles. Bratton said he would continue to use stop-and-frisk, but that it must be done constitutionally.
Along with this new regime, the city will soon have a federal monitor in place to directly oversee stop-and-frisk policy, oversight which stems from the Floyd ruling.
The number of stops has dropped significantly since Local Law 70 was proposed and the new administration's approach to the practice is in sharp contrast to its predecessor's. With stop and frisk already reformed to a large extent, the practice will not necessarily be the IG's central focus.
So what will newly appointed Inspector General Eure focus on? That is still unclear.
"[Local Law 70] talks about looking at policies and procedures of the NYPD with the goal of enhancing police accountability and building confidence in the police, respecting civil rights. Those will be the touchstones of my approach as we go forward," Eure said at Friday's press conference. "Stop-and-frisk issues, other Fourth Amendment issues, and other constitutional issues involving policing will be on the radar screen."
One of the first major Fourth Amendment issues he may have to deal with involves the NYPD Intelligence Division. In 2011 the Associated Press published a Pulitzer Prize winning series of stories exposing the NYPD's surveillance of the Muslim community in New York, New Jersey, and Connecticut.
"We believe that is a critical issue on the table that has not been addressed directly by anyone in the administration," said Linda Sarsour, executive director of the Arab American Association of New York. "There has been no tangible or concrete proposals of how we can ensure the NYPD does not target an entire community based on faith."
She said her organization met with DOI Commissioner Peters prior to his appointing Eure to discuss issues related to the Muslim community. She said in the coming months, they will be calling on the IG to investigate the Intelligence Division.
"Neither the mayor, nor the New York City Council nor any other entity in New York City has been able to understand what that operation looks like," Sarsour said. "We believe the IG will be uncovering some very pertinent information related to the spying program."
While much of the discussion surrounding the IG has involved stop-and-frisk and surveillance of Muslims, the bill gives the IG a broad mandate to look at any and all NYPD policies.
This could include a key de Blasio initiative. As mandated by the mayor, the NYPD will begin implementing policy changes to meet his Vision Zero goals. Among the many changes, the NYPD will be tasked with improving the training and protocol for the collision unit which investigates traffic crashes.
State law requires police to investigate every crash where there is a serious injury, although advocates argue that is not always occurring. As part of Vision Zero reform, the de Blasio administration has vowed to meet the State standard.
"They are not there yet," said Steve Vaccaro, an attorney who represents pedestrian and cyclist crash victims. "One of the things [an IG] could do is audit the performance of the collision investigation squad and see what are the scope of changes in which these investigations are being done."
Vaccaro also pointed to the recent uptick in pedestrian summons being issued in the jaywalking crackdown. He argued officers are trying to enforce a State law that does not apply to New York City, and the entire practice was counter productive.
"The IG is the perfect person to look at this," Vaccaro said.
by Kristen Meriwether, Gotham Gazette