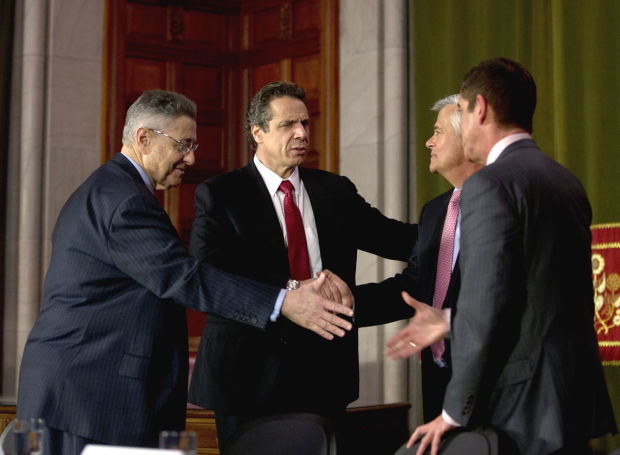 Albany leaders (Mike Groll/AP)
---
Albany--If you've only heard one thing about the state budget agreement that oozed out in bits and pieces around midnight on Friday night as most New Yorkers were sleeping or otherwise enjoying their weekends, it is probably that New York City will get $300 million for pre-kindergarten expansion.
That is the news being touted, of course, by Mayor Bill de Blasio, who has been on a universal pre-K crusade for well over a year now. Notwithstanding what is being seen as a pre-K win for all involved, legislators say the budget is a mixed bag for the city and, perhaps even more strikingly, reform advocates have come out against the campaign finance deal reached by Gov. Andrew Cuomo and legislative leaders.
On Monday legislators are scheduled to begin session at noon, only breaking for dinner before pulling what has become an all-too-familiar all-night session to debate and vote on budget bills while, again, most New Yorkers will be fast asleep. Though significant debate is likely on several pieces of the tentative deal, nothing is likely to change given that the deal was negotiated and agreed upon by the major Albany power-brokers.
As far as New York City goes, here are the key pieces of the deal:
Education
Mayor Bill de Blasio made pre-K the centerpiece of his mayoral campaign and, once in office, went to Albany to fight for the ability to tax the city's wealthy to fund the initiative. But de Blasio was stymied. Gov. Andrew Cuomo fought de Blasio's plan tooth and nail, refusing to increase taxes on any New Yorker.
In this election year, Cuomo positioned himself as a fiscally conservative friend of business and pressured legislators to reject de Blasio's tax and to lower proposed pre-K funding amounts to the city. In the end, the city walks away with almost all the money it sought to ramp up the program - de Blasio said he would need $340 million - but de Blasio's populist tax plan is dead and Cuomo made inroads to undermining mayoral control of schools by including a provision in the budget deal that mandates the city find space for charter schools inside city school buildings or pay for space elsewhere.
In the end de Blasio spun it all as a victory. "With the investment announced today, this state has made a powerful and historic decision that will change the lives of tens of thousands of children," he said in a statement.
Ethics and Campaign Finance Reform
Ethics and campaign finance reform were supposed to be major features of this election-year budget. Cuomo's initial budget proposal included major reforms to create an election law enforcement unit and a small-donor public campaign finance system. And, Cuomo's Moreland Commission to Investigate Corruption had issued other recommendations for overhauling the state's campaign finance system in December.
Public financing of campaigns was a major sticking point in these latest negotiations, and what finally made it into the budget was a proposal to test a small-donor matching system in this year's comptroller race. Comptroller Thomas DiNapoli had previously asked legislators to use his office as a testing ground for such a system, but DiNapoli and good government groups are unhappy with the shape of the impending plan.
"I was excluded from the negotiations," DiNapoli said in a statement. "There are also questions on whether this proposal can be fairly and reasonably implemented in such a short time frame."
As outlined, the state's dysfunctional Board of Elections would be in charge of the opt-in system, and there are only five months until the primary - which makes good government groups think the system would not function ideally. The reform-minded groups united to issue a joint statement on Sunday urging DiNapoli not to take part in the test run because of its shortcomings.
"This proposal is so flawed that should it pass, the groups will urge Comptroller DiNapoli and his potential opponent(s) to refuse to participate in the system and take public funding," read the statement issued by The Brennan Center, Common Cause, Citizen Action, Citizens Union, League of Women Voters and the New York Public Interest Research Group.
Sen. Jeff Klein, leader of the Independent Democratic Conference, stoked hope in the good government community when he told Zack Fink of YNN that negotiations over public campaign finance are not over and that a separate deal could come together this week.
Eschewing the typical Red Room budget announcement with all legislative leaders in attendance to draw attention to a timely deal, Cuomo held a conference call on Saturday to discuss what he called "the highlights" of the deal.
Cuomo told reporters that if legislators pass the test campaign finance system and reforms to the state's bribery laws, he will end his Moreland Commission, which the legislature has challenged both in court and in their budgets by withdrawing funding. A number of Moreland appointees issued supportive statements, talking up the reforms contained in the budget deal. But other Moreland members griped about the deal's political nature.
Good government groups insist Moreland has more work to do and that its efforts should not be interrupted for the measures contained in the budget. However, some insiders say the Cuomo administration took a lot of PR damage for the way it handled the commission when it was revealed that Cuomo had a hand in influencing who would be investigated and that the commission was not looking into Cuomo's own finance history. Ending the commission boosts Cuomo's relationship with the legislature in an election year, when Cuomo is trying to run up his vote tallies across the state.
What the City Got
Key for city residents is a renters' tax credit that is in the final budget deal. The credit would be based on the percentage of yearly income a person spends on rent. The governor's budget office estimates that the rebate will be around $100 a person. There is $85 million set aside for the credit in the budget.
The city also stands to benefit from a $2 billion education bond act that would allow the city to build new school buildings to replace trailers where overflow classes are held at some of the city's most crowded schools.
On another key issue of contention, de Blasio and Cuomo managed to come to an agreement on language that would allow the city to (re)start a rent-subsidy program for previously homeless families.
And, Cuomo's plan to reduce the requirements for companies and private users to report their use of pesticides was removed from the budget. Many city legislators, including Sen. Liz Krueger, opposed the measure because they said it would lead to less accountability and interfere with research into how pesticides affect New Yorkers.
What the City Didn't Get
De Blasio did not get the $200 million he requested to fund after-school programs. Another of de Blasio's signature issues, his traffic safety plan known as Vision Zero, was ignored in the budget. The program relies, in part, on 150 new red light and speeding cameras, which must be approved by the State. Sen. Martin Dilan, a ranking Democrat on the Senate's transportation committee, said that while he didn't expect components of Vision Zero to be addressed in the budget, he does expect a larger push for them after the budget is wrapped up.
The Metropolitan Transportation Authority (MTA) did not see $40 million swept from its lockbox as originally proposed; instead, $30 million was taken from the MTA and put into the state's general fund. Transportation advocates decried the move, saying that it hurts passengers, who have seen service stuck at 2010 levels while fares continue to rise.
In what has been taken as the biggest insult to city-based legislators, legislative leaders failed to reach an agreement on The DREAM Act, which would provide tuition assistance to undocumented immigrants.
The Assembly passed the bill earlier this year, while the Senate recently took a surprise vote (without alerting activists who supported the measure), which resulted in the bill's failure. Supporters had already been focused on including the act in a budget deal, so they continued on that path.
There was discussion of giving tax breaks to those who donate to a private DREAM fund, but advocates opposed that measure and no further compromises on the issue were broached. A number of Hispanic legislators told Gotham Gazette last month that they would vote against the budget if the DREAM Act was not included.
Sen. Jose Peralta, the DREAM Act's Senate sponsor, told Gotham Gazette on Sunday night after reviewing the budget with his conference that he felt the budget was overall a good thing for the state. "There is never a budget where everyone gets what they want," he said. Adding that he and his colleagues are working to bring the DREAM bill to a vote again later this session.
Peralta's optimism at least partially stems from recent reports that Cuomo may call for special elections to fill two vacant senate seats, which could lead to more Democratic votes in the Senate chamber - where the bill failed by only two votes. One of the seats is in Brooklyn and is almost assuredly going to be won by a Democrat who supports the act. The second, a Long Island seat, will be more of a battleground, but Democrats feel holding another Senate vote could convince several Democrats and Republicans that previously voted against the measure to change their minds.
Legislators who left Albany on Friday without a budget deal to vote on returned on Sunday to discuss the budget with their conferences. A number of groups are still planning their responses to the budget deal and have only had the weekend to plan protests or other tactics. Some of the budget bills were introduced in time to allow them to age the mandatory three days and can be voted on on Monday. The education and health budget bills were not introduced on time and Cuomo will have to issue a 'message of necessity' if he wants all of the budget to be technically on time.
"This is a mixed bag for New York City," said Peralta, "but it looks like everyone got a piece of something they wanted and it will be the fourth on-time budget in a row."
by David King, Albany Editor