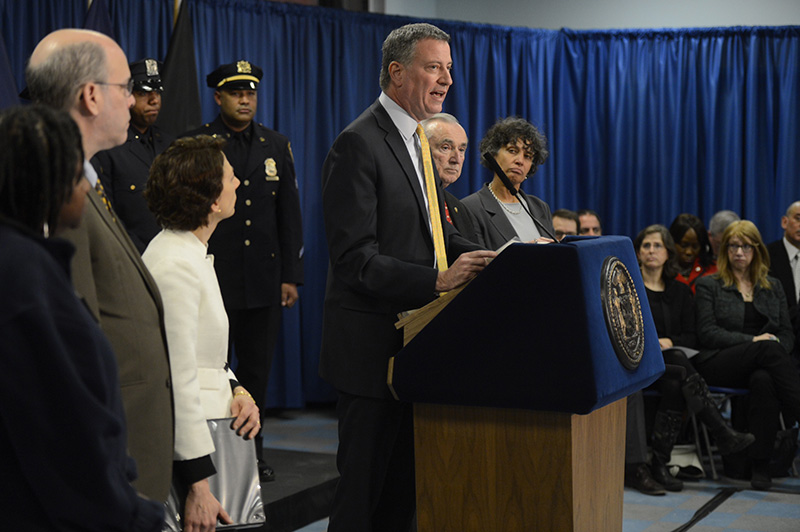 Mayor de Blasio announces his Vision Zero plan (nyc.gov)
---
Leading up to the state budget agreement reached in Albany on March 31, Mayor Bill de Blasio had only one legislative goal: secure funding for his pre-kindergarten plan. His singular focus paid off with the State placing $300 million in the budget for de Blasio's signature campaign initiative.
Despite securing pre-K funding and with it a political victory, the mayor is not nearly done in Albany. To achieve his Vision Zero traffic safety plan, the details of which he announced February 18, de Blasio will need multiple bills to pass through the state legislature before the session ends on June 19.
Gov. Andrew Cuomo and legislative leaders did not include any of de Blasio's Vision Zero initiatives in the state budget, which was signed April 1, but legislators in both the Assembly and the Senate have already introduced bills to move the plan forward.
The changes the mayor is proposing are lofty and push the bounds of what Albany allows municipalities. De Blasio wants:
full local authority over the number and placement of red light and speed cameras
the city speed limit lowered to 25 m.p.h.
increased penalties for several traffic crimes, including driving with a suspended license and leaving the scene of a crash
Advocates who have been pushing for reform for years say these measures along with the other elements of Vision Zero could save hundreds of lives and prevent thousands of injuries. Each year, approximately 40,000 New Yorkers are seriously injured in traffic accidents and roughly 250 are killed.
Assembly Speaker Sheldon Silver introduced a bill on March 31 that would authorize 140 speed cameras in New York City. While it is not the unbridled control the mayor is asking for, it would provide a drastic increase from the 20 currently installed in the city.
On Tuesday Gov. Andrew Cuomo hinted the cameras will be a priority, despite their being left out of the budget.
"We did not get to that in this budget, but we will and we will shortly," Cuomo said at the budget press conference.
"I think the speed light camera [legislation] will probably move very quickly when we get back into session," state Sen. Martin Dilan, who is on the senate transportation committee, said by phone Tuesday. The Senate will be back in session on April 23.
De Blasio has support for home rule from Sen. Adriano Espaillat, who has introduced a bill seeking city control of red light and speed camera enforcement programs. Assembly Member Gabriela Rosa sponsors the companion bill in the Assembly.
On the penalty front, Sen. Michael Gianaris introduced a bill that would increase the punishment for drivers who kill or injure someone while operating with a suspended license.
Members in both the Assembly and the Senate are also working on bills to lower the speed limit in New York City. Sen. Dilan and Assembly Member Daniel O'Donnell both have bills which would bring the speed limit to 20 m.p.h. in the city. Sen. Brad Hoylman sponsors a bill which would lower the speed limit to 25 m.p.h., in line with the mayor's initial request.
Competing bills on the same topic can be a death sentence for both, but with so many lawmakers behind the concept, compromise seems likely.
"I believe at the end of the day there will be some agreement where we will be protecting the pedestrians of New York City and other parts of the state," Dilan said.
Unified Voice
The proposals being asked for by the mayor are by no means new. Street safety advocates, who have watched traffic-related injury rates climb in recent years, have been pushing for changes in Albany with minimal results.
But the climate has changed, due in large part to de Blasio's leading a unified push.
"There is definitely a new momentum behind the Vision Zero efforts because the mayor has made it a priority," said Senator Gianaris. "He [de Blasio] is a unifying force in bringing a lot of the advocacy community together."
On Tuesday city officials gathered in Brooklyn for the second in a series of Vision Zero town halls to educate the public about the program and get feedback. At the meeting, department of transportation Commissioner Polly Trottenberg echoed the calls for Albany to act.
"We're [going to] also be working with our partners up in Albany," said Trottenberg. "We are committed to seeing if we can get more local control for the city in terms of speed cameras and setting our own speed limit, those are tremendously important things for safety."
Juan Martinez, general counsel and legislative director for the street safety group Transportation Alternatives, said in a phone interview Tuesday legislators are no longer looking at bills as a single piece of legislation to consider, but as a part of a larger plan to ensure safer streets.
"Any one of these ideas on their own had a tough time because they are competing with one another and with other things in the agenda," said Martinez. "But now, we have a Vision Zero program. We have a rationale that explains all of them."
He continued, "I think it is a game changer. I expect a lot of really significant action in this session."
To push Albany to act, Transportation Alternatives is leading a lobby day in the capital on May 6.
Council Member Ydanis Rodriguez, chair of the city council transportation committee, said he will joining the lobbying effort.
"It's time for Albany to step up. They played petty politics by omitting Vision Zero from the budget, now they threaten lives with their inaction on pending legislation," Rodriguez said in an email. "New York City must have the ability to control its own streets."
Despite unity and momentum, it will be a sprint to the finish to ensure the Vision Zero proposals are passed through Albany.
"Trying to read the tea leaves in Albany is a dangerous game," Gianaris said. "But I can tell you those of us who care about this are going to work as hard as we can to make sure those get done."
by Kristen Meriwether, Gotham Gazette
@MeriwetherK
Additional reporting by Ben Max