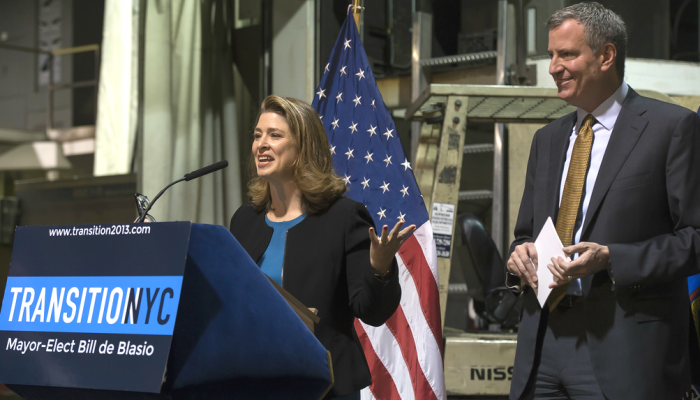 Deputy Mayor Alicia Glen (left) (Transition 2013)
---
Mayor Bill de Blasio campaigned with a promise of ridding the city of income inequality, a bold idea, particularly in a city with such a staggering income gap. Three months into his term and most of his cabinet appointed, how the mayor and his administration will attempt to accomplish this lofty goal is beginning to take shape.
On Wednesday, Alicia Glen, de Blasio's deputy mayor for housing and economic development, gave her first major policy speech since being appointed on Dec. 23. Speaking at an Association for a Better New York breakfast in front of numerous elected officials and members of the business community, Glen outlined the City's plans to modernize the city workforce and how these efforts tie into broader economic development.
"When it comes to making major land-use decisions, using our own capital, or providing incentives, our objective is to catalyze dynamic mix-use, mixed-income projects that attract good paying jobs," Glen said.
She said the city will shift to mix-use development (both housing and office/retail space) to ensure economic and workforce development, as well as land-use policies are all aligned. The multi-faceted approach is expected to provide much needed relief, pulling more New Yorkers into the middle class through added affordable housing, job creation, and job training programs.
As an example, Glen cited the recent deal the City struck over development at the old Domino Sugar Factory in Brooklyn. The de Blasio administration negotiated for 40 more units of affordable housing than previously outlined during Bloomberg-era negotiations and the facility will provide office space suitable for the technology industry.
On the workforce front, Glen spoke at length about changing the way the city views the tech industry and tech jobs. "The New York City Tech Ecosystem," a new report released on Tuesday by HR&A Advisors, a strategic advisory firm, shows that the "tech industry" is no longer companies like Google and Facebook. Tech jobs are not simply entrepreneurs, coders, and engineers. While demand for those jobs has continued to grow, the definition of a "tech job" has been rapidly expanding, to one that applies to virtually every industry.
The study found that in New York City, 291,000 people are employed in the city's tech ecosystem, with 150,000 of those jobs in non-tech industries. The study also found that 44 percent of those tech jobs do not require a bachelor's degree.
Improving workforce development
Despite a half billion-dollar investment in workforce development, the city is not providing the training needed for the types of jobs available now and into the future.
"Right now, too many workforce development programs move at an analogue speed in a digital age," Glen said. "We need nothing less than a thorough reinvention of workforce development in this city."
Glen said the administration will move away from a workforce development model that simply pairs job seekers with current jobs. Instead, the City will help workers build skills for jobs that are or will be in demand. She said this will not only ensure New Yorkers get a job, but a higher wage job and a way to advance in the workforce.
This 'ladder up' ideal aligns perfectly with de Blasio's vision of creating opportunity, closing the income gap, and reducing inequality. It is the lens through which he sees the world, and one that Glen shares.
"You are not putting aside all of the traditional principals of how you negotiate public sector development projects, but it is what are you bringing to the table and what lens are you bringing to it," Glen said when she was appointed on Dec. 23. "What we are going to start with is how does this benefit those who need those jobs and services most and then how are we going to integrate that into smart deal making."
The goal is bold, not one that will be achieved overnight. Glen mentioned multiple times that de Blaio himself presented what was a bold and, to some, overly ambitious idea at a prior ABNY breakfast: a tax to fund universal pre-kindergarten and after school programs. The tax never materialized, but the State did authorize $300 million per year for five years to pay for the pre-K program.
The pre-K fight, while daunting, was not nearly the uphill battle this cultural shift will be. Training a 21st century workforce for the digital age starts in the classroom. While the city has made strides with schools like the much-praised P-Tech, in Brooklyn, the education system in New York City falls far short of producing students ready for the knowledge economy.
The mayor, who made a surprise visit to the ABNY breakfast on Wednesday morning, acknowledged the challenge, but said the change is central to the future of the city.
"We are going to move on a lot of different fronts to give you the kind of workforce you need so this city can remain strong," de Blasio said.
by Kristen Meriwether, Gotham Gazette
@MeriwetherK