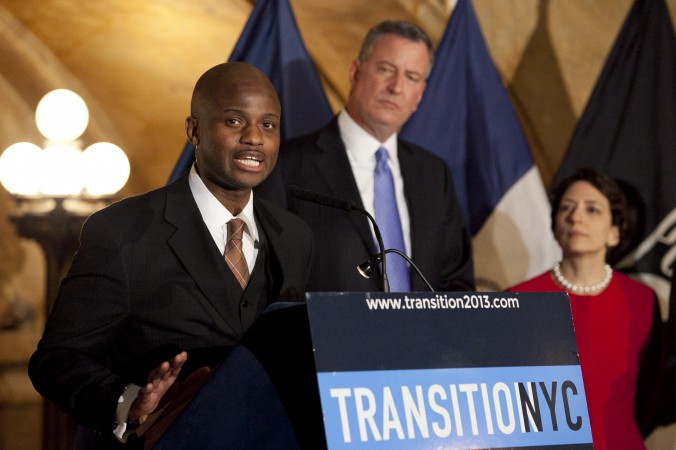 Gilbert Taylor (fourth from left) is the new Commissioner of Homeless Services (nyc.gov)
---
On June 23rd, 2004, Mayor Michael R. Bloomberg outlined his five-year strategy to attack homelessness in New York City. It was an agenda his administration vowed would cut the rate by 66 percent by the time the mayor left office at the end of 2009, before he convinced the City Council to extend his and its term limits. And, better yet, he said, it wouldn't cost that much at all. "This new plan aims to replace the City's over-reliance on shelter with innovative, cost-effective interventions that solve homelessness," the mayor declared.
At the heart of this was Advantage. A rental assistance program started in 2007, Advantage would transition thousands of homeless families from the New York City shelter system into affordable housing through one- to two-year subsidies. Both city and state funds would cover 40 percent of rent the first year, and 30 percent the second year.
It was a testament to the Bloombergian mentality of centralized power, replacing the use of Section 8 and Human Resource Administration (HRA) vouchers with a mixture of reimbursement funds - homelessness was now in the hands of Albany and City Hall, not Washington. Families just had to show proof of income to the Department of Homeless Services (DHS) in order to qualify and remain housed.
Fast forward to last week: nearly ten years after that speech, the City Council convened to discuss what went terribly wrong.
Advantage's demise came from a lack of funding, as Governor Andrew Cuomo, and later the program's champion, Mayor Michael Bloomberg, targeted it to be cut in the face of an impending deficit. The collapse of the Advantage program is one of the clearest examples we can see of how the Great Recession barreled into state budgets nationwide, placing the weight of austerity on to the lowest rungs of the socioeconomic ladder.
Throughout my reporting on the homeless, the subjects I've interviewed have pointed to Advantage's end as the beginning of a skyrocketing number, with 53,615 homeless people sleeping in municipal shelters this past January - a figure now past Great Depression levels. As of last August, half of all Advantage families have already returned to the shelter system, a Coalition for the Homeless report states, costing the city $287 million in avoidable expenses. This amounts to 8,500 families, 200 more joining every month - all unable to sustain rent without the aid of subsidies. Dasani, the subject of the famous New York Times profile in December, is one of the 18,000 children who were in subsidized rentals, but are now homeless again.
Advantage's collapse writes a significant chapter of a crisis's narrative, one that is now the stark reality of Mayor de Blasio's "tale of two cities" mantra, while fixing it will be one of his greatest challenges. And, like Bloomberg in 2004, the new mayor stands at the drawing board.
In his initial budget for next year, de Blasio restored $8.3 million in homeless services cut by the Bloomberg administration, and allocated millions more to various other homelessness-related services.
To boot, de Blasio and the City Council recently succeeded in having restrictive language stripped from next year's state budget, allowing the birth of a new rental subsidy program. Or, in essence, what could be the second coming of Advantage.
This time around, the de Blasio administration will need to figure out how to make the program last, preventing the "cost-effective intervention" from transforming into a $287 million failure that leaves thousands of families back on the streets.
Maria Walles has some advice.
Walles and her husband lived on Advantage subsidies "for two long years." While living in the shelter system from August 2009 to July of 2010, the couple slowly moved up the Advantage waiting list, eventually landing their first place in Bed-Stuy. For income, she worked as a maintenance assistant, making just above minimum wage. The apartment building they lived in housed four Advantage units: two single mothers, Walles and her husband, and a couple next door.
In March of 2011, Walles began to receive letters in the mail from the Department of Homeless Services, repeatedly informing them of what was to come. "We had to sit down and talk about it each week -- what we'd have to do [once] Advantage was gone," she told me. The last Advantage lease signed in the city was on March 14th, 2011.
Walles asked the Department of Homeless Services for a fair hearing before the subsidies were taken away from her and her husband. When they were denied legal action, she unsuccessfully tried to appeal, and then contacted her local elected representatives to inform them of her situation to no avail.
Their case is a microcosm of what occurred between larger forces, as the Coalition for the Homeless and Legal Aid sued the Bloomberg administration for abruptly shutting off the subsidies for thousands of homeless families and refusing to reinstate them or hear appeals. The non-profit organizations won nine months in rental reprieve, and the city appealed the decision. Luckily for Walles, this court battle bought her and thousands of other families a few months rent, and time. But that didn't last for long: an appellate court eventually struck the decision, and Advantage legally ceased to exist.
"If you were a decent resident, you had to say please, please, please to your landlord, but then you realized you simply couldn't afford the apartment," Walles somberly said. "It took me a minute to realize that I'd have to go through this again."
A few months later, she and her husband ended back in the shelter system in Manhattan. She assumes the same fate for the two single mothers and couple living in the building. The Walleses remain there today.
"My husband and I are tired of doing this. 'Oh, you're back here, Maria?'," she said, impersonating the staff of the shelter. "I don't want to hear that. It's not fair... it's not right."
One of the qualms Walles had with Advantage was its longevity: a concern many homeless advocates say was the inherent flaw of the program. The maximum amount of time one could receive Advantage subsidies was 2 years. To the Bloomberg administration, this was more than enough time for the recipients to move into permanent housing with their accrued savings--the idealistic end goal of the program. "Of course, that's subjective. The last administration did not see that as a flaw," a DHS spokesperson said.
But, for Walles, who now volunteers at Picture for the Homeless as its housing campaign leader, this time frame is not realistic for families like her own.
"The only thing that puzzled me is that it was only for 2 years. I was happy to get it, but it should have been more than 2 years," she said. "Not short-term, long-term. Permanent housing programs, two years or better, so you don't have to see us again. Programs like Advantage take people out of the shelter and put them right back in. I don't want to be a revolving door back into the shelter system."
"Advantage was a completely unrealistic one-size-fits-all solution," Patrick Markee of Coalition for the Homeless told me. "Studies have shown that people who have long-term subsidies for their apartments stay in them, which is good for taxpayers because it saves money on the shelter system."
"It's fiscally prudent to have long-term assistance," Markee explained. "Shelters are expensive, costing the city $3,000 a month for a family." Walles believes the price tag to the taxpayer is even higher, ranging anywhere between $3,000 and $6,000 for a family.
"When Bloomberg announced it, it became a revolving door to shelters and costly to taxpayers," he continued, echoing Walles. "It would have been improved if there were longer-term subsidies, and it used federal housing subsidies available."
Sources said this is another way to supplement a new rental subsidy program: to reinstate the Section 8 and HRA vouchers that were dismissed when Advantage was implemented. By doing so, the mayor could use federal housing subsidies available to him to cut costs. A DHS spokesperson said that newly appointed Commissioner Gilbert Taylor has made this a priority of his department, along with prevention measures and collaboration with other city agencies.
"It's a crisis we will confront with every tool at our disposal," Commissioner Taylor said at his appointment in December. "I share Mayor-Elect de Blasio's fundamental commitment to more aggressive homelessness prevention policies and housing support to transition people from shelters to stable living."
With the legislative pathway to a new rental subsidy program now clear, DHS can begin to rebuild the Advantage model from the ground up. However, according to the agency, winning a removal of the restrictive state budget language was just the first step of a long process, with no approximate start date for a new program.
"We're hopeful that we can get a similar program to Advantage," the spokesperson told me. "We haven't talked about what it'll look like yet. It's so far been an internal effort, dealing with a new concept and new language."
Maria Walles just hopes City Hall remembers what happened last time: to her, the 8,500 families, including her own, now back in the shelter system as a result of Advantage's collapse should serve as a shocking reminder of what's at stake here for over 53,000 New Yorkers.
"Hopefully, we can--no, we need to find a way to change it. I don't want to be a revolving door into the shelter system again, and neither should anyone else," she said, pausing for a second to collect her thoughts. "I don't know... I'm scared. That's all I can say."
***
John Surico is a freelance journalist. His reporting can be seen in The Wall Street Journal, The New York Times, The New York Daily News, The Village Voice, and elsewhere. He lives in Brooklyn.