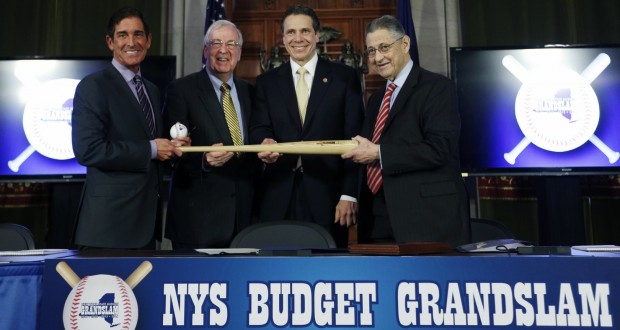 New York legislative leaders celebrate their recent budget deal (AP)
---
Some years, the state budget is home to the "big ugly," a package of unrelated legislation cobbled together last minute through back room deal-making. Typically, the deal allows members of both legislative houses and the governor to claim victory for passing their favored pieces of legislation and lets those expected to oppose certain measures avoid the heat for permitting the bills to be passed. 'Big ugly' deals are usually decried for ramming controversial legislation through in one massive eleventh-hour budget vote without time for proper debate.
This year, the budget may be known more for what it did not include than for what it did. Major issues like significant campaign finance reform, the women's equality agenda, the DREAM Act and "Vision Zero" traffic safety initiatives were left in the back rooms, much to advocates' chagrin. But never fear! There is always room for a post-budget, end-of-session 'big ugly,' especially likely in 2014 thanks to outcry over the budget's shortcomings and the fact that it is an election year.
Gotham Gazette takes a look at some of the major pieces of legislation that could be addressed this session post-budget, along with several smaller items that would have an impact on New York City residents. The State Senate is back in session on April 23rd and the Assembly is back in session on April 28th. The session concludes June 19th.
Campaign Finance Reform
The Cuomo administration was surprised by the backlash from editorial boards and activists across the state to the lack of comprehensive campaign finance reform in the budget deal.
State Senator Jeff Klein has been working behind the scenes to piece together a deal on a more robust campaign finance system than the minimal pilot program included in the budget that only applies to this year's comptroller race. Klein may be extra motivated because of pressure from groups that are threatening to pour cash into a primary challenge by former New York City Council Member Oliver Koppell. Koppell has stated that he won't decide whether to run until after the Easter holiday, a delay that could give Klein more time to reach some sort of agreement with his Republican partners in the Senate.
Just how real Klein's proposal is depends on whom you are speaking with. Those allied with Klein say his effort is sincere and has the attention of Senate Republicans, who understand they need to protect Klein from a primary in order to keep their governing coalition together. Senate Democrats doubt that Klein can convince Republicans to accept a new campaign finance system even if it is not directly funded by taxpayer money, but by unclaimed funds or settlements won by the State. Republican hesitancy is due to their believing a new public matching system could further endanger their hold on control of the Senate.
Meanwhile, Cuomo has signaled to advocates that he is willing to push harder for campaign finance reform as his office tries to regain its footing after being blasted for the budget deal, including the abrupt end of the Moreland Commission.
Vision Zero
Transportation advocates are gearing up to push Mayor Bill de Blasio's "Vision Zero" traffic safety initiative in Albany. There are several bills in both houses that would allow the City to increase its number of speed cameras from 20 to 160, decrease the city speed limit to 25 or 20 m.p.h. from 30, and increase penalties for causing traffic fatalities. Sen. Martin Dilan, who is the Senate sponsor of the bill to reduce the speed limit to 20 m.p.h. told Gotham Gazette he believes a larger deal on these initiatives will come together quickly when legislators return to session. Dilan's spokesman, Graham Parker, said that Dilan's district has seen an increase in traffic fatalities and that there is a real sense of urgency there.
Keeping Inmates Near Home
Sen. Gustavo Rivera and Assemblyman Marcos Crespo, who both hail from the Bronx, are pushing a bill to create a pilot program that would keep inmates in jails closer to their families so that relatives would not have to travel hours upstate to see them. Rivera points out that, for some families, that kind of travel prevents them from seeing incarcerated relatives and notes that studies have shown that staying connected to family while in prison reduces the chances of recidivism.
"I'm tired of hearing that one of my constituents has to drive five hours to see their mother," said Rivera. It seems unlikely that the bill would pass through the Senate, as Republicans are protective of upstate prisons. However, multiple sources tell Gotham Gazette that there are ongoing discussions between the Department of Corrections and the executive branch, and that Cuomo could issue an executive order to implement a similar plan.
The Cuomo administration was rebuffed in its efforts to create a State-funded college-for-inmates program earlier this year. The plan was seen as a nod to black and Hispanic City legislators who feel Cuomo isn't paying enough attention to issues that impact their constituents. This could be an alternative move to address those concerns. A spokesperson for the Cuomo administration declined to comment on a possible executive order.
Medical Marijuana
Sen. Diane Savino of Staten Island and Assemblyman Richard Gottfried of Manhattan are pushing legislation that would allow doctors and physicians' assistants or nurses to prescribe marijuana to those with life-threatening or debilitating conditions. The state Health Department would issue licenses to dispensaries. The bill has major support from advocates who have made their presence felt in Albany, but Senate Republicans oppose the measure. Earlier this month Assembly Speaker Sheldon Silver, who supports the idea, said he thought the issue was dead because of Republican opposition in the Senate. But Savino insisted that she intends to move the bill. Silver clarified that he would pass the bill, as the Assembly has over the past few years, if the Senate takes action.
Around the same time, Savino invoked measures that will push her bill to a vote even though Senate leaders don't support it. Savino told Gotham Gazette earlier this month that she has the votes to pass the measure when it comes to the floor.
Even if the bill does pass both houses, it seems unlikely that the governor would sign it. Cuomo supports a plan whereby he would use executive action to permit 20 hospitals to prescribe medical marijuana to patients in their care. The medical marijuana would come from confiscated product obtained in criminal busts. Cuomo has made it clear that he does not support full legalization. Critics of the governor's plan insist that confiscated marijuana will not have the same effects as pharmaceutical grade and that there is no need to study the benefits of medical marijuana when its benefits have been demonstrated across the country.
The "Boss Bill"
Sen. Liz Krueger from Manhattan and Assemblywoman Ellen Jaffee of Suffern are pushing a bill in their respective houses that would make it illegal for employers to discriminate against their employees based on their reproductive choices. The bill comes in response to hundreds of lawsuits filed by employers in federal court in an attempt to get out of a provision of the Affordable Care Act (aka Obamacare) that requires they provide insurance plans that pay for contraception.
"With the full Women's Equality Act stalled by the bizarre politics of the Senate, and with employers going out of their way to cut off women's access to contraception, here's the question: can this legislature act to protect women at all?" asked Krueger in a statement. "In New York, in the 21st century, no boss should be able to tell employees whether they can have access to birth control. This bill to protect a woman's basic right to make her own decisions about contraception, free from reprisals, should pass quickly in both houses. It would send a deeply disturbing message if it doesn't."
Krueger told Gotham Gazette earlier this month that she was further moved to support the bill after hearing from a number of constituents who were admonished by their employers about their pregnancies because they weren't in "traditional" relationships. It seems unlikely the bill will pass in the Senate this session, as some Senate Republicans have moved toward the right heading into the election year and not all Democratic senators support the bill. The bill remains in the Assembly's labor committee.
Rent Sabotage
Sen. Martin Dilan and Assemblyman Joseph Lentol, both from Brooklyn, say that there has been a rash of apartment sabotage by landlords in their districts as property values rise. Rents have increased by 15 percent in some districts and as a result some landlords of rent-stabilized apartment buildings have taken to doing major physical damage to these apartments in an effort to drive tenants out and take the apartments off the rent control rolls.
Apartments can come out of rent control when the rents reach $2,500. The Dilan-Lentol bill would create a class D felony for landlords who do physical damage to apartments in an attempt to drive tenants out. Jaron Benjamin of the Metropolitan Council on Housing says the bill is a good first step to combating the problem but his group is preparing for next year when rent control laws will be up for renewal. Benjamin wants vacancy decontrol to be done away with so that apartments will stay affordable. "We get calls everyday on our tenant hotline from people who are worried that a landlord is destroying their apartment or have and won't come back to fix it," said Benjamin. "The idea of having real penalties beyond fines is a good thing because right now they stand to gain by driving tenants out and paying the fines."
The Women's Equality Agenda and the DREAM Act
Both the Women's Equality Agenda, a ten-point plan that would fight pay discrimination, sex trafficking, and sexual harassment, and, most controversially, codify Roe vs. Wade in New York State's health code and the DREAM Act, which would provide college tuition assistance to the undocumented, have been defeated in the state legislature and show few signs of life.
While Hispanic and other legislators and supportive advocates are unlikely to give up on the DREAM Act, a path forward for the legislation is unclear.
Meanwhile, on the Women's Equality Agenda being brought back to the Senate for a vote, one legislator said, "It's so far away from the table that no one knows where they put it." But, expect groups such as NARAL Pro Choice to draw more attention to the issue as the session comes to a close; they plan to make the equality agenda a major election issue, and it could play into control of the Senate.
Chances of a Big Ugly
Although an end-of-session 'big ugly' is possible, many legislators feel that it will be increasingly difficult to move anything of significance as the session winds down and election season picks up. The IDC appears poised to challenge some sitting Democrats, while Democrats may get involved in primaries against IDC members. Republicans are confident they can win back Senate seats because this is not a year of big national races that could boost Democratic turnout. Meanwhile, Cuomo continues a balancing act between right and left that he seems to hope will boost his re-election numbers and set him up for a possible presidential bid in 2016. All perhaps leading to legislative paralysis.
"We got more done during the Senate coup," said one advocate, "Who would have imagined we would be in this position with the Senate? But that's life on Planet Albany."
***
by David King, Albany Editor, Gotham Gazette
@DavidHowardKing