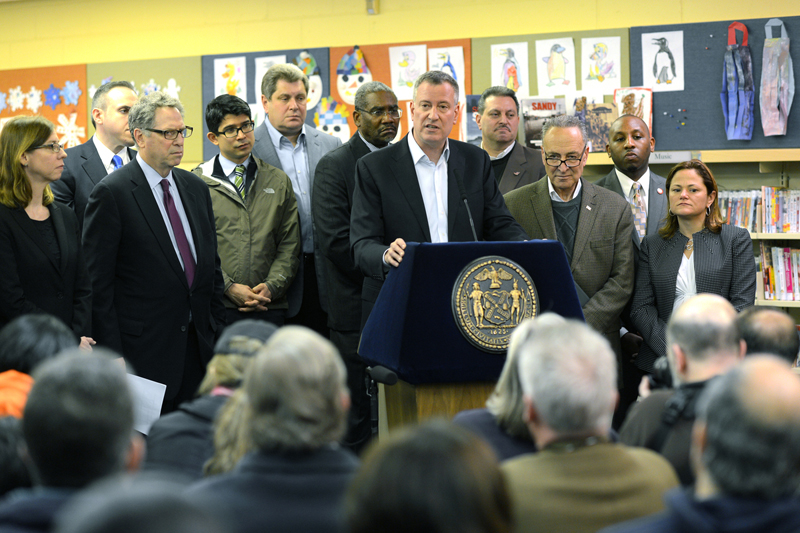 Mayor de Blasio making a prior Sandy recovery announcement (nyc.gov)

---
In September 2013, then-candidate Bill de Blasio made a mayoral campaign trip to the Rockaways, a region in Queens hit hard by Superstorm Sandy the prior year. De Blasio gave an impassioned speech vowing that, if elected, he would ensure that the jobs needed to rebuild the battered community would be filled locally.
"To me, the perfect equation is to have people building the houses they, and their neighbors, will one day occupy," de Blasio told the congregation at St. Mary's Star of the Sea Church on September 29, 2013.
Thus far, not many homes are being built. The Build it Back program, created by former mayor Michael Bloomberg and continuing under de Blasio, has been the target of serious fire in recent months. When Bloomberg left office on December 31, 2013, construction had not started on a single Build It Back home. As of Thursday, April 17 that number had jumped to just nine. The de Blasio administration could not confirm the number of local residents working on those building sites, but did say there were some.
To fix the Build it Back program, de Blasio ordered his Sandy recovery leadership team to deliver a diagnostic report and offer a new way forward. The report, entitled "One City, Rebuilding Together," was unveiled at the Build it Back headquarters on Staten Island on Thursday.
During the press conference, de Blasio reiterated his commitment to hiring local workers, announcing he is creating a new position focused entirely on workforce development and the employment of local residents. The position, which has not yet been filled, will report to Amy Peterson, the director of the Housing Recovery Office.
"We want to build a high quality, local workforce to play a part in the process," de Blasio said to claps and cheers from the residents on hand for the announcement. "If anyone deserves some of the employment opportunities in the recovery process, it is New Yorkers who were affected by Sandy."
While the promise of hiring local plays well to the crowd, it is in fact a requirement by the federal Department of Housing and Urban Development (HUD) - a department de Blasio served in during the Clinton administration. According to the HUD website, its Section 3 program requires that when financial assistance is given (as in the case of Sandy recovery), low-income local residents are provided with job training, employment, and contracting opportunities.
The program stipulates Section 3 residents must make up at least 30 percent of new hires on the building projects, however, if a contractor or developer chooses not to make any new hires on a job site, they would still be in compliance with the law without hiring local residents.
Alliance for a Just Rebuilding, a citywide coalition advocating for local jobs and more affordable housing in Sandy-impacted areas, sent de Blasio a plan recommending 30 percent of each crew, not just new hires, be Section 3 eligible to protect against the loophole. While it is a change the administration can make, it is not a suggestion they are currently committing to.
"Right now the requirement is for new jobs," Peterson said by phone Thursday. "We will be working to ensure we get as many people into local jobs as possible, but we are not making a wage change at this point."
Technically, the federal requirements are up to contractors to fulfill, but the de Blasio administration will be operating with a hands-on approach. Thursday's report noted the administration would be working with community organizations and labor unions to recruit local residents for work and training programs.
Utilizing community groups to find and train local workers is a process already used by developers on projects (many of which are subsidized) around the city. It is also a process Peterson is familiar with. Prior to her current role she was president of Nontraditional Employment for Women (NEW), a New York City organization that trains and places women in the skilled construction, utility, and maintenance trades.
Peterson said she expects to select three community organizations to work with, one in each major area affected by the storm. She added that that number could increase if needed. The organizations will be chosen from those that have already been helping on the ground in Sandy-impacted areas.
Residents will be able to go to these groups and receive Occupational Safety and Health Administration (OSHA) training, help with resumes, or if they are already trained, simply explore job opportunities. For residents not properly trained, these organizations will work with unions to get people into pre-apprenticeship or apprenticeship programs. These programs typically last several years, with both classroom and on-the-job training in a variety of trades.
Eric Bluestone, a partner at the Bluestone Organization, utilizes these training programs on his affordable housing projects around the city. A development company, Bluestone is currently contracted under the Build it Back program and will work to rebuild homes on Staten Island, although it has not yet started any projects.
"Historically, many of the workers came to the site and they did not have any training so they started off working primarily as laborers or laborers' assistants," Bluestone said by phone on Wednesday. "They did, for lack of a better term, the most menial tasks because they didn't have any training."
To address the issue, he said roughly eight years ago his industry began working with the building industry and education providers to train people. This would not only help them meet local hiring requirements for their projects, but also provide a service to the neighborhoods they were building in.
"Not only is it a benefit to the employer, because now they are getting someone from the community who has a better level of skill, but it is also a benefit for the community because they get career track training," Bluestone said.
He added that in some instances the residents did so well the subcontractors hired them on for other jobs.
"That is really what we want to see," Bluestone said.
Peterson said the federal money will not be used to pay for training programs but monies could be used to fund a workforce development connection organization.
Susannah Dyen, a policy coordinator for Alliance for a Just Rebuilding, explained that unions typically pay for the apprenticeship and pre-apprenticeship programs. Grants are sometimes also available, she said.
"The sizes of the apprenticeship programs are matched to how the market is growing and how much people are retiring, so if the unions and contractors know there is going to be more work down the line, they can have more apprentices," Dyen said by phone Wednesday. "By thinking about all the work that is coming down and what is the model we want for local hiring and training of New Yorkers, we can envision a system that would allow there to be more opportunities."
For de Blasio, these opportunities feed perfectly into the campaign message he pitched on his tour of the Rockaways seven months ago. While the details are not completely in focus just yet, his general vision remains.
"The ultimate goal is to reach people who were personally, specifically dislocated by the storm, either in terms of housing or employment, as much as humanly possible," de Blasio said on Thursday.
***
by Kristen Meriwether, Gotham Gazette
@MeriwetherK