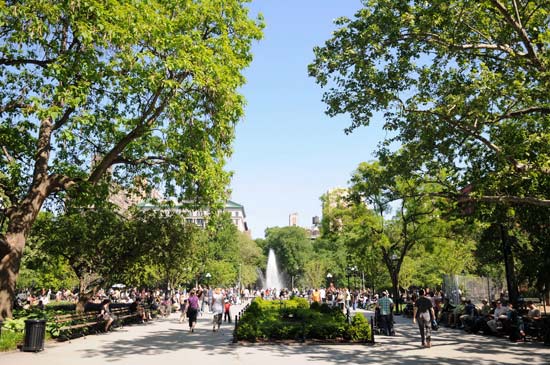 Washington Square Park (nycgovparks.org)
---
If you want to smoke in a park, go to Queens.
Since the city's ban on smoking in parks went into effect in 2011, only one ticket for violating it has been issued in Queens — at Flushing Meadows Park in June of 2012.
Compare that to a single day a few months earlier, on St. Patrick's Day, where 30 tickets were issued near Wollman Rink in Central Park to a large group of people smoking and drinking. But even that ticket blitz was unusual for the city's most famous park. Only 50 tickets for smoking, including those 30, have been issued in Central Park in the past three years.
Data on every ticket for smoking in parks issued from 2011 to early 2014 — obtained through a FOIL request from the Parks Department — shows a scattered enforcement of the law that spurred a debate about the reach of government and civil liberties a few years ago. Not surprisingly, most people haven't changed their mind on the law. Smokers still hate it and the law's proponents say it's been a success. Enforcement — which was a highly-debated issue at City Council hearings discussing the law — has been inconsistent and, seemingly, quite rare.
There is obviously no data on how many New Yorkers told other New Yorkers to knock it off — which is how Mayor Michael Bloomberg said the rule would be enforced — but the summons data reveals Parks Enforcement Patrol (PEP) officers will occasionally issue $50 fines for smoking, just not really in the 'outer boroughs'.
The total is quite underwhelming. Only 440 tickets have been issued in three years, which means unlike many other ticketable offenses in New York City, it's not a moneymaker. If every one of those tickets was paid, the city only raked in $22,000. Of the 440 tickets, 397 were issued in Manhattan; 17 in Brooklyn; 15 in Staten Island; eight in the Bronx and the one in Queens (the two leftovers were not identified by park).
There is no strict protocol for addressing a violation of the ban. "Depending on the circumstances, the individual PEP Officer typically gives a warning prior to issuing a summons," wrote Parks spokesman Philip Abramson in an e-mail.
For the most part, it seems that those who do not stop smoking when warned are issued tickets, and Parks Enforcement Patrol officers can follow that up with another ticket if the smoker continues using his/her cigarette, cigar, pipe or hookah. There is a vague park violation: "Failure to comply with directives of officer/park employee," which can be issued at the discretion of a Parks Enforcement Patrol officer and carries an additional $250 fine. It is unclear how many of these tickets were issued after a smoking ticket and Parks did not respond with that information.
Enforcement of the smoking ban is left up to the city's 160 or so Parks Enforcement Patrol officers. When asked why more than 90 percent of tickets were issued in Manhattan, Parks said that's just where PEP officers observe the rule-breaking.
"This is where our PEP Officers have observed smoking violations and they issued summonses where appropriate," wrote Abramson.
When asked about the small number of tickets in Queens and the other 'outer boroughs,' Abramson replied with the same thing: "Our PEP Officers take enforcement action wherever they observe violations."
That's not the case, according to many regulars in Manhattan's popular and historic Washington Square Park, a 10-acre park encompassed by NYU that accounts for one-third of the total smoking tickets since 2011.
On a recent beautiful day in the packed park, a handful of people smoked openly. There were no PEP officers around, but two chess players said even if the PEP officers were there, they wouldn't be issuing smoking tickets.
"Nah, they stopped that," said one regular who was smoking a cigarette.
"They don't do it anymore. They leave you alone," said another.
Based on the data, ticketing in Washington Square Park is very uneven. Between January and September 2013, not a single smoking ticket was issued in the park. But in October, PEP officers handed out 57 tickets (13 percent of these tickets ever issued in New York City). After the October frenzy, not one ticket was issued in the park in November, December or this January — and regulars say they haven't seen officers enforcing the rule in recent months.
In the first six months of 2013, only 18 tickets for smoking in parks were issued across the city. In the second half, 116.
This stark increase in tickets coincides with a rare hiring spree in PEP officers. Last summer, the Parks Department almost doubled its force, hiring 81 new PEP officers. Most PEP officers are not assigned to a specific park, rather a specific borough, and according to Joe Puleo, president of AFSCME Local 983, the majority are in Manhattan. Parks did not provide a breakdown of PEP officers by borough.
Audrey Silk, a retired police officer and founder of Citizens Lobbying Against Smoker Harassment (CLASH), an anti-anti-smoking group, guessed that spikes in enforcement have to do with novice officers exerting their newfound power. "As time goes on, it gets less exciting to the officer," she said.
Turnover at Parks among PEP officers is high, according to Puleo, which may account for the ups and down in ticketing. He said of the 81 PEP officers hired last year, 24 are already gone and that's primarily because of the low pay ($32,963 starting salary, according to a job posting on the Parks website that has been open since August.)
Silk also said for her, nothing has changed since the law went into effect and she continues to smoke in Brooklyn parks.
"It's just so toothless that it will fade into oblivion," she said, adding that, "bad laws deserve to be disobeyed."
On the other side of the debate, the law's proponents, including the city's Department of Health, said the law has been a success and become a part of the culture in New York
City.
"The law was part of changing social norms in the city," said Dr. Susan Kansagra, deputy commissioner for the Division of Health Promotion and Disease Prevention. "We think it's been successful."
Dr. Kansagra pointed to a study released last year by the Eastern Evaluation Research Society that showed smoking in parks decreased by two-thirds between the end of 2010 and 2011; the ban went into effect in May 2011.
Dr. Kansagra added that the law is similar to the smoking ban in restaurants and bars, which went into effect in New York City in 2003.
"This law is self-enforcing in the same way that the smoking law in restaurants is," she said.
Queens Community Board 7 member Phil Konigsberg said he thinks the law is becoming part of the norms in New York City.
"It's self-enforcing," he said. "Would you even think about going into a restaurant and lighting up a cigarette and smoking?"
Anecdotally, Beverly Nelson, a Bronx resident who has a son with asthma, said she thinks the law has been working.
"People just know they can't because they haven't been smoking," Nelson said, also pointing out that the amount of cigarette butts at Orchard Beach has decreased incredibly.
"I think overall the law is working. I see less smoking in our parks and beaches and pedestrian plazas," said Sheelah Feinberg, executive director of the NYC Coalition for a Smoke-Free City. "From my vantage point, I think it has been a successful policy."
Many of the people interviewed for this story said they thought it must be tourists who refuse to put out their cigarettes that are getting the tickets. For a tourist in New York City, the smoking law can be confusing because it is not against the law to smoke in nine state parks within city limits, including Riverbank Park in Manhattan and East River State Park in Brooklyn. Last year, a judge overturned the state parks ban on smoking after C.L.A.S.H. filed a lawsuit. Even so, Hudson River Park in Manhattan has taken it upon itself to ban smoking, though C.L.A.S.H. has filed another lawsuit to stop the ban.
If it is mainly tourists, some are getting the message. On April 14, two German tourists smoked outside the gates of Washington Square Park directly in front of a 'no smoking' sign. When asked if they had ever been ticketed, they said they had only been in New York City since Saturday.
"No, we're scared," one said.
"So we're out here," said the other.
***
by Adam Wisnieski for Gotham Gazette