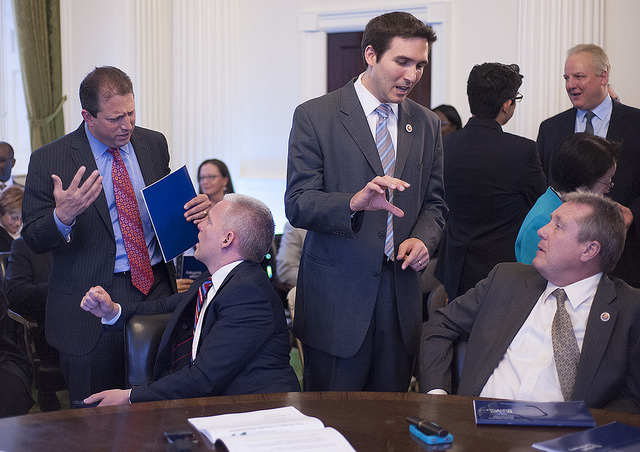 Council Member Ben Kallos (center) is a sponsor, (William Alatriste)
---
Filing a request under the Freedom of Information Law (FOIL) or simply checking the status of a request, could get easier if a new bill being introduced this week to the New York City Council becomes law.
On Wednesday, May 14, City Council Member Ben Kallos will introduce a bill to require a centralized, public, online FOIL system. If it passes the Council and is signed by Mayor Bill de Blasio, the measure would bring greater transparency as well as accountability to what is currently a very opaque and often frustrating process. Manhattan Borough President Gale Brewer, a long-time open data and transparency advocate, is a co-sponsor on the bill.
"What this hopes to correct is the fact that certain agencies are more responsive than others and it will hopefully provide uniformity," Kallos, who is chair of the council's government operations committee, said by phone May 9. "Certain FOIL requesters tend to get preferential treatment over others. This would provide a fair playing ground for all."
FOIL requests can be filed by anyone, but are often filed by journalists or advocates trying to obtain unpublished information from government agencies such as emails surrounding a particular event, politicians' schedules, or statistical records.
Currently, if someone wants to request information from the City, they send the request (which can be sent via email or regular mail, or faxed) to each relevant individual agency. Larger agencies, like the NYPD, often employ a FOIL officer who handles requests while smaller agencies, like the Mayor's Office of Veterans Affairs, tend to respond to requests through staff members with other responsibilities.
New York City does not currently have a method to track exactly how many FOIL requests city agencies receive because some agencies simply do not keep a record. There is also no centralized or public method to track how long processing FOIL requests takes, to inform people who is handling the request, and how long until the request will be answered.
Many of these issues were brought up by then-Public Advocate Bill de Blasio in an April 2013 report, "Breaking Through Bureaucracy." The report, which took two years to compile, found that 10 percent of FOIL requests are simply ignored. The NYPD, who has a reputation for being one of the least transparent agencies in the City, received an "F" from de Blasio along with the New York City Housing Authority (NYCHA). Other than media stories expressing outrage over the current state of the FOIL system, there is no data-driven, public mechanism to hold city agencies accountable for fulfilling FOIL requests.
"The foil system as we know it in New York City is a bit of a mystery. It is a black box," John Kaehny, executive director of the good government organization Reinvent Albany, said by phone May 9. "The irony is that this is the single most important transparency tool the public has, and yet the process itself is completely opaque."
Creating an online portal could solve many of the transparency issues that plague the current system. Through what the bill calls "Open FOIL," requests would be sent to one centralized website, ending the time spent tracking down the correct email or physical address for a particular agency. Requests would be entered electronically and anyone would be able to see who is requesting what information from which agency.
Each time a request moves along in the process, progress will be tracked and the system will notify the sender. Once the FOIL request is filled, the information requested would not only be emailed to the person who sent the request, but also published on the portal so anyone could access the information.
"We are not changing FOIL per say, but we are making it more transparent," Brewer said by phone May 9. "FOIL is the best way to make people aware of what is being asked for and there is no better way than to put it up on the web"
She added the system would require no additional work for staff processing FOIL requests.
Kaehny said it would not only ensure transparency, but fairness. If an agency was consistently choosing to answer requests from more influential groups and not smaller organizations, or was not answering a FOIL request because the topic is politically sensitive, the evidence would be there for all the world to see.
Competitive Advantage
Having FOIL data online will bring transparency to the process, a welcomed change for frequent users of the system, like reporters. But it will also lift the veil on what issues news agencies are investigating. In a hyper-competitive media market such as New York City, this could cause some publications to at least pause before lending their support to the legislation. But Kallos, Brewer, and Kaehny all said that the FOIL requests of news agencies are not as top secret as we assume.
"Open FOIL has already happened in other cities, including Oakland and Chicago, which still have a robust free press and Fourth Estate," Kallos said. "Furthermore, reporters already have the capacity to FOIL other FOIL requests, so the only change is an improved and centralized system."
Kaehny said he has seen evidence of news agencies submitting FOIL requests to obtain the FOIL requests between, for example, the New York Daily News and the NYPD. He said it happens a lot more than one would think. The key differences with the proposed new portal are that everyone will easily be able to see who is doing what and all will have access to the same information.
Kaehny believes because of this, the practice of identifying the requester's name online could be one of the more contentious points of debate. Oakland puts a point of contact on their online database. Chicago puts the name of the requester, as well as of the organization.
What Will it Look Like?
How the portal will look has yet to be determined, but the City does have an example to go by. The City of Oakland, California implemented an online FOIL portal called RecordTrac in 2013 after public records requests there became larger and more complex following the Occupy Oakland movement.
Oakland partnered with Code for America on the project, beginning the process in February of 2013 and launching a one-department pilot program by that July, according to Richa Agarwal, a Code for America fellow on the team that developed the portal. During a May 9 phone interview, Agarwal said that the Oakland police department was the most difficult agency to get online, but by October 2013, all city agencies in Oakland were using RecordTrac to process FOIL requests.
Agarwal, along with several of her Code for America colleagues, created a company called PostCode to help maintain the RecordTrac site and help other cities use the technology they created.
The Oakland system was made open source, meaning anyone can take the software, copy it, and manipulate it for their own use - all for free. New York City Council Member Kallos said that while the bill he is proposing does not mandate using free software, he will champion for it.
"We wouldn't have to pay for the software and would likely have to devote a few hours of a software developer who is already on our payroll to set up," Kallos said. "If we are using free libre and open source software, we would have the chance to develop our software in a more agile way, more like the way Google does things than how government has historically worked."
He estimated the process could be set up and fully operational in New York in a matter of a few months.
Mayor Transparency?
The mayor finds himself in an interesting position on FOIL reform. As public advocate, de Blasio brought the FOIL issue to the forefront with his 2013 report, demanding then-Mayor Michael Bloomberg create a more transparent FOIL process. Bloomberg didn't budge, and de Blasio used it as a rally cry on the campaign trail.
But as mayor, his actions have not matched his words. Shortly after taking office, Mayor de Blasio found himself on the receiving end of a FOIL request he didn't seem to want to answer. The press wanted to know if he in any way helped get a campaign supporter, Bishop Orlando Findlater, out of jail on Feb. 12. In a picture of irony, neither the mayor's office nor the NYPD (a department for which the mayor is responsible), returned repeated FOIL requests.
Azi Paybarah, a senior reporter for Capital New York, wrote an extensive piece on April 4 detailing how the de Blasio administration handled the situation, including Paybarah's many inquiries. Later that day reporters finally got their response: "A diligent search for the records responsive to your request did not produce any responsive records."
With this legislation, the mayor will be given another opportunity to let his actions match his campaign promise. Gotham Gazette reached out to the mayor's office to guage de Blasio's support for the bill and was given a measured response.
"The mayor's office applauds the broad objective and intent of the bill, [and are] looking forward to reviewing the legislation more closely," Phil Walzak, the mayor's press secretary, said by email May 11.
The bill sponsors have not forgotten de Blasio's public advocate report, and are prepared to hold him to his word.
"As long as the mayor signs [the bill], I think he will have met his public advocate recommendation criteria," Brewer said.
Kallos said he has spoken briefly with the mayor about the legislation and he said de Blaio seemed enthusiastic.
Kallos added, "I am confident I will be able to work with our council and the mayor to get Open FOIL passed because it is, after all, his idea."
***
by Kristen Meriwether, Gotham Gazette
@MeriwetherK