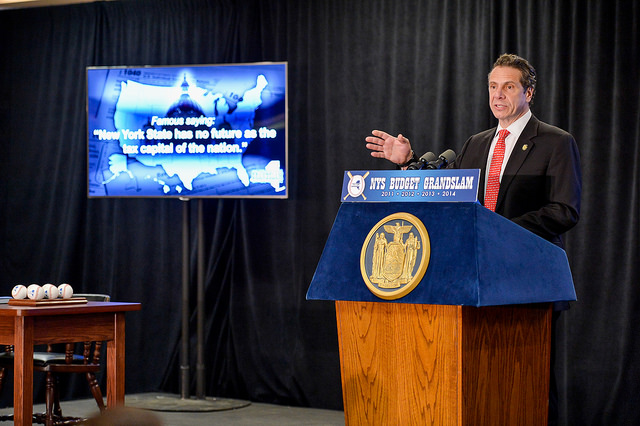 Gov. Andrew Cuomo (governor's office on flickr)

---
Gov. Andrew Cuomo began efforts this month to quiet his critics on the left, including election-reform activist Jonathan Soros, by coming up with a plan for larger campaign finance reform - if not actually get it passed. Cuomo met with good government groups and a Working Families Party (WFP) official last week and discussions between good government groups, Cuomo, and state legislators will continue this week. Cuomo has been hit hard of late by the WFP, advocacy groups like Citizen Action, and the Daily Kos for not forcing expansive public campaign financing as an issue in the state budget, when he had the most leverage, and for disbanding the corruption-investigating Moreland Commission.
It took only a few weeks after the budget deal for Cuomo to change his stance that state senate Republicans were blocking all attempts at reform and that he as a governor shouldn't force legislators to vote for something they don't support. "Well I should force them to do what they don't want to do," Cuomo had sarcastically said to reporters on April 24. "You know, that's not really the role of a governor, that's not really possible at the end of the day. Public finance, it's a close vote, but we don't have the votes."
It was a hard sell to good government groups and progressive media because Cuomo has previously been able to pressure legislators to act even when they said they had vowed not to, such as votes for gun control and same-sex marriage - even when it hurt their chances of reelection.
Last week Cuomo's tune changed drastically: "This cannot wait another year," he wrote in an op-ed for The Huffington Post, adding, "Hopefully I will not need to campaign on public finance because it will be a reality. But to end the session without the Senate Majority Coalition agreeing to public finance would be a true failure and a lost opportunity."
Cuomo, a master of the state's current campaign finance system, has a war chest of over $33 million.
So what changed the governor's mind? According to a number of sources Cuomo was moved to action by a Siena Poll that showed his 58-28 head-to-head lead reduced to 39-24-24 if the WFP backed its own candidate. Cuomo wants to win relection by the widest margin possible to position himself as a national force and his campaign chest might not be able to overcome the hurt feelings of his base.
Over the last two weeks the Cuomo administration has faced quite a bit of fire: reports about its lack of transparency, with news of aides conducting government business via personal e-mail accounts and Blackberry messenger so that their communications won't be subject to FOIL; questions about its involvement in the Bridgegate scandal; blistering editorials from The New York Times and other major news outlets about its decision to scrap the Moreland Commission; and perhaps most strikingly, having Preet Bharara, the U.S. Attorney for the Southern District of New York, openly question Cumomo's decision to shutter Moreland and then subpoena the commission's cell phones, records and communications (Bharara also issued subpoenas to The Joint Commission on Public Ethics, Cuomo's other often criticized ethics watchdog).
Papers also lambasted Cuomo for what was perceived as a hyper-political move in the budget to include some form of public campaign finance that established a pilot system for the comptroller's race for one year. Cuomo is known to have a rocky relationship with incumbent Comptroller Thomas DiNapoli.
Earlier last month, former and current members of the Cuomo administration began a stealth campaign, doggedly trying to tip off reporters and members of good government groups to issues they have with the Astorino campaign in hopes of producing damning stories and ethics complaints. Since then the state Democratic party has taken most of the public measures to attack Astorino while Cuomo's emissaries have made the rounds at political club events trying to assuage the more liberal members of the party.
Cuomo may be able to tack left and thus right the ship and garner national attention if he were to enact a campaign finance system. Achieving such reform is all-the-more likely because IDC head Sen. Jeff Klein has been facing his own deluge of criticism from activists and his new primary challenger, Oliver Koppell, for failing to deliver on big ticket progressive items. Republicans may not be able to risk losing their alliance with Klein and have reportedly begun considering different campaign finance reform measures.
One proposal that has been floated would phase in public financing of campaigns in races without incumbents, another plan would offer different levels of funding depending on the region. A number of senate Democrats remain skeptical and say they won't support a watered-down plan. Assembly Speaker Sheldon Silver issued a statement saying he was "encouraged by Cuomo's commitment" to the issue, but added, "We need a strong campaign finance law that lessens the influence of big money on our elections and levels the playing field for all New Yorkers who want to compete for public office, and we need to enact such a law to take effect sooner rather than later - 2020 would be too late."
A number of good government group members indicated that they will not buy in to a measure that is "half a loaf" and delivers Cuomo a political victory without serious reform.
***
by David King, Albany editor, Gotham Gazette
@DavidHowardKing
---