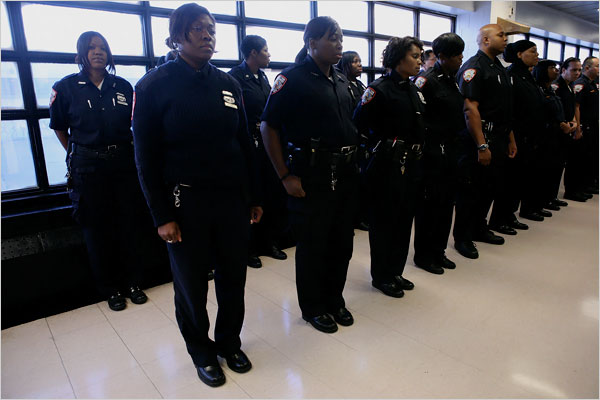 Guards at Rikers Island (Michelle V. Agins/The New York Times)

---
Ismael Nazario remembers when solitary confinement broke him. "I just talked to myself, answering myself, pacing back and forth," recalled Nazario to Gotham Gazette last year. He had been in "the box" for 3 days - his longest stretch in the tiny room with cot and toilet lasted 4 months. Nazario was 16, at Rikers Island awaiting trial for a robbery when he was sent to solitary for pushing an officer while being caught with contraband.
It's typical for solitary confinement to break a person - to make them hallucinate, talk to themselves, lose control, fling feces and urine around their cell - solitary, after all, is designed as severe punishment. And the number of prisoners in solitary confinement at any one moment may surprise you. More than 5,000 prisoners are in solitary confinement in New York state prisons and city jails at any one time. But a growing number of legislators and activist organizations in the state say the practice does permanent damage to inmates, leaving them haunted by their experiences in the box, and thus makes it harder to rehabilitate them. A 2013 study by the New York Civil Liberties Union found that extended solitary confinement does permanent mental damage to youthful inmates.
These advocates are seeking significant changes to the use of solitary.
One major piece of legislation pending in Albany, called the Humane Alternatives to Long-Term Solitary Confinement Act (HALT), would set major restrictions on how solitary confinement can be used. The bill stipulates that no prisoner could be in solitary for more than a 15-day stretch, or for 20 days in a 60-day period. Prisoners who would be placed in solitary for more than 15 days would instead have to be sent to a separate residential rehabilitation unit with therapy and out-of-cell programming.
The bill would ban the use of solitary confinement on prisoners under the age of 22 or above the age of 55, prisoners who are pregnant, who have a mental or physical disability or who are "perceived" to be LGBTQ.
Meanwhile, the Corrections Officer Benevolent Association (COBA) insists that solitary is an integral tool to maintaining the safety of both officers and prisoners. Prisoners are sent to solitary for being involved in gang violence or drug sales, or for attacking officers or fellow inmates.
COBA president Norman Seabrook told the Center For Investigative Reporting in March that he felt solitary confinement isn't used enough.
In February, the State reached a deal with the New York Civil Liberties Union to settle a suit arguing that the State's use of solitary violated the U.S. Constitution. As a result the State agreed to several changes: limiting the time inmates ages 16 and 17 are in solitary to 19 hours a day while providing them with the opportunity to exercise outdoors five days a week; stopping placement of pregnant inmates in solitary other than in exceptional circumstances; and limiting the time developmentally-disabled inmates can spend in solitary to 30 days.
Incremental Change
Activists say the agreement isn't good enough and laws need to be changed. But legislators admit that it is unlikely a sweeping change to the state's solitary confinement system will be enacted this year because of the gubernatorial election. Changing the solitary confinement system could be seen as being soft on crime and the correctional officers unions remain steadfastly opposed to easing the rules.
Assembly Member Jeffrey Aubry, sponsor of the HALT legislation in the Assembly, called getting the bill passed this year "an uphill battle" during a rally against prison injustice in Albany on May 5th. Both the Senate and Assembly versions of the HALT legislation await action in corrections committee.
Assembly Member Daniel O'Donnell of Manhattan, who backs legislation that would ban solitary confinement for youth under the age of 21, said that he feels incremental change to solitary is more likely. "We aren't going to ban solitary confinement overall," O'Donnell said in an interview this week. "I don't think it is in the political wheelhouse in a gubernatorial election year. But I think we can take certain groups and populations and say we're not going to allow you to be held like that."
On May 13, the Assembly's corrections committee passed both O'Donnell's bill and Assembly Member Nily Rozic's that would ban solitary for pregnant prisoners. Neither bill has a corresponding piece of legislation in the Senate though.
O'Donnell says that while he thinks the State's recent settlement is a step forward, it does not impact the use of solitary on Rikers, as any of the pending legislation would. "The settlement does not impact local jails," he said. "Solitary is used on Rikers as a punishment. The idea that young people need to be treated differently seems to be accepted everywhere else in society: they can't vote until they are 18, they can't smoke, they can't join the military so I'm not sure why people think it is safe to punish them when they are young and still developing. Just to make this law and extend it to Rikers Island would be a big thing."
"Giving these young people a pass because they're 17 years old, I'm not impressed with that," Seabrook told the Center For Investigative Reporting in March. "I have a brother doing 25 years to life. We had the same mom. He chose one way of life, I chose another, but he doesn't get a pass from me, either."
Megan Crowe-Rothstein, of the Campaign to Alternatives to Isolated Confinement, said that HALT is their priority but that they support any bill that would "reduce prisoners' contact with solitary confinement."
"We don't want to lose sight of the big picture here," said Crowe-Rothstein, noting that she understands the legislature may not be able to deal with the entire solitary confinement issue at once. "This is about reforming a system that has been compared to torture and ensuring civil rights," she said.
Crowe-Rothstein says that families across the state are concerned about the way their relatives have been treated in county jails like Rikers. The New York City jail generally has more young people in solitary confinement at one time than any other jail in the state.
The New York City Council has also taken up the issue of solitary on Rikers. Council Member Daniel Dromm has introduced legislation that would require the department of corrections to publically post a detailed accounting of its use of solitary confinement. COBA is strongly opposed.
The Odds
Gov. Andrew Cuomo has made reforming the state's juvenile justice system and prison system a major focus of his first term. Cuomo has closed underutilized prisons across the state and even declared that "An incarceration program is not an employment program" during his 2011 State of the State Address. "If people need jobs, let's get people jobs," the governor said in the address. "Don't put other people in prison to give some people jobs. Don't put other people in juvenile justice facilities to give some people jobs. That's not what this state is all about. And that has to end this session..."
The 2011 statement was seen as a direct assault on upstate legislators who desperately protect their prisons because they are the major source of employment for their communities. This year Cuomo kept up his prison reform efforts by proposing funding college classes for inmates. That proposal was savaged in the press and by legislators who saw it as weak on crime and insulting to families that can't afford to send their children to college. While Cuomo feels major pressure from black and Latino legislators to deliver on prison reform it seems unlikely he will take this issue up heading into a heated election. It also seems unlikely that the Senate Republicans would allow any of the solitary bills their support.
O'Donnell notes, however, that June is the month when legislative deals come together quickly: "Everything is available for trade in those last-minute discussions. But those discussions are above my pay grade."
And public pressure is mounting. Advocates point to the fact that violence in Rikers is increasing despite a decreasing inmate population and the stories of terror and mayhem suffered by inmates appears to be hitting critical mass with families complaining to the media and elected officials.

The medical community is also focusing on a study published in February in The American Journal of Public Health that found that inmates held in solitary in New York City jails are nearly 7 times more likely to harm themselves than other inmates.
Nazario told Gotham Gazette that he continues to carry his experiences in solitary with him. But, he has not been completely crippled - the 25-year-old now works as a case manager for at-risk youth at the Center For Community Alternatives in Brooklyn.
***
by David King, Albany editor, Gotham Gazette
@DavidHowardKing