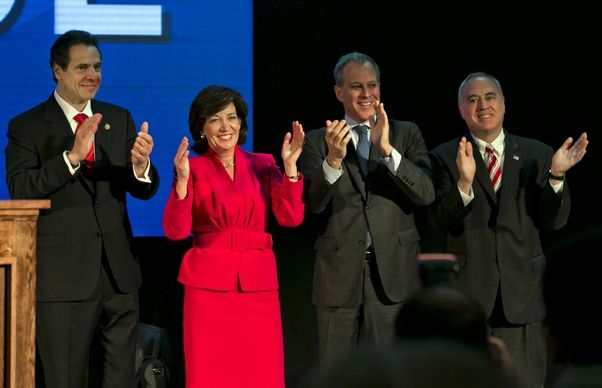 The 2014 Democratic ticket (Richard Drew/AP)
---
Last week's State Democratic Convention was supposed to highlight Democratic unity, but instead it spotlighted a growing sense of unease and dissatisfaction the party's base feels for its leader. For an increasing number of liberal Democratic elected officials and party members, Gov. Andrew Cuomo is simultaneously the most powerful and most questioned New York Democrat.
A number of prominent Democrats aren't trying to hide their gubernatorial disillusionment anymore - they walk out of rooms when he is speaking, they laugh sad laughs and hold their heads when asked about his support, and they gleefully imagine scenarios by which he might be dealt some form of comeuppance.
Others keep the signed "grand slam" baseball the Cuomo administration sent every legislator as a budget memento on their desks - not as a reminder of what a success the 2014 budget was but instead to remind them about the issues they valued that weren't included in the budget: no DREAM Act, no meaningful campaign finance reform, no tax on the wealthy to fund universal prekindergarten, no Women's Equality Act. Some still harbor great resentment over Cuomo's broken 2012 promise to back independent redistricting. And then there's what many call Cuomo's premature disbanding of his Moreland Commission on Public Corruption.
But, for Cuomo the election this fall is a question of margins and projections: How big will he win in upstate New York? Will he run up the numbers downstate? Can he avoid losing Western New York? How well will his victory play with national pundits and politicos?
Beside the possible annoyance of The Working Families Party (WFP) running a candidate to his left that cuts into his lead, the governor's reelection seems all but a foregone conclusion. Cuomo even made his choice for a new running mate less to appease the liberal wing of the party and more with a big victory margin in mind. With Kathy Hochul as his likely next lieutenant governor, Cuomo chose someone who has differed from more progressive Democrats on immigrants' rights and gun control.
And yet when Democrats met this past week in Long Island to nominate Cuomo for his second run it was clear that Cuomo's party is in much worse shape than he is. Thanks to Cuomo's predilection for politically kneecapping all potential Democratic rivals, his embrace of conservative economics, his willingness to accept breakaway Democrats, and his disinterest in supporting other party-mates, Cuomo is the lead candidate of a state party that exists almost exclusively to boost him and finds itself in a not insignificant amount of disarray.
Multiple interviews with legislators, delegates, staffers and advocates paint a picture of a Democratic party divided by its leadership, with an uncertain agenda, and concerned for the reelection of the comptroller and attorney general despite a major registration advantage.
"The reality is that this is Cuomo's party," said Doug Muzzio, professor of political science at Baruch College. "Everything out of second floor is set at maximizing his win. So I could see where others are concerned this is a one man show. But these guys also have to consider if he wins big it may help you even if there is no kumbaya moment."
This past week at the party convention in Melville, some expected Cuomo to make amends with the party by paying lip service to recapturing a majority in the State Senate while focusing on issues important to the party faithful like the DREAM Act, campaign finance reform and The Women's Equality Agenda.
That isn't what they got. Instead Cuomo's hand picked new party chair, former Gov. David Paterson told reporters at the convention that recapturing the Senate isn't exactly a priority.
The Fractured Senate
While Sen. Mike Gianaris, head of the Senate Democrats campaign committee, has been saying 2014 is the year Democrats recapture the Senate, Paterson was clearly hedging, saying that with limited resources "you have to have a plan that is more pragmatic than hopeful." Cuomo did not back fellow Democrats in attempts to win the majority in 2010 and 2012, he only endorsed a few single candidates.
Meanwhile, a convention resolution calling on the Independent Democratic Conference (IDC) to return to the mainstream fold was tabled by delegates, despite the fact that the room was full of enough anti-IDC sentiment that its mention by conference speakers brought boos from the crowd.
A great number of legislators and delegates see the IDC as standing in the way of The Dream Act, a larger minimum wage increase, and the full Women's Equality Act.
Dan Cohen, a state committee member from Manhattan who sponsored the resolution calling on the IDC to return to the fold, was chided by other members for causing "dissension." Cohen told his colleagues that he had tried less-public means to get his message across but was brushed off. A reporter asked Cohen for his take on Cuomo. "I believe Governor Cuomo is doing an excellent job as governor, but can do a better job as a Democrat," he said.
More progressive members of the Senate Democrats express great angst at the idea that Cuomo hasn't pushed the IDC to return to the mainstream. Insiders say that the IDC is simply something they have to get used to. "If this arrangement wasn't working for Andrew it simply wouldn't exist," said one Democratic insider.
Assembly Speaker Sheldon Silver told reporters at the convention that he felt Democratic control of the Senate is vital to Democratic issues.
The battle between the IDC and the mainline Senate Democrats is going to cost Democrats as a whole. Instead of focusing on a unified agenda, Democrats are primarying each other, with challenges mounted to IDC members Sens. Jeff Klein and Tony Avella. On the flipside, Senate Minority Leader Andrea Stewart-Cousins is facing a challenge from the IDC and progressive Democratic Sen. Gustavo Rivera is being primaried from his right.
"Both sides could be spending cash to elect one unified Democratic conference. Instead you've got Democratic candidates spending cash against Democratic candidates. Does that sound like party unity to you? The Republicans love this!" said one insider who asked to remain anonymous for fear of jeopardizing relationships.
Muzzio said that these kind of primaries are to be expected and so is Cuomo's lack of interest in winning the Senate back for Democrats. "This has been his modus operandi from the beginning. He clearly feels real comfortable with having Republicans running the State Senate."
Another potential convention resolution running counter to Cuomo's messaging was tabled by a vote of 21-20. Former party chair Jay Jacobs introduced a resolution that called on Cuomo to reject the nomination of the Independence Party. Jacobs labeled the Independence Party as one built on fraud that exists to keep Senate Republicans in power.
At the convention, the Cuomo camp kept up the message that the governor had yet to decide what to do about the Independence Party line. Cuomo repeated that talking point to reporters after his appearance with President Barack Obama in Cooperstown on Thursday. The next day the Independence Party unveiled its ballot line and Cuomo was on it. Cuomo had signed the paperwork on the same day he had told reporters "This is a decision we will be making down the road."
Comptroller and AG Face Tougher Roads
Another sign that the Democratic Party isn't quite unified is that its attorney general and comptroller are both struggling with name recognition while heading into election season. Both Comptroller Tom DiNapoli and Attorney General Eric Schneiderman lead in the polls but Republicans and some Democratic insiders think 2014 presents the best chance since 2002 for Republicans to reclaim one of the two seats.
Cuomo's relationship with both men has been testy. In 2010, during Cuomo's first run, he was investigating the comptroller's office for suspicious investments. During the campaign Republican Harry Wilson insisted DiNapoli himself was being investigated by Cuomo, attorney general at the time. Cuomo's office didn't do anything to rebuff those assertions until early October.
Earlier that year it appeared that Cuomo backed Nassau County District Attorney Kathleen Rice in the Democratic primary for attorney general. Since their election Cuomo and Schneiderman have had a tense relationship with Cuomo looking to weaken the AG's office, in part by increasing the governor's role as Wall Street watchdog - the two battled over JP Morgan settlement funds initially won by Schneiderman. It looked like a deal had been reached to split the funds but Cuomo convinced the Legislature to give him complete control over such monies in this year's budget agreement.
Insiders also note that Cuomo's fundraiser, Blaney & Associates, is now working for Schneiderman's Republican challenger John Cahill.
"Cuomo isn't going to lose," said Muzzio. "So if someone is going to lose it is DiNapoli or Schneiderman. But the question is, 'Can Republicans run real campaigns, with real messaging and real issues? You can't beat somebody with nobody."
All these cracks in Democratic party unity are music to Republicans' ears even though their house isn't exactly in order. In 2010, the State Republican Party was in civil war during Cuomo's first run. Rick Lazio, the establishment-backed Republican candidate, lost a nasty primary to Tea Party member and Buffalo businessman Carl Paladino. Cuomo thrashed Paladino in the general election and some strategists believe Paladino's run boosted other Democrats around the state because he was so conservative.
This time around Paladino looked to get involved in picking the Republican nominee - he trashed the current GOP candidate, Westchester County Executive Rob Astorino, and tried to draft Donald Trump to run on the GOP line. Paladino has since come around to Astorino, but tensions remain elsewhere in the party. Conservative Republicans are upset that Senate Republicans led by Sen. Dean Skelos have allied themselves so closely with Cuomo and helped him pass marriage equality and SAFE Act gun-control legislation.
Cuomo's World
Democratic legislators acknowledge they are simply part of Cuomo's world at this point and have no choice but to go along for the ride. Many just hope to gain from Cuomo's victories and not be destroyed or diminished by him along the way.
They point to the convention and Cuomo's introduction by New York City Mayor Bill de Blasio. "The Cuomo camp is just masterful," said Muzzio, "he has one of the most liberal figures statewide and nationally in de Blasio introduce him and then the female, Latina, progressive head of the City Council introduce his running mate. He puts on his liberal face and then he followed it up with his centrist, Republican messaging."
Muzzio notes that de Blasio's introduction followed months of Cuomo roughing the mayor up publically on policy issues. "He nominates him after he gives him a beating on pre-k, after giving him a beating on charters," said Muzzio. "He is sending the message 'I'm the top dog and de Blasio is doing my bidding.'"
***
by David King, Albany editor, Gotham Gazette
@DavidHowardKing