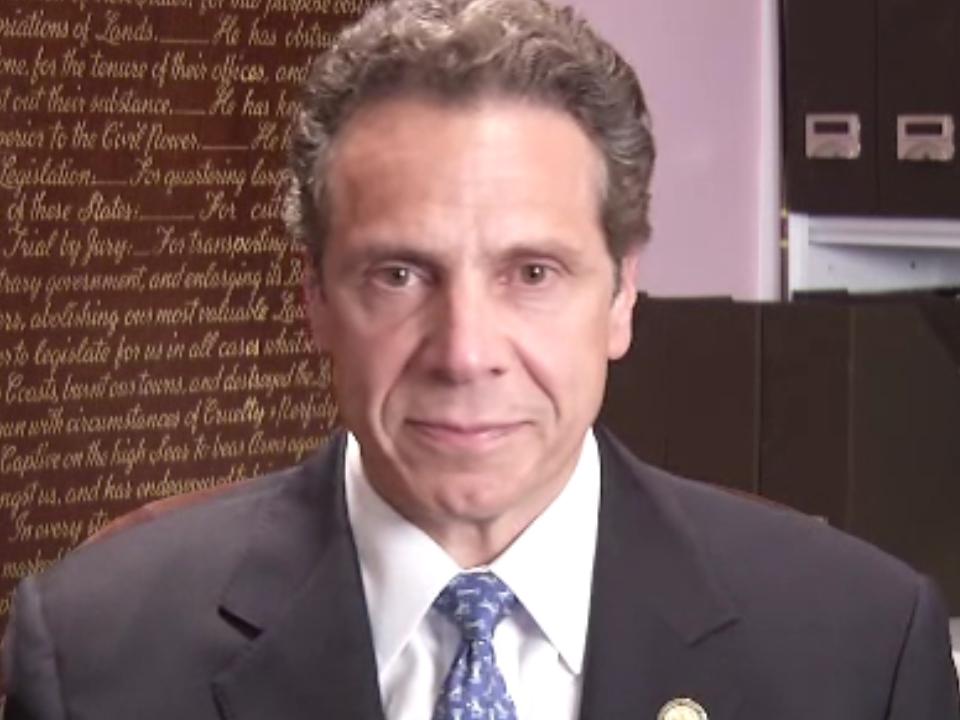 Governor Cuomo during his video message to WFP delegates 5/31
---
On Saturday, national pundits gasped as Gov. Andrew Cuomo and the Working Families Party (WFP) hashed out a last-minute deal for the WFP ballot line. It felt a bit like a contract negotiation as WFP officials bartered with Cuomo over which progressive issues he would express support for in a pre-recorded video that was eventually aired for rowdy and restless convention delegates. Even so, the video language wasn't precise enough for WFP heads so Cuomo was patched in on an iPhone over the speaker system to elaborate on specifics.
The labor-backed WFP was split between powerful union heads who wanted to endorse Cuomo and advocates who are angry Cuomo has worked closely with Republicans, business executives, and breakaway State Senate Democrats. Cuomo's camp is set on winning re-election by as big a margin as possible and recent polls have shown a theoretical WFP candidate running to the left of Cuomo could siphon 20 points off of his 57-28 lead in a heads-up race with Republican Rob Astorino. One hundred and fifty thousand New Yorkers voted for Cuomo on the WFP line in 2010.
For some, Cuomo's promise to back Democratic candidates and Democratic policies wasn't exactly a big deal or a big win for the WFP. Cuomo promised to back progressive issues like giving municipalities the right to raise their minimum wage and The DREAM Act, along with a host of other legislation, as well as work to flip the Senate to Democratic control. But many observers say the WFP is simply asking Cuomo to act like a Democrat and that they have nothing to hold him to his word.
For some, it was surprising and troubling to see the centrist Cuomo align himself with his party's leftmost flank after four years of touting bipartisanship and focusing on the upstate economy.
But for a number of national pundits, good government activists, and legislators the shock was that Cuomo was conducting transactional politics in such a public, unabashed manner.
State Republican Chairman Ed Cox seized on the dealings and called for an ethics investigation. "Andrew Cuomo's backroom dealing with the Working Families Party represents the worst of Albany" Cox said in a statement.
"That Cuomo's actions are cynical and unethical are without question. Whether or not they constitute actual bribery is worthy of an investigation, and I call upon the proper authorities to begin one as soon as possible," Cox continued.
Albany's veteran observers say that transactional politics are the foundation that New York state government is built on and it shouldn't be a shock to anyone. "Transactional politics is the oxygen that Albany breathes," said Blair Horner of The New York Public Interest Research Group (NYPIRG).
Gerald Benjamin, professor of political science at SUNY New Paltz, agrees: "We were dealing with the classic choice of a third party between the purity of their principles and pragmatic politics."
Karen Scharff, the head of Citizen Action NY and a co-chair of The Working Families Party, said that her organization's endorsement of Cuomo was only atypical in that Cuomo is much more powerful than most candidates they endorse. "Any endorsement the WFP does is based on the issues," she said. "This just happened in a way more visible version because this was not a normal candidate - the governor is way more powerful and has more of an ability to get things done than most candidates."
New York's Wilson Pakula law allows for third parties to cross-endorse and Benjamin says that lends itself to these sort of deals. "It is one of the unique characteristics of New York," said Benjamin, "in that you can genuinely see the results. So these cross-endorsements encourage transactional politics. The Working Families Party Line is worth 150,000 votes. We don't know where those votes go if the line isn't there."
The Wilson Pakula law came under major scrutiny last year when Sen. Malcolm Smith was arrested for allegedly trying to bribe New York City officials for the Republican line for mayor. In April of last year Gov. Cuomo unveiled a package of reforms that included a repeal of Wilson Pakula. "You have heard the expression pay-to-play, this is pay-to-run," Cuomo said at the time.
"The allegation is that the minor parties on occasion have used campaign contributions to determine who gets the line, and it's almost that the line goes to the highest bidder...eliminate Wilson Pakula and make it easier for people to run for nominations by basically having open primaries for candidates," Cuomo explained at a press conference unveiling his anti-corruption proposals. "Allow them to run without the approval of the party hierarchy, the party leaders, the party bosses."
Cuomo's reported deal with the WFP includes establishment of a $10 million fund to help Democratic candidates win back the state Senate. Many of those candidates will, of course, hold the WFP ballot line.
Bill Mahoney of NYPIRG points out that in 2012, 52.36 percent of the WFP's funding came from transfers from candidates - most of whom the WFP had endorsed.
Cuomo's proposed revision of Wilson Pakula would have weakened the WFP along with the Independence and Conservative Parties as they would lose the ability to be seen as a vote aggregator for a major party candidate. But, the Legislature resisted the reforms and Cuomo eventually empaneled the Moreland Commission on Public Corruption.
Interestingly enough it was Cuomo's admitted dalliance in transactional politics that brought an end to that same commission in May of this year. "If this package is adopted, then I would end the Moreland Commission," Cuomo told reporters on a weekend conference call before the Legislature voted to pass this year's budget. The governor pointed out that he initially called the commission because legislators refused to pass his reforms.
Good government groups were shocked when Cuomo disbanded Moreland and U.S. Attorney Preet Bharara subpoenaed the commission's records and its communications with the Cuomo administration. Cuomo later explained his thinking around the commission thusly: "It's not a legal question. The Moreland Commission was my commission. It's my commission. My subpoena power, my Moreland Commission. I can appoint it, I can disband it. I appoint you, I can un-appoint you tomorrow. So, interference? It's my commission. I can't 'interfere' with it, because it is mine. It is controlled by me."
It was a bit of honesty from Cuomo that has become more familiar in the past two years. Observers like Horner note that Cuomo has become increasingly upfront about his calculations as he has become more comfortable as governor.
"He is a political mechanic," said Horner, who worked for Cuomo briefly during the governor's time as attorney general. "If I was a political cartoonist I would have him with his sleeves rolled up, under the car tinkering with the engine. His thing isn't the design but how things work. He isn't as interested in policy as he is in how you get things done politically."
Cuomo ran for governor in 2010 as an Albany outsider, distancing himself from the rampant corruption, arrests in the Legislature and the dysfunction wrought by the 2009 Senate coup, which saw Republicans strike a deal with former Democratic Sens. Pedro Espada and Hiram Monserrate to wrest control of the chamber from Democrats and left the Legislature paralyzed for months.
Voters were fed up with Albany insiders so Cuomo ran against Albany, but pundits point out that Cuomo was raised in Albany under Governor Mario Cuomo, his father, and Andrew became the family's political prodigy, and its fixer. The younger Cuomo more than anyone else knows that Albany runs on transactional politics and knows how to make the system work. And Horner points out that that is not necessarily a bad thing at all: "Look at what he has been able to get done this way," said Horner before running through a list of Cuomo's accomplishments that includes same-sex marriage, gun control, casino legalization, and four on-time state budgets.
"Transactional has negative connotations but this is how you get things done in Albany," said Horner. A review of the successes and failure of the governors who preceded Cuomo is a lesson in the role transactional politics plays in Albany. Gov. Eliot Spitzer was known for using the bully pulpit and badgering the opposition into supporting his legislative agenda, a tact that came to a spectacularly fiery end thanks, in part, to his heated rivalry with then-Senate Majority Leader Joe Bruno.
Spitzer had been using state resources to gather dirt on Bruno's use of state vehicles for non-governmental purposes. Spitzer was then investigated by the Albany County District Attorney and Attorney General Cuomo, and his agenda was suddenly paralyzed by acrimony.
Spitzer's Lt. Gov. David Paterson had even worse luck at the reins of power as he flitted back and forth between strategies. Paterson didn't have much to bargain with as the state faced the 2008 financial collapse and he had to slash programming. Budgets stalled by bickering had become the status quo in Albany until Cuomo was elected. "The state had been running on fumes for awhile," said Horner.
Cuomo's ability to reach compromises with the Legislature has been aided by having the Senate controlled by the fiscally conservative Republicans and the Assembly by liberal Democrats: Cuomo gets what he wants, which is usually something in between.
Ironically, the WFP deal Cuomo agreed to would bring an end to the situation that has so benefited the governor - other than to alienate some of the progressive base that he has now brought back into focus.
Benjamin wonders if the Working Families Party is getting what it bargained for - not because Cuomo could renege on his promises, but because Cuomo's legislative successes on same-sex marriage and gun control have made him seem omnipotent by Albany standards and Benjamin suggests the deal shows Cuomo as quite human. "This challenges the governor not to abandon his priorities of improving the upstate economy and upstate probity, but to add to his priorities and do more. But they think he can do everything and he can't do everything."
Cuomo has thrown his arms up and declared an impasse on two major issues during his term: the first was independent redistricting and the second, public financing of campaigns. Critics claim that Cuomo simply didn't try hard enough because he benefits from both current systems. But Mahoney suggests that both of those issues are so big and defining for Republicans that there may be nothing Cuomo can trade for them. Senate Republicans stand to be wiped out if they don't have the ability to draw their own district lines and some of their candidates might not stand a shot if a public financing campaign is instituted. "There might not be anything for him to offer," said Mahoney.
Cuomo was originally set on delivering movement on campaign financing last month to secure the WFP's endorsement, but insiders say negotiations quickly fell apart after Senate Republicans were warned by Conservative Party Chair Mike Long that he would strip his support from candidates that went along with campaign finance reform.
"If they come back to do any kind of public financing for legislative or statewide offices, I consider it not only a theft of services and taxes out of people's pockets, I consider it a political payoff to the Working Families Party," Long told Politics on the Hudson last week. "This [would be] Andrew Cuomo living up to his promise to the Working Families Party."
***
by David King, Albany editor, Gotham Gazette
@DavidHowardKing