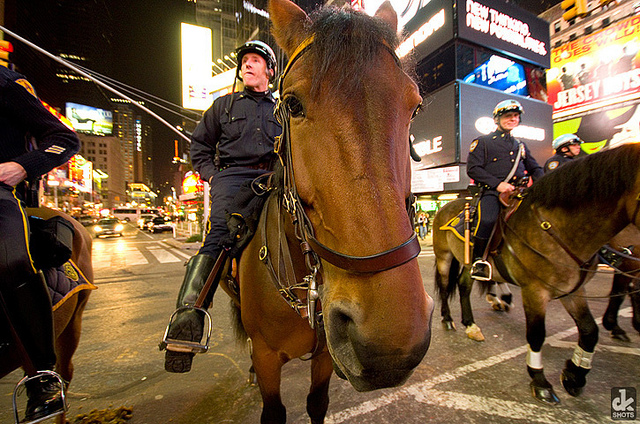 NYPD Mounted (Dirk Knight via Flickr)
---
On June 9, a horse named Pumpkin ran wild through traffic in Manhattan, pulling a carriage and smashing up a taxi before a man riding his bike was able to gain control of the animal.
Two days later, a horse named Sampson escaped his tether and ran through the streets of the Bronx before police pursuing in cars were able to catch him.
Neither horse was seriously injured. No bystanders were injured in either case.
But the scene of the first incident turned into the stage for a new scene in the ongoing debate over Mayor Bill de Blasio's proposed ban on Central Park carriage horses. The executive director of the fiercest anti-carriage horse lobby, animal rights group New Yorkers for Clean, Livable, and Safe Streets (NYCLASS), showed up to tell reporters "that horses do not belong in dangerous New York City streets where they can get hit by cars." The advocate, Allie Feldman, was heckled by carriage drivers while talking to the assembled media.
There was no such scene after the police caught Sampson.
Since taking office, Mayor Bill de Blasio has remained firm on his stance (one he campaigned on) for a ban of carriage horses like Pumpkin. But he's all for Sampson continuing to patrol the streets of New York City as part of the NYPD's mounted unit.
Asked by a Daily News reporter in April if, in light of his call to end the use of carriage horses, he had concerns about mounted police, de Blasio said it was different.
"Apples and oranges. Can I use apples and oranges with a horse analogy? It's – you know, obviously [the] NYPD, I have immense respect for what they do to keep us safe. And the police horses have been a part of that. And that is something that's about the public's vital interest. So I think it's a very different reality than something, you know, that's about tourism," the mayor said, according to a transcript from his office.
In recent years, many cities around the country have closed their mounted divisions to save money. And while the NYPD's unit is not as large as it once was, there are no signs that it is going anywhere. The city just built a new top-of-the-line stable and headquarters for the NYPD's mounted unit in the bottom of a luxury apartment building on 54th Street on the west side of Manhattan. The NYPD is also currently training new horses to join its ranks.
And, there's no organized effort against the use of police horses. The mayor supports the NYPD's use of equines. Large organizations opposing the carriage horses - ASPCA, PETA and NYCLASS - have said nothing against the NYPD's use of horses.
So what's the difference?
At the scene near Central Park after Pumpkin escaped, an ABC7 Eyewitness News reporter asked Feldman about mounted police: "Police responded to this on horseback. I would presume you want those horses off the street as well?" the reporter asked.
"Have you ever seen an accident involving a police horse? No," she said.
"If horses don't belong in the street, it doesn't matter whether it's police horses or carriage horses. Or have I oversimplified it?" the reporter followed up.
"You very much oversimplified it. There is a huge difference between when an animal is being used for a commodity, it's inevitable that the animal is going to be abused...These drivers know that horses do not belong in dangerous New York City streets where they can get hit by cars, they get hit by trucks, they get hit by buses," Feldman said.
When asked to speak with someone at NYCLASS about mounted police, a spokesperson sent along a statement from PETA Senior Vice President Dan Mathews, which reads: "The use of police horses is dwindling on its own around the country due to high costs and questionable effectiveness. PETA focuses on carriage horses because their work is far more grueling, the stables and care is much shoddier, and the public safety and sanitation issues are much more severe."
A review by Gotham Gazette shows New York City's police horses and carriage horses lead quite similar lives.
The basics
The Central Park carriage horses are part of a for-profit industry that the carriage drivers and owners say is essential to New York City, having existed in Central Park since carriage horses were used as a primary mode of transportation in the city. There are 220 horses working under 68 carriage medallions in New York City. According to the carriage industry group, the Historic Horse-Drawn Carriages of Central Park NYC, LLC, there are 130 full-time drivers and about 60 owners.
According to carriage driver Christina Hansen, the best carriage horses are crosses between various breeds of draft horses. Many of the city's carriage horse owners get their horses from a dealer in Pennsylvania's Amish Country, she said.
The NYPD's mounted police unit - established in 1871 - looks for similar horses, cross draft horses, though they often look for larger ones than the carriage industry does. The NYPD requires their horses to be at least 15.2 hands, according to an archived page on the NYPD website. Years ago, according to that website, police horses were donated to the force or purchased through funds provided by the New York City Police Foundation. But now, many horses are purchased from dealers in Amish Country in Pennsylvania, just like the carriage horses. Some even pulled buggies in Pennsylvania before hitting the streets of the five boroughs on patrol.
For three weeks, Gotham Gazette requested basic information from the NYPD on its mounted unit, but the NYPD refused to provide any, even the exact number of horses in the division. The Daily News, which has been running a campaign to save the carriage horses, reported the NYPD has "about 50," or "roughly 50," horses in its unit. The unit has decreased significantly in the past few years. The New York Times reported in 2006 that the force was at 85 and then-Commissioner Ray Kelly planned to increase the unit to 160 by 2009. By 2008, that number reached 112, but there is little information on why it is half that now.
The primary purpose of the NYPD's mounted unit has not always been the same.
"Public relations is a Mounted Unit forte," reads the NYPD's website from 2006. "The expertise of Mounted [Unit Officers] in crowd control is also renowned." Many police departments across the country say a cop on a horse - "the 10-foot-cop" - is worth 10 cops on the ground while working crowd control.
The NYPD has always defended the unit's effectiveness, but for years the horses only patrolled Central Park and were used at an occasional demonstration, according to a 2006 story in The Times. But that year Kelly started to send mounted units into high-crime areas and the NYPD continues to do so under his successor, Commissioner Bill Bratton. In 2007, the NYPD website said the primary function of the mounted unit was not public relations or crowd control, rather patrol.
The NYPD says mounted officers have the ability to travel through areas a squad car cannot go, like alleyways and pedestrian plazas, and a horse can have a calming effect during disputes or other chaotic situations.
Work week
Carriage horses work eight or nine hours a day, sometimes seven days a week. Police horses typically work as many hours as the officer riding them. The NYPD would not confirm the length of an average shift, but The Daily News reported typical shifts are seven-and-a-half hours, slightly less than an average NYPD shift. According to law, in a 24-hour period, carriage horses are not allowed to work more than nine hours; riding horses are not allowed to work more than eight hours. It is unclear if the NYPD's mounted unit, which consists entirely of riding horses, is exempt from this rule. For carriage horses, the rule is enforced by the city's Department of Consumer Affairs.
Hansen, the carriage driver, stressed that she thinks police and carriage horses live similar lives and thrive on having a routine. She did argue, though, that pulling a carriage is easier than carrying an officer.
"It's the difference between wearing a heavy backpack and pushing a shopping cart," she said, adding that carriage horses ride loops around Central Park while police horses are "sent into dangerous crowd control areas and sometimes they pursue criminals on foot. They gallop after guys with guns."
Each year, carriage horses are required, as stated in the city's administrative code, to have at least five weeks vacation at a horse stable facility. There is no such rule for police horses, though each officer is assigned to a specific horse. Presumably, that means when an officer is on vacation, his horse is as well. Depending on the officer, the NYPD offers between 10 paid vacation days for rookies and 27 paid vacation days for those with more than five years experience, according to the department's recruitment site. The NYPD would not confirm how many days or weeks off each horse gets per year.
By law, carriage horses are not allowed to work when temperatures are above 90 degrees or below 18 degrees. According to the Daily News, police horses are allowed to stay inside if the temperature falls below 32 degrees with a wind chill of 15, but there are no restrictions for hot temperatures.
Home sweet home
The NYPD recently moved one of its stables (as well as its mounted unit headquarters) from 34th to 54th Street on the far west side of Manhattan. Its old home was located near one of the carriage horse stables by Pier 76 and its new home is only a couple of blocks from a carriage horse stable on 52nd Street.
Carriage horses live in four stables along the west side of Manhattan (at 37th, 38th, 48th and 52nd streets). The city's Department of Health and Mental Hygiene regulates the horses' living conditions at these stables. In the past two years, the DOH conducted 38 inspections of the carriage horse stables and issued two notices of violations: in fiscal year 2013, a citation for "inadequate bedding inside some of the stalls" and in fiscal year 2014, "inadequate bedding in addition to improper or excessive manure storage, and stalls not being adequately clean and dry," according to the Department of Health.
The DOH also requires carriage horse owners to use stalls large enough for horses to turn around and lay down in. Before renovations at Pier 76 in 2007, NYPD horses slept in straight stalls where the horse couldn't lie down. The new facility on 54th Street has large stalls.
There are no indications the NYPD mistreats their horses or the stables are inadequate, but the DOH does not inspect the NYPD stables like it does the carriage industry.
Messy business
Keeping horses in New York City can be messy.
Carriage horses travel from their stables along city streets to Central Park, where they charge people to ride them around the same park loops over and over. According to Hansen, carriage horses are equipped with diaper bags that are attached to the carriage to catch the horse droppings. The industry also hires sweepers to clean up the loops in Central Park.
Police horses patrol all over the five boroughs, from busy tourist areas like Times Square or Coney Island to high-crime areas in Brooklyn and the Bronx. The police horses do not wear diapers.
Another issue is safety, that of the public and the horses themselves. NYCLASS points to 20 accidents and incidents involving carriage horses dating back to 2006 as a reason why the industry should be banned.
Police horses walk through traffic more often than carriage horses: carriage horses walk through traffic as part of their commute to Central Park, police horses patrol city streets. The NYPD would not respond to a request for information on injuries to horses, or to officers or the public involving police horses, but there have been incidents. A woman from New Jersey sued New York City in 2009 after a police horse bit her. A police officer sued the city and NYPD in 2010 after she was thrown from her horse. She claimed the horse was not adequately trained. The case is still in court.
The New York Civil Liberties Union sued the NYPD for misusing mounted police during Iraq War protests in 2003 and protests of the Republican National Convention in 2004 when mounted officers rode into crowds to disperse them. "Typically, the way the mounted unit is supposed to be used is really to maintain lines...of course that's a very different thing than sending in a wave of horses into a crowd to disperse them," said Christopher Dunn, NYCLU's attorney on the case.
The NYPD agreed in a settlement to ensure that "a crowd or group to be dispersed has sufficient avenues of escape and/or retreat available to them and has had a reasonable chance to disperse."
Still, Dunn says he thinks police horses are effective for crowd control if used appropriately.
"If the contest is horse versus person, a person is never going to push a horse away. [Horses] are certainly effective in holding lines, and that's a perfectly appropriate use of them," he said.
Police horses may also help decrease injuries.
Sergeant Joseph Haertsch of the Los Angeles County Sheriff's Department is an advocate for mounted units and part of the North American Mounted Unit Commanders' Association, NAMUCA. He says police horses have a calming effect during tense situations.
He said he's arrested people in a patrol car, but it's different when he's on a horse. When a girlfriend or wife of the person being arrested is there, he said, "they want to hit you in the head with a pan and instead they are petting the horse."
"Nobody's ever come up to me and asked me to pet my patrol car," he said.
***
by Adam Wisnieski for Gotham Gazette