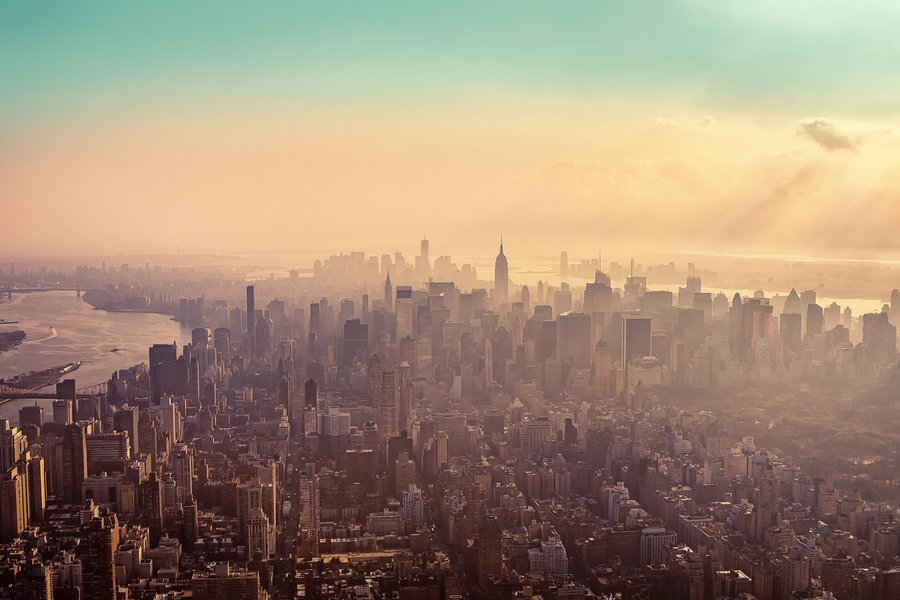 New York City (Matthias-Haker)
---
In 2013, eight times as many New Yorkers died from air pollution-related health issues as from murder.
A recent analysis by the City estimated that 2,700 "premature" deaths every year can be tied to ozone and fine particulate matter, two leading air pollutants, as opposed to 333 murders in New York in 2013. The public health impacts of air pollution, while not necessarily dramatic, are powerful: air quality rivals other leading causes of death in New York City, such as HIV.
And while the city is making progress improving air quality, some elected officials say that too many New Yorkers are suffering from the debilitating and deadly effects of air pollution. A briefing document prepared for a February City Council oversight hearing on air quality asserts that the City's "progress, while significant, does not mean that the air is healthy to breathe in New York City."
Populations especially vulnerable to air pollution include children and the elderly; the poor; people with pre-existing health conditions; and residents of neighborhoods where pollution sources - like highways, waste transfer stations, and powerplants - are located.
"It's hard to get attention for this," said Dr. Thomas Matte, Assistant Commissioner for Environmental Surveillance and Policy at the city's Department of Health. "Air pollution" is not a cause of death that would appear on any death certificate, he added.
"[But] what we know from the science is that when ozone levels are higher, there are more deaths," Matte stated.
Both ozone and particulate matter pollution can aggravate asthma and other lung conditions, and cause premature death in people with heart and lung disease, says the U.S. Environmental Protection Agency (EPA).
Two reports released in May of this year point to a dual reality: New York City has made major progress in reducing levels of particulate matter pollution, yet that pollution is linked to annual totals of approximately 2,300 premature deaths, 4,800 emergency room visits for asthma, and 1,500 hospitalizations for respiratory and cardiovascular disease.
Particulate matter pollution - in the form of small particles and droplets - is emitted by many local sources, including heating fuel, power plants, and motor vehicles. These particles and droplets are "so small that they can get deep into the lungs and cause serious health problems," says the EPA.
The City says that the estimated number of deaths in New York City attributable to fine particulate pollution dropped by twenty-five percent between 2005-07 and 2009-11.
On the other hand, the city continues to struggle with ozone pollution, which can come from sources hundreds of miles away. A recent report by the American Lung Association gave four boroughs an "F" for their number of high ozone days between 2010 and 2012. The fifth borough, Brooklyn, received no grade.
"Despite progress to date, air pollution in New York City remains at levels that are an important cause of serious illness and premature mortality," the City concluded in a September, 2013 analysis.
Air Pollution at the Neighborhood Level
One of the objectives of PlaNYC, the city's sustainability "blueprint", is to "achieve the cleanest air quality of any big U.S. city" by the year 2030. Tackling air pollution means addressing the fact that certain New York neighborhoods, and populations, consistently suffer more from the impacts of poor air quality.
To that end, the City routinely monitors for the same pollutants as the state and federal governments, but New York City has monitors in more locations than are required by federal regulations.
The City samples the air near street level at roughly seventy-five locations each season, and tests for ozone, fine particulate matter, and other pollutants. Air quality in every Community District, each of which is represented by a Community Board, is tested. Neighborhood-level information on ozone and other pollutants - through 2010 - can be found on the Health Department's Environmental Public Health Tracking Portal.
What the Department of Health has found in its data collection echoes concerns raised by environmental justice groups across the city. The impacts of air pollution reach far beyond one or two neighborhoods. "We live in a densely populated area with vulnerable people," observed Assistant Commissioner Matte.
Sections of the Bronx, especially the South Bronx; Upper Manhattan; North-Central and Southern Brooklyn; Eastern Queens; the Rockaways; and Northern Staten Island typically have higher rates of particulate matter-related emergency room and hospital visits, and/or deaths, according to a detailed 2011 analysis.
There is a somewhat different geographic distribution for ozone-related health issues. For instance, the highest ozone-related death rates were found in Staten Island, Southern Brooklyn, Central Queens and the Northwest Bronx.
There are also clear race and class distinctions when it comes to the effects of air pollution.
"According to the New York City Department of Health...five times as many African Americans and four times as many Hispanics of all age groups are hospitalized for asthma," relative to the overall population, the City Council's February briefing states.
The City also found that low-income communities have significantly higher hospitalization rates for pollution-related illnesses.
The estimated rate of PM2.5 (fine particulate matter)-attributable respiratory hospitalization is nearly twice as high in high poverty, compared to low poverty, neighborhoods, says the City.
Likewise, emergency room visits for pediatric asthma, associated with fine particulate pollution, are three times higher in the city's "most impoverished" neighborhoods. And asthma-related emergency room visits for adults are five times higher in high poverty areas.
Untangling the links between poverty and air pollution-related illnesses is a formidable challenge. Local groups and researchers point to the heavy concentration of waste transfer infrastructure in the South Bronx as an example of an air pollution burden shouldered by a low-income community.
The South Bronx is also a vehicle thruway for the entire city. A 2006 study by the NYU Wagner School found that "if you live in the South Bronx your child is twice as likely to attend a school near a highway as other children in the City."
One Pollutant at a Time
Air quality is measured using different parameters: New York State is required by the federal Clean Air Act to test outdoor air for ozone, particulate matter, carbon monoxide, nitrogen oxides, sulfur dioxide, and lead, all of which have a variety of public health impacts.
Because of its enormous public health impacts, the City has been particularly focused on ways it can reduce local levels of soot, or particulate matter.
Particulate matter is released by combustion sources, such as building heating systems; vehicle exhaust; power plant or industry emissions; and chemical reactions involving gases like sulfur dioxide, nitrogen oxides, and, "to a lesser extent", volatile organic compounds, according to the State.
State and federal regulators test for PM2.5 (fine particulate matter), which includes particles in the air that are "less than 2.5 micrometers in diameter, or approximately one-third the thickness of a strand of hair." Particles that are easily breathable and not easily detectable by the human eye.
According to the EPA, "numerous scientific studies have linked particle pollution exposure to a variety of problems", including: premature death in people with heart or lung disease, nonfatal heart attacks, irregular heartbeat, aggravated asthma, decreased lung function, and increased respiratory problems.
Finally In Compliance
Last month, the New York State Department of Environmental Conservation announced that because of improvements in the New York City metro-area, all of New York is finally in compliance with EPA standards for particulate matter (PM2.5) levels.
Both short (24-hour) and long-term (annual) PM2.5 concentrations in the metro-area's outdoor air have shown "a steady decrease" over the last decade. Long-term PM2.5 measurements were 22 percent below the national standard in 2013; short-term measurements were 26 percent below the national standard, said the state.
How did we do it?
The City's efforts to phase out the use of "residual" heating fuel oils (grades No. 4 and No. 6), and replace them with "lighter" oils and natural gas have been critical to reducing particulate matter in the air, said Michael Seilback, vice-president for public policy at the American Lung Association of the Northeast.
Cleaner diesel fuel used in trucks has also made a real difference, he argued.
The Ozone Challenge
Tackling ozone pollution is arguably more challenging because it requires local as well as regional action. Pollutants that form ozone are emitted locally and in other states. Ozone pollution could also be worsened by climate change.
The New York City-metro area is currently in "non-attainment" of 2008 federal ozone standards. This means that outdoor ozone concentrations exceeded the national air quality standard (measured over an 8-hour period) more often than is allowed, Levi Fishman, a spokesman for the city's Department of Health, told Gotham Gazette by email.
Unlike other air pollutants, ozone is not emitted by pollution sources. Instead, this "powerful oxidant" is formed in the air itself during smog conditions.
High temperatures (over 80°F) and sunlight react with emissions from vehicles and smokestacks to form ozone. Hydrocarbons such as gasoline vapors and nitrogen dioxide - what the state calls "ozone precursors"- can help to trigger the gas.
Seilback agreed that rising temperatures caused by climate change could become another risk factor for ozone levels. The City reported that the "increase in summer O3 (ozone) concentrations from 2009 to 2010 was likely due to increasing temperatures. O3 concentrations have been stable from 2010 to 2012."
"Ozone levels are one of the most serious air pollutants in New York City," added Fishman. Roughly 1 in 10 emergency room visits for asthma in New York City are attributable to ozone pollution.
Despite a major focus on air quality in the City's sustainability planning efforts, ozone levels have "not improved substantially" over the last several years. New York is following ozone trends seen in other major U.S. cities, the City pointed out in its September, 2013 report.
"We agree that the...metro area has an ozone problem," said Fishman, "but the "F" grade is not a reflection of New York City's performance on air quality management. As documented...the city has made considerable progress on reducing levels of pollutants that originate within the city."
Fishman added that the City's air quality management program is complying with federal regulations, "which require monitoring and then submitting a plan to come into attainment over time."
The National Connection
But of immediate concern to state regulators is ozone-causing pollution - like nitrogen oxide - entering New York's airspace from powerplants that are hundreds, if not thousands, of miles to the west.
"This upwind contribution is so significant that New York and the other northeastern states will not be able to meet the current ozone standard until the upwind contributions are reduced," said Emily DeSantis, media relations director at the state Department of Environmental Conservation (DEC).
"In response...New York and several other states have once again petitioned EPA to control those upwind sources affecting New York's air quality," DeSantis added.
And the Obama administration appears to have responded. Its recently announced plan to slash carbon dioxide emissions from power plants across the country by thirty percent has an added benefit: the EPA says emission levels of particle pollution, nitrogen oxides, and sulfur dioxide will also drop by more than twenty-five percent.
Adriano Espaillat, a Democratic State Senator from Upper Manhattan, described the plan as "very promising for communities like Upper Manhattan and the Bronx".
Referencing the public health impact that air pollution has been found to have on low-income communities in New York City, Espaillat argues that "African-Americans and Latinos are disproportionately affected by climate change - whether it's higher incidences of asthma among children, or increased mortality rates due to carbon pollution."
The Next Step: Curbing Traffic Congestion
"Progress has been made but there is more to do," said DeSantis of the state DEC. She noted that "New York has imposed tighter controls on cars, power plants and other in-state sources of pollutants that contribute to ozone formation."
No matter the degree of emissions control, air pollution is an inevitable by-product of heavy vehicle traffic, which New York City has struggled to manage in recent years. The City maintains that expanding "cleaner" modes of transit and reducing traffic congestion will have to be a part of the solution to New York's air quality problem.
"On-road" sources account for approximately ten percent of PM2.5 (fine particulate matter) emissions and twenty-five percent of nitrogen oxide emissions locally, a City analysis found.
The City has moved aggressively to encourage bike use, and zero-emission, electric vehicles have become a focus for policy-makers. Governor Cuomo's Charge NY program commits to developing a statewide infrastructure of 3,000 public charging stations within five years.
Reducing car use has even found its way into housing planning efforts. The de Blasio administration argues in its recent affordable housing plan that new developments should be oriented around mass transit.
The City's researchers draw a direct line between traffic in Manhattan and high ozone levels on Staten Island, for example.
"Reductions in NOx (nitrogen oxide) emissions in the most congested areas of the city will, in turn, reduce ozone levels in those downwind neighborhoods in the outer boroughs and beyond," wrote the City in its 2011 report.
Need for Further Testing
Reducing traffic congestion may also have an impact on the disproportionate risk faced by New Yorkers of exposure to cancer causing chemicals.
In 2011, researchers from the city's Department of Health examined another set of pollutants being emitted across the five boroughs: benzene, the BTEX (benzene, toluene, ethylbenzene and xylenes) cluster, and formaldehyde. Both benzene and formaldehyde are known human carcinogens.
"Recent analyses suggest," wrote the authors, "that 49% of New York City residents live in census tracts exceeding the 1 in 10,000 HAP [Hazardous Air Pollutants]-attributable cancer risk benchmark compared to 4.8% of the population nationwide."
The majority of this cancer risk is tied to benzene and formaldehyde exposures, which come from on-road and non-road gasoline vehicles and engines, said the researchers. The City tested at 70 locations to see how levels varied across neighborhoods.
Assistant Commissioner Matte cautioned that several variables had to be examined (including weather and traffic patterns) before releasing data on individual sites. "We haven't developed a [land-use regression] model that we're comfortable with yet," he said.
Nonetheless, the City found that "monitoring sites in areas with the highest traffic intensity, indicated by a combination of roadway and traffic signal density, were found to have 83% higher benzene concentrations and 45% higher formaldehyde concentrations than those in areas of lower traffic intensity."
According to Michael Seilback at the American Lung Association, a contradictory situation has emerged in terms of local air quality: "There's no question that the air over New York City is much cleaner than it was 15 years ago," he said, referring to the drop in particulate matter pollution.
But, at the same time, "we can't say with certainty what people [in heavily trafficked areas] are being exposed to." Seilback observed that a network of roadside air quality monitors does not currently exist in New York City, and is not required by the federal government.
"The problem is that [federal] government hasn't dedicated the resources," he said. "The data is what we need. We give a lot of credit to the City of New York."
***
by Sarah Crean for Gotham Gazette
@GothamGazette
---