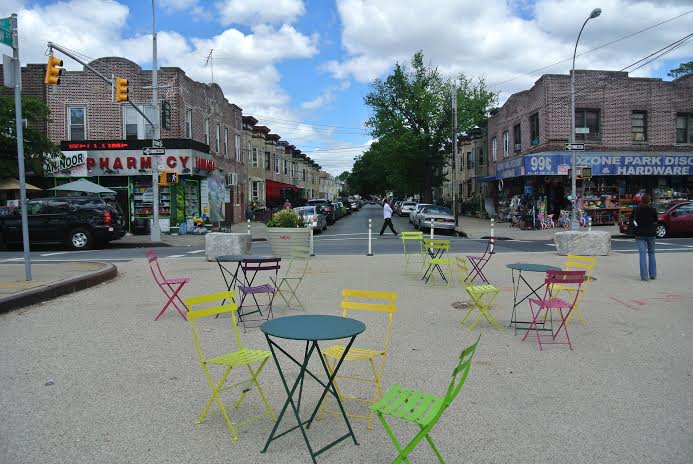 Liberty Avenue Plaza, Ozone Park/East New York (Katrina Shakarian)
---
On a recent Friday afternoon at the juncture of Brooklyn and Queens in the center of Ozone Park's first pedestrian plaza, visitors sat amongst the plaza's colorful chairs and shrubbery, surrounded by merengue and dancehall beats flowing from passing cars. Dozens of men filed into the streets from a nearby mosque at the conclusion of prayers.
This is the scene at Liberty Avenue Plaza, located on 101st Avenue between Drew and 75th streets, straddling two boroughs, two neighborhoods (Ozone Park and East New York), two community boards (nine in Queens and five in Brooklyn) and three police precincts (75, 102 and 106). The plaza rests in a diverse enclave of South Asian, Caribbean, Latino, and Italian New Yorkers.
Liberty Avenue Plaza is one of 44 open public plazas across the five boroughs, built under the Department of Transportation's (DOT) NYC Plaza Program. Public spaces being carved out through the program show that not only do pedestrian plazas provide neighborhoods with much needed quality open space, but they are catalysts for community engagement and provide an entry point for constituents, particularly immigrants, into New York's local civic life.
"This is like a village to us,"said local resident Khairul Islam of Liberty plaza, created in October 2013. "Now they actually have a place where they can physically sit down and talk and chit chat and have a coffee....It's pretty special, I think," he explained, describing the plaza's impact on the neighborhood's sizeable Bangladeshi population, particularly women and seniors.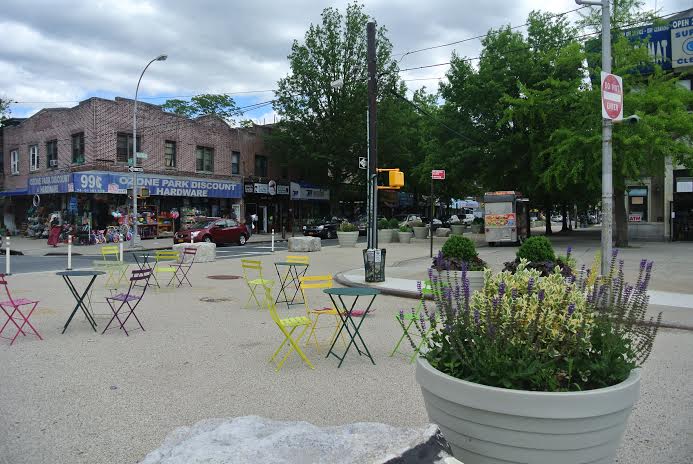 Liberty Ave Plaza
The process of creating a pedestrian plaza almost always emanates from the ground up; beginning with proposals from local community groups, followed by a collaborative design process between DOT and local stakeholders, and finally the construction of the plaza, which is funded by DOT. The subsequent maintenance and management of the plaza, though, is the responsibility of the community group that initially proposes it, though local elected officials can and do help with funding. Thus far, organizations that have proposed and manage plazas throughout the city include small Business Improvement Districts (BIDs), non-profits, all-volunteer groups, and merchant associations.
In the case of Liberty Avenue Plaza, that partner is the Bangladeshi American Community Development & Youth Services Corporation (BACDYS). The organization is a resource center that offers local residents services like English classes, academic tutoring, cultural programming, and assistance navigating city agencies.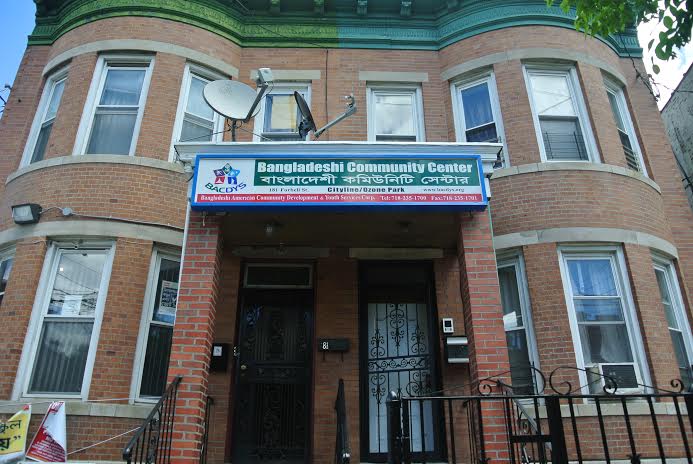 BACDYS
Misba Abdin, President of BACDYS, first learned about the city's plaza program when he visited the grand opening of a plaza in the New Lots section of Brooklyn. Upon seeing the transformation of regular streets into a vibrant social space, he envisioned a plaza in his own community to provide children and seniors, in particular, with a place to congregate.
"In this area there's no space for our children to go out and play and sit down," said Abdin. "[In the] Latino and Bengali community, I see all these senior people. They don't send their parents to nursing homes. They keep them within the family. So, I see everyday after they go to Mosque and church, after prayer, you will see people [outside]. They have no place to sit down," he explained.
And so, Abdin embarked on a two-year process to get the Liberty Avenue Plaza constructed. BACDYS drafted a proposal, rallied local support through community workshops, made the pitch to DOT, and, upon being selected, worked with community members and DOT-contracted designers to customize a space for their Ozone Park/East New York neighborhood.
Under BACDYS' stewardship, Liberty Avenue Plaza has hosted a health fair and a Bangladeshi cultural festival. The Uni Project, a pop-up library installation for public spaces, will be featured in the plaza this summer.
Of course, expecting small organizations such as BACDYS to sustain pedestrian plazas over time is not without challenges. Community partners without the financial prowess of affluent neighborhoods often lack the resources "to keep a good thing going — or to get it off the ground in the first place," wrote Stephen Miller of Streetsblog NYC earlier this year.
Founded in the spring of 2013 by the Horticultural Society of New York, Neighborhood Plaza Partnership (NPP) exists to address this challenge. NPP supports community partners in under-resourced neighborhoods by providing operations and fundraising assistance, as well as subsidized maintenance services through Association of Community Employment Programs for the Homeless (ACE). ACE and NPP partner to train the homeless and formerly incarcerated for jobs maintaining plazas.
Annual maintenance costs vary from plaza to plaza based on labor for daily upkeep and horticulture care, plant materials and equipment. So far, NPP has "calculated annual maintenance estimates ranging from $20,000 to $50,000," for plazas all over the city, wrote NPP Project Manager Cheryl Tse via email. The maintenance of Liberty Avenue Plaza, specifically, costs approximately $42,000 a year.
Despite the funding and other challenges faced by small community organizations, placing them at the center of the plaza program generates unique kinds of civic participation on New York's municipal landscape, explained Laura Hansen, Executive Director of NPP.
"One of the benefits that we talk about is civic participation," she said. "A community-based organization is engaging in the community on behalf of a lot of people...a subset of that is the immigration integration piece."
As plaza managers, residents and their respective organizations "are navigating government on behalf of their constituents, they're working with the DOT, they're hosting those workshops, they're dealing with sanitation. You know, they're understanding the way that public policy and government works," explained Hansen.
Across Queens, in Jackson Heights, another public space, Diversity Plaza, was carved out of a dense commercial and transit hub between 73rd and 74th Streets, off Roosevelt Avenue. The idea for Diversity Plaza was borne of a DOT traffic study from 2009. It cited high levels of congestion and significant pedestrian safety concerns in the neighborhood.
"We have very little open space,"said Josie Bartlett, Council Member Daniel Dromm's communications director, about Jackson Heights. Dromm's district ranks 50th out of 51 council districts when it comes to amount of park space, she explained.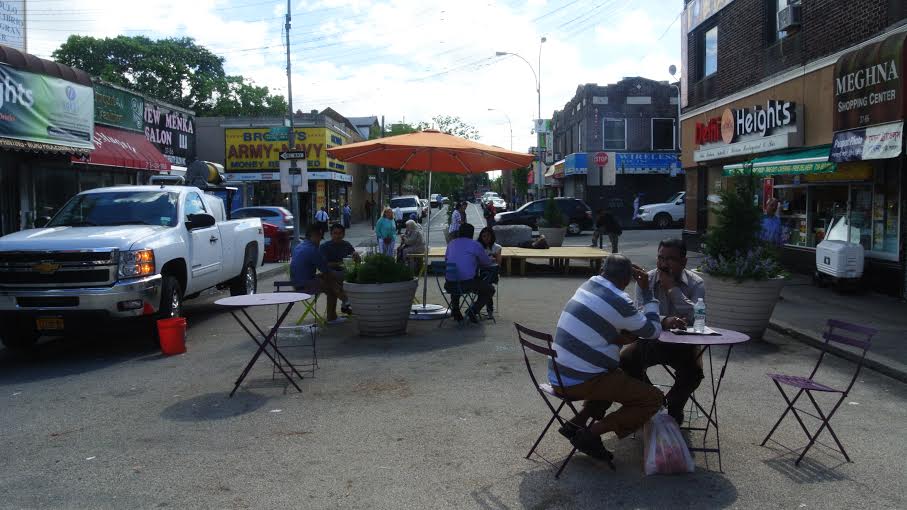 Diversity Plaza
Diversity Plaza, meant to ease congestion and carve out quality space in the neighborhood, was first established in 2012. Its appearance catalyzed neighborhood activism, both for and against it, as documented by Streetsblog. Although many residents and local business owners welcomed the space, others did not. Some local merchants claimed to have been left out of the planning process and alleged that the loss of car traffic through 37th road decreased their flow of customers.
Several meetings and protests later, Agha Saleh and Shazia Kausar, a married couple who own a business in the plaza, decided to take ownership of the issue and turn a point of contention into a true community asset.
"The only way we can recover this dent for this entire neighborhood and especially for this block," said Saleh, "[is] if we make this a destination." Saleh, Kausar, and their teenage daughter Fatima brainstormed how to make the plaza a colorful location that would attract visitors.
The family started a non-profit organization called Sukhi to act as steward of Diversity Plaza. It is an acronym for Social Uplift through Knowledge and Hope Initiatives. Sukhi is committed to improving quality of life in Jackson Heights, primarily through plaza maintenance and programming.
"This plaza for me has one objective, it is to integrate diversity into one nation," Saleh explained. We aim to "give equal presence to every single community who lives in this neighborhood."
So far, Diversity Plaza has hosted an array of events such as a five-day Eid Festival, a coffee and chai hour for locals to socialize, live screenings of the last election's presidential and vice presidential debates, and perhaps for the first time in New York City history, an outdoor Community Board meeting.
This past Saturday, June 21st, Diversity Plaza hosted a Summer Solstice Celebration. It featured free art and education workshops, an art exhibition and performances by "Make Music New York," a non-profit that stages participatory music celebrations for the summer and winter solstices (Saturday was the 2014 summer solstice).
Sukhi is not the only group to emerge on behalf of Diversity Plaza. Friends of Diversity Plaza is a coalition of residents and local organizations such as the Jackson Heights Beautification Group, the Jackson Heights Green Alliance, Birchwood Co-op Association, the Hibridos Arts Collective and Chhaya Community Development Corporation, which collaborate with Sukhi, Neighborhood Plaza Partnership and Council Member Dromm's office to make the plaza a vibrant community space that reflects the diversity of the neighborhood.
"Our coalition draws on the extraordinary talents and civic activism of organizations from all over Jackson Heights who are contributing in a variety of ways to making this neighborhood a special place," wrote Shekar Krishnan, chair of Friends of Diversity Plaza, by e-mail. "In bringing together so many groups and people from across our neighborhood, the plaza reflects the remarkable vibrancy and diversity of Jackson Heights. It's a little plaza with a big message!"
***
by Katrina Shakarian, Gotham Gazette
@KatShakarian
@GothamGazette