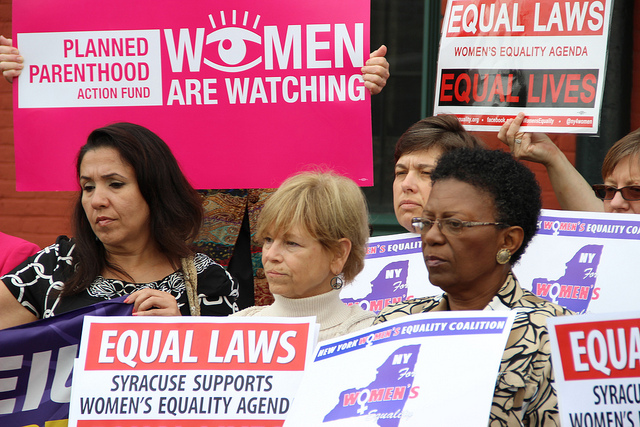 WEA rally (City of Syracuse via Flickr)
---
Albany - Despite a growing focus on the inequality women face in New York and nationally, and the specter of Assembly Speaker Sheldon Silver's mishandling of sexual harassment claims by legislative interns, the Legislature failed to deliver on this year's number one priority of major women's rights groups.
And those disappointed groups say they plan to make themselves heard during the 2014 election cycle. Although smaller women's rights bills were passed by both houses, other bills that deal with a woman's right to choose were not even brought up for a vote in the Senate. "Women outnumber men in New York State and polls show that the majority of New Yorkers support our issues," said Tracey Brooks of Family Planning Advocates of New York. "It is their folly to take us for granted" Brooks said of legislators.
It was a game of chicken every one saw coming for months: Senate Republicans unwilling to vote on the abortion measure of the ten-point Women's Equality Agenda (WEA) and the Assembly unwilling to pass the rest of the measures without it; Democrats wanting to expose the Republicans' unwillingness to take a public vote on an abortion bill and Republicans trying to turn the tables by focusing on recent sexual harassment scandals involving Democrats as well as Democrats' unwillingness to vote on other vital WEA planks such as those relating to pay equity, sexual harassment protections, and the strengthening of laws to stop sexual trafficking.
When Gov. Andrew Cuomo announced the WEA two years ago during his State-of-the-State speech, its planks weren't new policies; most of them had been floating around as separate bills in the legislature for years. What Cuomo did, said Brooks, is "call attention to the fact that New York needed to do some catching up on women's rights."
Having Cuomo's backing made advocates and legislators believe the time had finally come for these issues to be addressed. The soon-to-follow Assembly sexual harassment scandal only confirmed to them that action had to be taken. But as can happen in Albany, even an initiative with momentum failed, and repeatedly.
On Friday, Cuomo told Susan Arbetter on The Capitol Pressroom radio show that the IDC/Republican Senate coalition is "a failure," adding: "I am going to do everything I can to elect people who support my agenda."
In the final week of this year's session, legislators from both sides of the aisle began to push for individual pieces of the WEA to get a vote in the Assembly; the Senate had already passed 9 of the WEA bills. The move caused a rift between some women's rights groups, with Family Planning Advocates and others wanting to see the entire WEA passed as a whole, and NOW-NYC and others advocating for the sex trafficking measure to be acted on individually.
Assembly Member Amy Paulin stood on the Capitol's West Staircase on Wednesday with other Assembly Democrats and Senate Republicans calling for the Assembly to vote on the trafficking plank of the WEA. Paulin emotionally recalled her sexual assault at the age of 14.
"Choice is paramount," said Paulin, "but the memory that I have, that lives on, that I can recall every minute of, is that of being sexually assaulted. I remember every instant of that. I don't remember what I had for breakfast, but I remember every minute of that experience. And the idea that we have 12- and 13- and 14- and 15-year-old girls being raped and being tortured multiple times in a day, in a week, in a month, in a year, in several years is unfathomable."
NOW-NYC joined in the push to pass the trafficking measure, legislation that would create the new crime of patronizing a minor and making bullying a child for sex a class B violent felony. The WEA bill also gives law enforcement better tools to stop sex trafficking, while giving victims more protections.
"Refusing to pass any measures at all is a bad gamble for women and a risk for Democrats this election season," said Ossorio in a Daily News op-ed. "Voters are as likely to remember progressives blocking legislation protecting prostituted children, as they are likely to remember conservatives opposing reproductive rights. As the session comes down to the wire, advocates are waiting to see if the Assembly leadership will actually go through with blocking this bill from coming to the floor for a vote."
Brooks, of Family Planning Advocates of New York, said that she found it unconscionable that any legislator would "pick or choose the pieces [of the WEA] women deserve." She noted that legislators could have fought for individual planks of the WEA before Cuomo put them all together.
Brooks cited recent polls that show over 70 percent of New Yorkers support Roe v. Wade, with over fifty percent of Republican New Yorkers supporting the Supreme Court decision that protected abortion rights. "I really question the leadership of the legislature if we can't get one Republican senator to stand up and say they support a woman's right to choose," Brooks said.
Brooks and other advocates say Senate Republicans "shut down" on the WEA last year after members were told by the Conservative Party that any who voted for abortion legislation would face a primary.
Although the WEA was being used for playing political, other women's rights legislation had more success this year.
State Sen. Liz Krueger saw mixed results with a number of bills she sponsored that would affect women's health and equality - as well as men's.
Krueger's bill banning sexual harassment of unpaid interns passed both the Assembly and Senate. The bill became necessary in Krueger's eyes after a federal judge found that a Syracuse University student could not sue the company where she was allegedly groped and harassed because New York's human rights law did not cover unpaid interns. The bill's Assembly co-sponsor is Daniel O'Donnell.
Additionally, Krueger's "Boss Bill" passed the Assembly earlier this year and was voted out of the Senate's labor committee, but Senate leadership refused to bring it to a vote. The bill would prevent employers from retaliating against employees for family planning choices.
The bill recently became an issue when chains such as Hobby Lobby began fighting for health plans not covering birth control. The Supreme Court is expected to rule on whether Hobby Lobby has the right to deny such coverage. "In New York, in the 21st century, no boss should be able to tell employees whether they can have access to birth control, or whether they have the right to be pregnant," said Krueger.
A bill sponsored by Krueger and Assemblyman Richard Gottfried, which would increase education and awareness about maternal depression, passed both houses and is headed to the governor's desk.
Family Planning Advocates of New York created a new political action committee (PAC) just earlier this month to support candidates who work for pro-choice legislation. Expect groups like Family Planning Advocates, NOW, and NARAL Pro Choice to be extremely active this election year because they don't want a repeat of the last two legislative sessions. Brooks said she intends to take "drastic action" during the election cycle to make sure the legislature "better reflects the values of New Yorkers."
Karen Scharff of Citizen Action NY and the Working Families Party said that even though the WEA was not expected to pass this year it doesn't mean that voters aren't upset about it. "If the Senate was responsive to voters they would have passed this last year. We need a new Senate."
***
by David King, Albany editor, Gotham Gazette
@DavidHowardKing