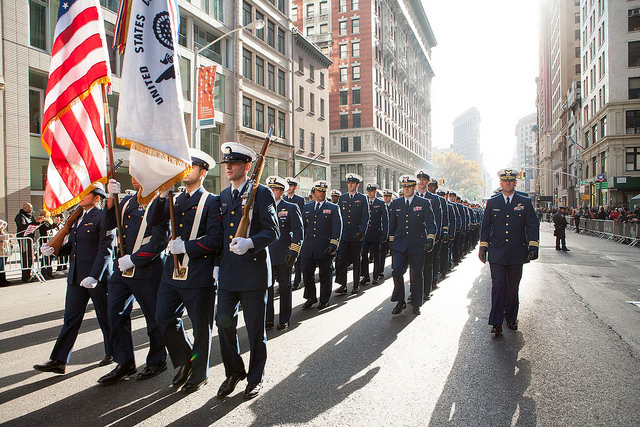 (The Coast Guard via Flickr)
---
NEW YORK—There were plenty of handshakes and high fives when a budget deal was announced late this past Thursday, June 19. It is, after all, balanced and on time. But for the city's veterans, the budget announcement was not something to be cheerful about.
The City Council had asked for an additional $400,000 in funding for the Mayor's Office of Veterans Affairs (MOVA) to develop programs to assist veterans as well as an additional $1 million for mental health, employment, and legal assistance services for veterans. The additional funds were not included in the mayor's executive budget and do not appear to be a part of the budget agreement made last week.
While every final budget detail has not yet been released, there is also no indication that the budget provides funding for three veterans benefits counselors, currently paid for through a grant from the Robin Hood Foundation that is set to expire July 31st. The three benefits counselors, who are certified by New York State, will be let go if requisite funding is not provided.
"We are still figuring it out," MOVA Commissioner Terrance Holliday said at a City Council hearing on Monday. He added that he has spoken with the mayor's office about some proposals, but that no conclusion had been reached.
The three counselors have provided one-on-one support to 150 city veterans since December and have filed 60 claims on their behalfs with the federal Department of Veterans Affairs (VA) for compensation or pension, according to Holliday. He said he would like to continue to program, but could not fund it with his current budget.
In the Fiscal Year 2015 budget, which is set to be formally adopted this week, MOVA is allotted $240,332 for three full-time employees and $22,000 for goods and services. The State will provide $201,000, allowing for two additional full-time employees.
As the final details of the budget come into focus, the Council could choose to fund the benefits counselors on its own accord - though funding for them was not included among highlights released by Speaker Melissa Mark-Viverito's office the night of the budget agreement announcement.
Gotham Gazette reached out to the mayor's office regarding plans to fund the benefits counselors past July 31. A spokesperson declined to comment on the record.
***
by Kristen Meriwether, Gotham Gazette
@MeriwetherK