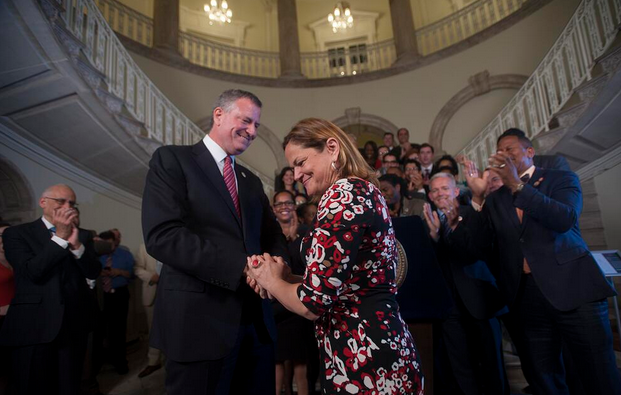 Mayor de Blasio and Speak Mark-Viverito shake on a budget deal (William Alatriste)
---
NEW YORK—The City Council added $400,000 of its discretionary money to fund veterans services in the fiscal year 2015 budget, according to budget documents released late Tuesday, June 24.
The Council added $100,000 for veterans job placement initiatives, $100,000 for veterans legal services, $100,000 for veterans mental health services, $50,000 for veterans community development, and $50,000 for services for women veterans.
In its April preliminary budget response, the Council had asked Mayor Bill de Blasio to increase the budget of the Mayor's Office of Veterans Affairs by $400,000 and to allocate an additional $1 million toward veterans support services. De Blasio, who has voiced his support for veterans, did not add any additional funding, leaving the Council to use its own money.
When asked on Tuesday afternoon about the lack of funding, the mayor said, "We are evaluating how to proceed on veterans issues. It's very personal to me, as you know, and this country has not done enough for our veterans, particularly our wounded veterans." The mayor's father served in the American army during World War II, losing a leg in the Battle of Okinawa.
De Blasio continued, "We're going to be looking at a series of things we can do, we'll have announcements on that coming up."
Not waiting on further news from the mayor's office, the Council finalized its fiscal year 2015 funding plan. In addition to the general Council funds, council members individually allocated a total of $150,000 of discretionary funding to veterans causes ranging from homeless veterans services to funding for the Memorial Day parade, according to an analysis by Gotham Gazette.
Six council members from Queens are funding 12 non-profits that help veterans for a total of $55,500, the highest of all the borough delegations. The three council members from Staten Island are allocating $31,000 of member item funding toward seven veterans organizations. Two council members are funding three Brooklyn veterans organizations with a total of $26,500. Two Bronx council members are funding veterans organizations with a sum of $28,000. And, two Manhattan council members are giving a total of $9,000 to veterans support organizations.
Eric Ulrich, chair of the Veterans Committee, is funding two veterans organizations with $8,500.
***
by Kristen Meriwether, Gotham Gazette
@MeriwetherK